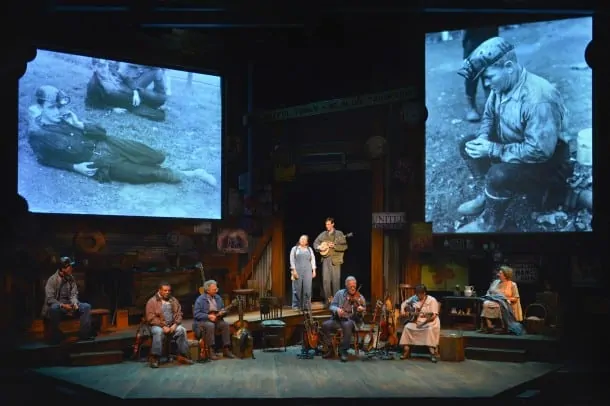 It's recognizably palpable: that rush when everyone in an audience is singularly focused and swept into the music. Since standing ovations are common as startups, it's that rush that measures audience hyper-engagement.
That sense came in the first few minutes of Fire on the Mountain, presented by TheatreWorks at the Mountain View Center for the Performing Arts.  But then again, those first few notes – played by a quartet of string musicians – were just the warmup.
Fire on the Mountain provides a wide-angle view of life in coal country   – West Virginia, Kentucky, parts of Pennsylvania, along with it's inseparably intertwined music, right up through the 1970s. A thin thread of a story winds through it, providing enough shape to support the music that tells the story of this land and its people.
Entering the house, you soak in Joe Ragey's scenic design upon which the contradictions of the place are writ large. "Harlan County is UMWA County" isn't the only sign proclaiming union loyalty, but they all seem overshadowed by the smaller 'We Accept Food Coupons.' Everything is old in this set…. So old it feels like the forces holding the world together.
Musical choices were carefully made, knowing exactly the balance between that which would ring bells with at least a part of their audience, and that which would be entirely new. Outside select circles, this music hasn't been in the public eye for a mighty long time. Its vitality stuns and enlivens so that even the familiar seems entirely new.
In that new vitality were nested a few familiar gems covered by Judy Collins (Coal Tattoo), John Prine (Paradise 'Daddy Won't You Take Me Back to Mulhenberg County'), Joan Baez (Sail Away Ladies), and probably more that I didn't catch. However, don't think for a minute this is oldies night because these musicians come at it with an infectious energy no cover ever mustered.
This show stays close to its musical roots in other ways too, with many of the performers, including Molly Andrews, consummate vocalist, musical historian, and West Virginia native, having some connection, direct or otherwise, to this land. So too, the show remains close to the hands of writers Randal Myler and Dan Wheetman, with Myler directing, and Wheetman providing musical direction.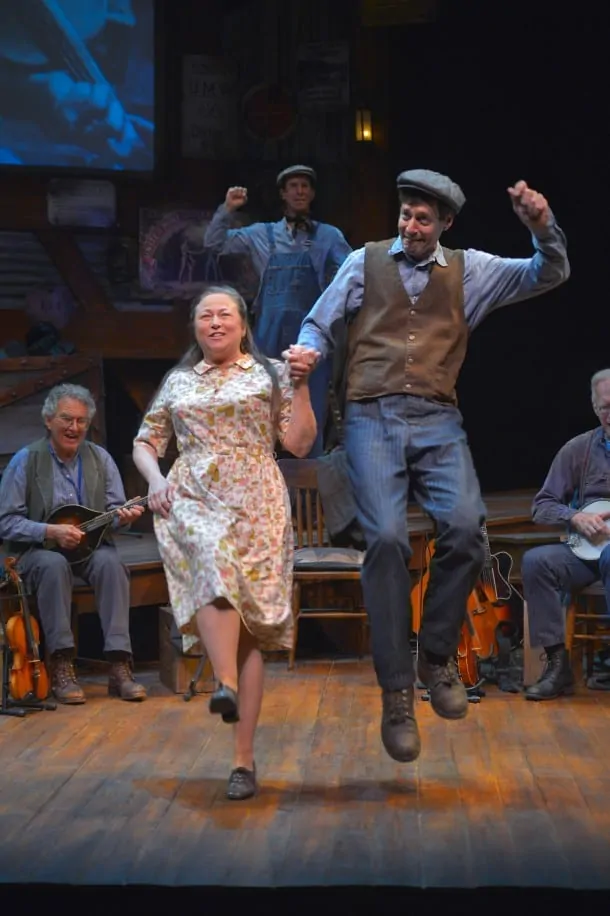 Other than being so wrapped in the music that you start to feel it in your bones, you'll also learn a lot. Two large screens – perfectly integrated so that you don't feel even a nanosecond of tech intrusion – display photos of people and land, as bits of history feed the plot. I'm not unfamiliar with this part of the world, but it's a city kid's familiarity, madly criss-crossing West Virginia and Kentucky, one eye in the famous Foxfire book series, but entirely missing that this land, brutalized one year, greening over the next, never really healing – had been acquired by coal companies in moves not dissimilar to JD Rockefeller's acquisition of oil rights parts north of here.
Fire on the Mountain runs through April 26th. Perfect before the relentless summer sun kicks in.