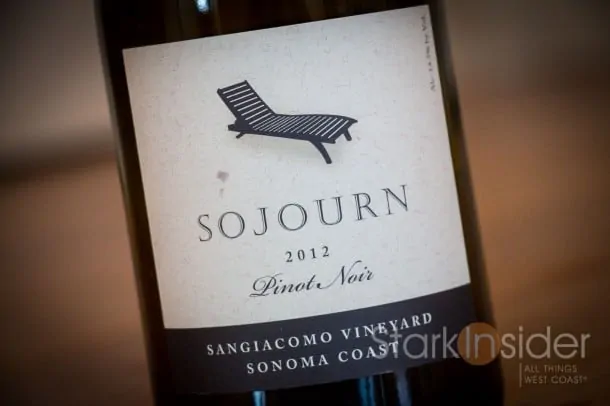 Stark Insider wine of the week pick features a beauty from the Sonoma Coast.
Chalk this one up to the why haven't I tried these guys before column.
Sojourn, I will not make this mistake again.
It's a real treat when you discover a great winery that had flown under your radar, for whatever the reason. Such is the case with this Pinot Noir. With fruit sourced from Sangiacomo, a vineyard located at the base of Sonoma Mountain, this is a gorgeous, smooth, delicious wine.
When Pinot is good, it can be very good.
Such is the case here. And with the winter now upon us, I can think of nothing better than opening a slightly chilled bottle of the wine world's most mysterious of grapes, and enjoying a glass with a friend or significant other.
I did exactly that over this bottle of Sojourn, sampling it alone, and a day later with some Mushroom Brie and crackers — a pairing that I highly recommend you try. It's cliche I know, but the word silky applies. This is a smooth wine, that's not too rich, yet not yearning for flavor either. You will get that wonderful Pinot-tastic quality: earthiness (every slight "barnyard" as they say) combined with plenty of exceptional fruit and peppery notes. It makes you want to dash to the top of Sonoma Mountain and decry to the world… "Sonommmmmmmmmaaaaa!" And, scene.
Sojourn might not be the easiest wine to find on the shelves of your local specialty retailer (you can try restaurants too). But I'm told, outside of California, this wine is also available in NY, FL, IL and TX. At $54 I'm not drinking this one every day, but when when in the mood to sit back and wax poetic, you can't get much better.
Sojourn 2012 Pinot Noir, Sangiacamo Vineyard, Sonoma Coast
100% Pinot Noir
1150 cases produced
14.5%
$54
Highly recommended