He saved San Francisco. Now, can he pull off the miraculously cute stunt once more and save San Jose?
Organizers of Cinequest have announced that BatKid Begins (The Wish Heard Around the World) will open the 25th edition of the film festival on February 24.
You watched it on TV, tweeted about it, shared one relentlessly heart-warming photo after another on Facebook, now here's your chance to see BatKid (Miles Scott, a 5-year old cancer survivor), if not in person, at least on the big screen in this crowd-funded film. It's a rousing choice – the documentary has been receiving strong reviews from the Slamdance film festival, and the story has struck an inspirational chord with the entire country. Earlier this month, Julia Roberts announced she plans to produce and star in a remake of the events, based on this documentary.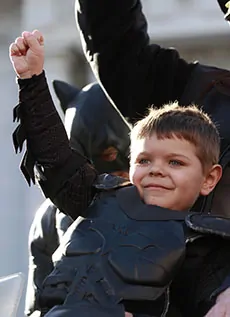 Other highlights for this year's Cinequest, which will once again be held at various venues across downtown San Jose (with the California theater as anchor):
— Screening of Wild Tales with actress Anne Thompson attending (Feb. 25)
— Conversation with director John Boorman and a screening of his post-war drama Queen and Country (Feb. 26)
— An evening with actress Rosario Dawson (Sin City, He Got Game) moderated by Jennifer Siebel Newsom (Feb. 28)
Other key films to keep an eye on this year: Clouds of Sils Maria (featuring strong performances from Juliette Binoche and Kristen Stewart), the comic-thriller Kill Me Three Times (Simon Pegg), Miss India America (Hannah Simone), and Slow West (Michael Fassbender, aka the next Steve Jobs).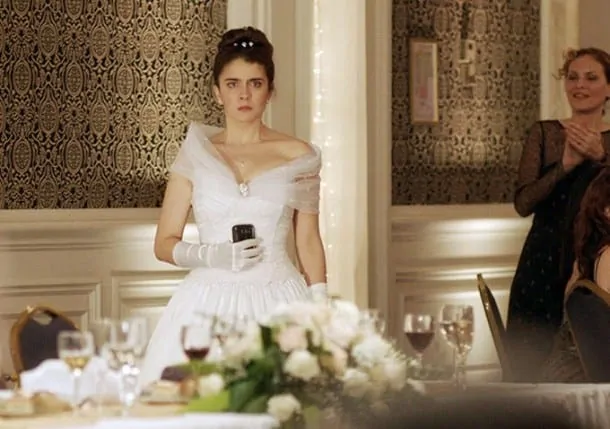 The Cinequest Film Festival runs February 24 – March 8 (tickets are now on sale). I've attended many of them over the years for Stark Insider, and it's an experience not to be missed. Quick tip: definitely try to attend at least one event at The California – it's a hoot to see that old, magical organ warm up the crowd in such a beautiful, historic theater house!
WATCH: BatKid Begins Official Trailer