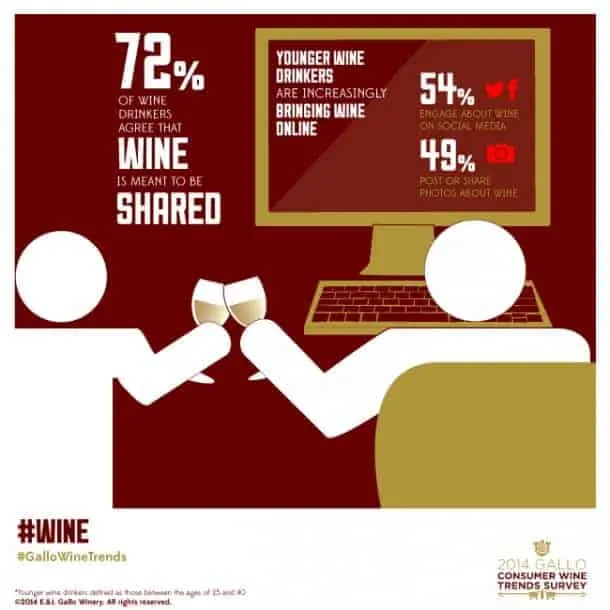 They say a picture is worth a thousand words. It may also be worth a bottle of wine. Oenophiles, prepare to brace yourselves before I drop the bomb that most in the industry already fear and dread:
Wine labels can significantly influence a buying decision.
In fact, nearly two out of three pick a bottle based on the label — be it a classic truck, big pair of red lips, or an etched label featuring Neil Diamond (true).
Cringe. Oh no! Shrugs shoulder. C'est la vie!
That according a new report that came out at the end of 2014 from wine juggernaut, Gallo. The results are based on a survey sent to 1,001 "frequent wine drinkers" in the US.
There's probably an irony of some sort here. Every time a too-cutsey wine label, my spidey senses immediately begin tingling. If–goes my not-so-scientific theory–the winery spent so much time and effort to grab our attention with a visual, what does that say about their confidence in the product? Should we not be talking about the wine itself?
Fortunately, there is an upside: thankfully, it's the taste that keeps most (76% coming back for more).
And, I suppose it's worth noting that we live in an increasingly visual world (infographics, YouTube, Instagram, etc.) and therefore the desire to grab attention however possible is likely a sign of the times. There are beautiful labels too (so I should I attempt to keep my cynical side partially in check), many created by high profile artists, some created by winemarker-artists. A few examples that come to mind include Kenwood in Sonoma, and Darcie Kent in Livermore. I've even learned that some of the Charlie Hebdo cartoonists made ("outrageous") wine labels: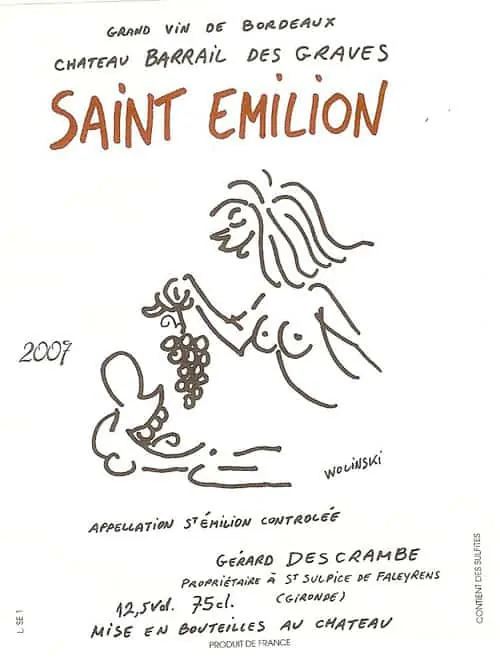 Other interesting wine trends in the report that caught my attention include:
— Moscato and Champagne are popular among young wine drinkers; they are 22% more likely to buy Moscato when compared to 26 other popular varietals (say it ain't so!)
— Social media is increasingly influential; more than half (54%) who answered the survey said they engage in discussions about wine on Twitter, Facebook, and other social networks (not much of a surprise, and a perfect modern-day extension of the idea of "sharing" wine with friends)
— Many drink wine straight up; almost two-thirds (!) of respondents said they mix wine with fruit or fruit juice (let's hope they're not using Scarecrow or Screaming Eagle for that)
Other notable trends include: the popularity of small (187ml) wine bottles — which is seen driven by outdoor events; 72% of wine drinkers under 40 purchase screw tops on a regular basis; eating a meal at home with family is the top activity to accompany wine drinking (followed by relaxing indoors, and watching television).
TOP 10: Snapshots of the American Wine Consumer
Source: 2014 Gallo Consumer Wine Trends Survey
1. SMALL BOTTLES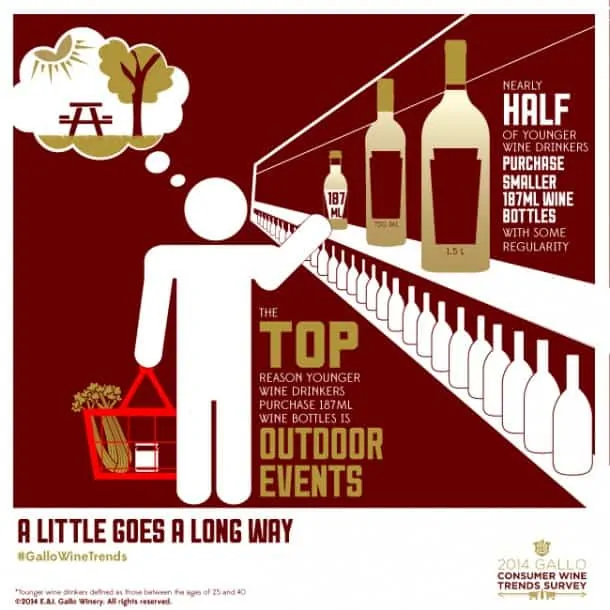 2. SCREW TOPS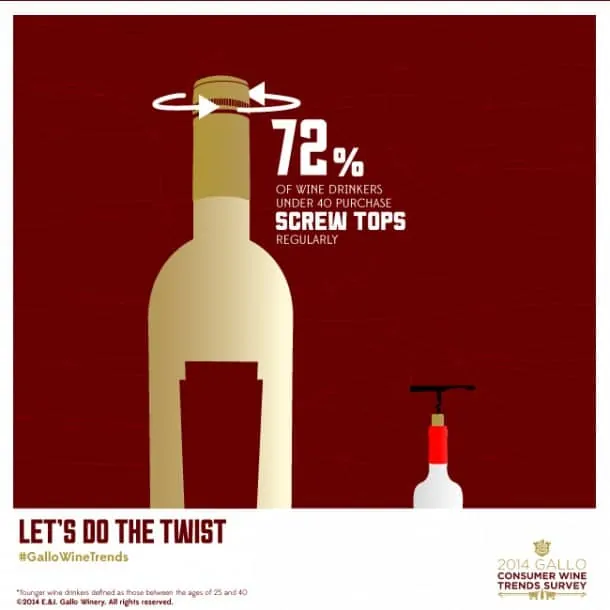 3. BOX WINES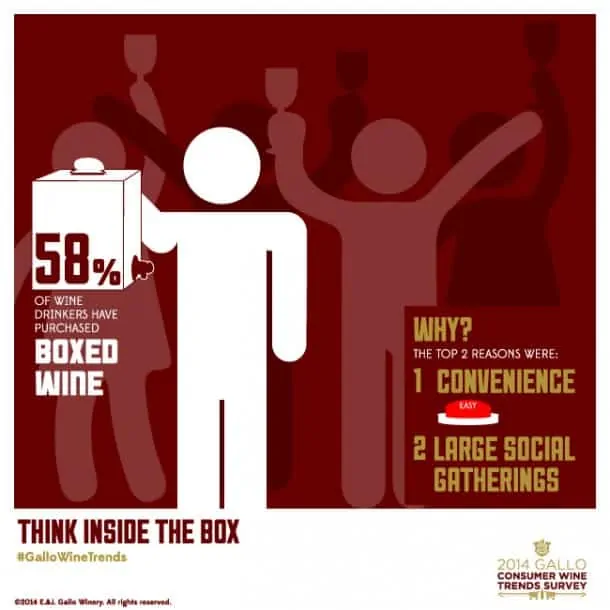 4. MOSCATO AND CHAMPAGNE
5. SPARKLING WINE – NOT JUST FOR SPECIAL OCCASIONS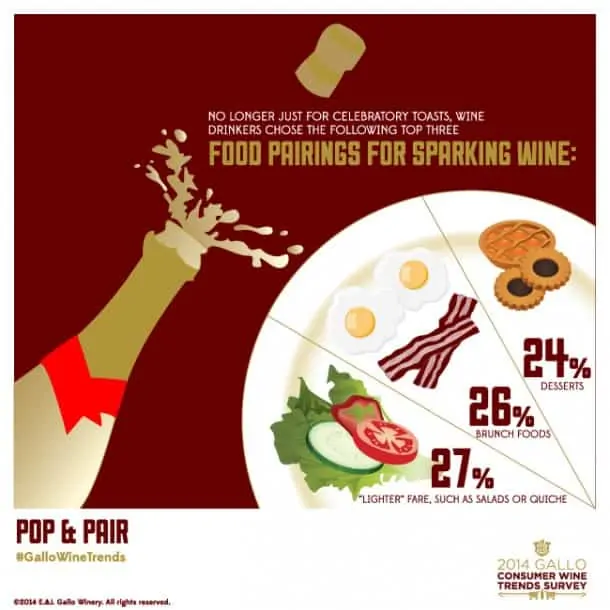 6. MIXING EXPERIMENTATION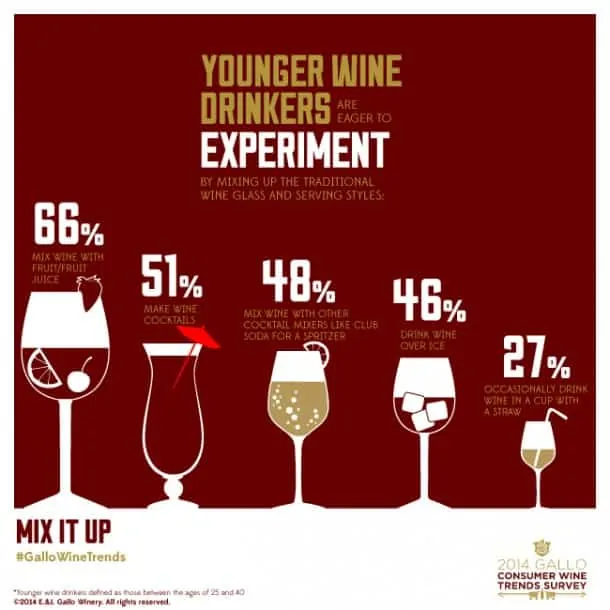 7.  WINE AS FAMILY TRADITION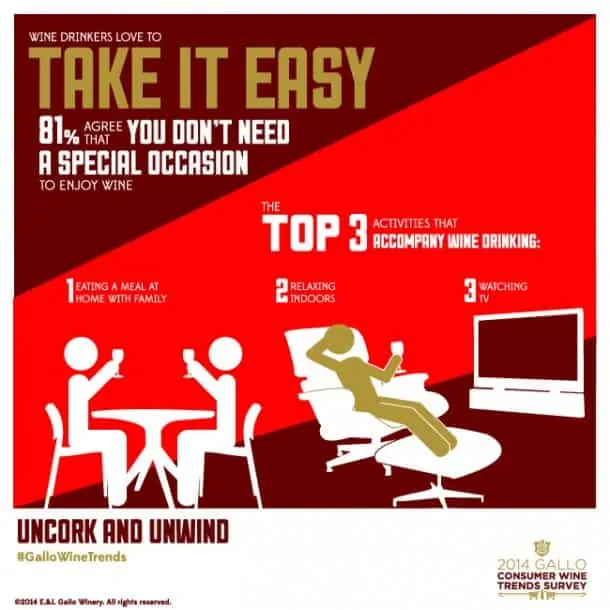 8. WEEKEND WINE TIME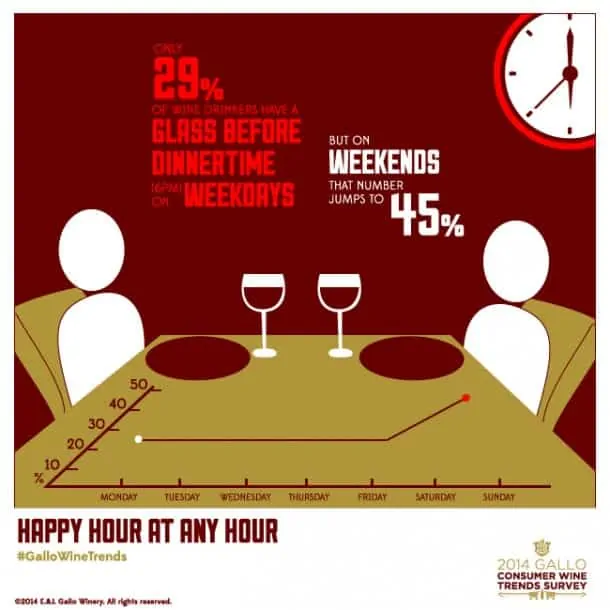 9. WINE AND SOCIAL MEDIA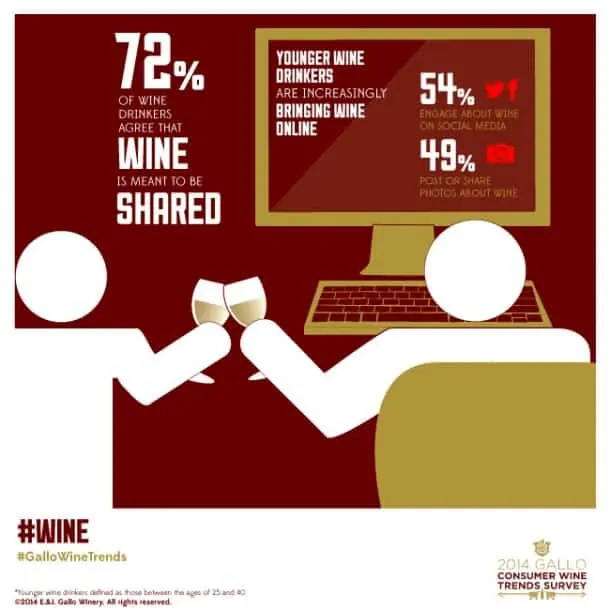 10. YES, LABELS DO INFLUENCE WINE PURCHASES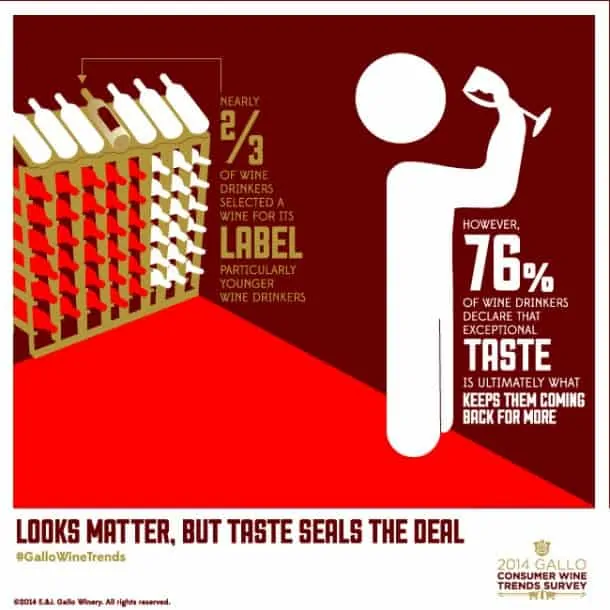 WATCH: Queen of Wine Gina Gallo talks family, wine business, theater
[Gallo Wine Trends]