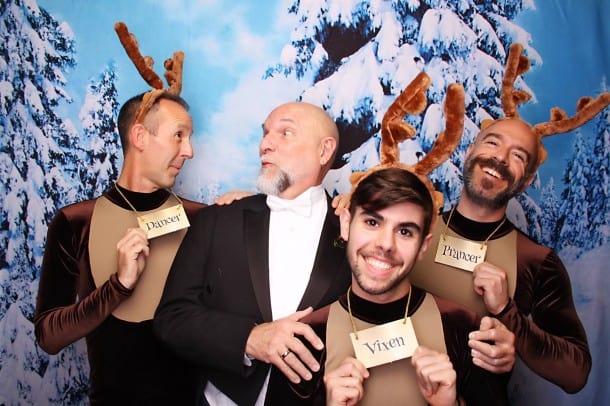 The San Francisco Gay Men's Chorus just knocks you to your knees: first in gratitude that they're so damn good, and second because you're doubled over in laughter at their sartorial choices. Plaid indeed! A sea of plaid, 260 strong… eliciting a response like shockwaves through jello.
The SFGMC shockwave began even before their Dancers, Prancers & Vixens took the stage at the Nourse. The first inkling came when roughly 1/3 of their number streamed down every aisle where they remained for the first few songs, including Sing Noel and Gloria Fanfare, before joining compatriots on stage. While the more critically daft might complain about the uneven sound, those in the aisle seats relished the luxury of keying in on how the sweetness of the one or two individual voices in your ears melded with the whole.
The evening's offerings were a mix of traditional, high camp, and high kitsch, balancing Star Search medley of show tunes with Tom Lehrer's Chanukah in Santa Monica and Ave Maria.
Arrangements – even of traditional songs – brought wisps of unexpected melodies, unpredicted harmonic shifts, and bits of new rhythm. Even if you've spent a lifetime sitting through Christmas choruses, there's enough to make the overly familiar new again.
Joining the SFGMC was the Well Strung Quartet. This self-described "new kind of boy band" is a singing string quartet that takes the notion of string quartets where string quartets have never gone before. Offering The First Noel in the first half and Leonard Cohen's Hallelujah in the the second, they had many in the audience singing along before the evening was out.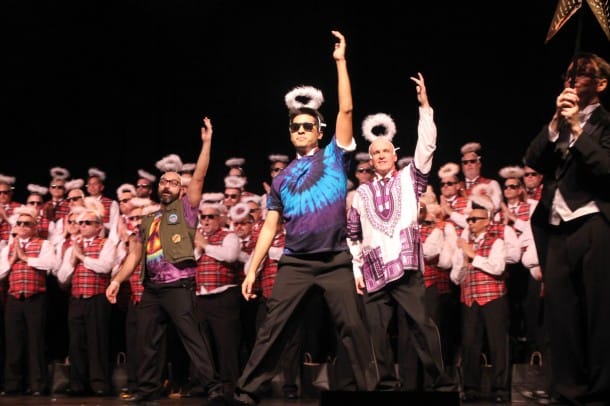 However, relentless Christmas music starts to ring hollow and put teeth on edge with its relentless good cheer. Even the most holiday-minded start stiffening shoulders when assaulted by a Ukrainian Bells whose rigidly insistent melody rivals the focus of a Comcast customer support operator who demonically insists on staying on message.
The SFGMC avoids this entirely by recognizing that Christmas is a season of loss. That knowledge can be translated as the indirect gaze of Mary holding the Christ child and looking into the bleak future, or the bitter sweet acknowledgement of those who aren't here, be it due to time, space, frayed connection, or failure to make it one more time around the sun. The SFGMC never strays too far from that knowledge – which frees us to bring all of ourselves to the holiday. Because of that melodies are brighter, harmonies tighten, and good will a little bit more genuine.
While it's too late to catch this weekend's Dancers, Prancers & Vixens, it's not too late for their concert at on the 19th at Berkeley's Freight & Salvage or  for the SFGMC's 25th Annual Home for the Holidays on December 24th . With three shows at the Castro Theatre, you just might be able to get tix.