All you have to do is glance around at most classical concerts to appreciate the aging of the audience. The situation is somewhat better in San Francisco and Berkeley than down the Peninsula, where my informal head count at a recent Ives Quartet salon produced a 15:1 ratio of grey-to-not-grey hair. I'm hardly the first to point this out: no one's replacing this generation of concertgoers. Fortunately, the situation doesn't extend quite so much to opera (at least locally), and it's not entirely universal (a musician friend regularly expounds "thank God for China"), but we hardly need to be outsourcing our audiences.
The days when the badge of having made it to the middle class was a piano in the parlor and a kid who could play it seem pretentious, but that meant some of us were inclined to be at least occasional concert goers. I didn't realize what a huge transition has occurred until Stanford professor Russell Berman noted that fewer and fewer students could read music. It seemed like disgruntled grumbling until I did a mental tally of my own students – including those with a Steinway grand and music room. Few of these kids had struggled long enough to hammer out Fur Elise, let alone reach for anything else.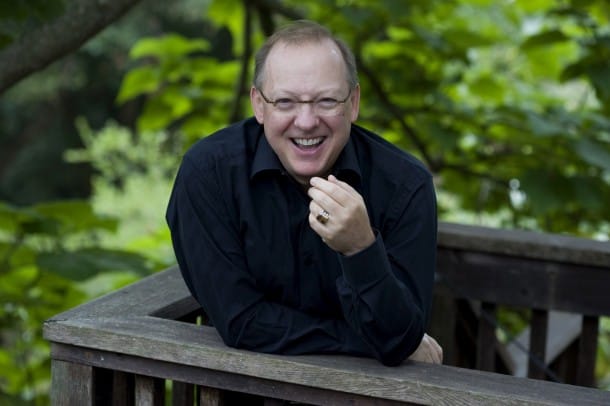 This means that orchestras have to struggle even harder to hold and build audiences. Most attempts – like the SF Symphony's free access to children accompanying ticket holders to some of this summer's events – generate lukewarm results at best. Therefore, you can imagine my surprise at the Philharmonia Baroque Orchestra's recent program, SESSIONS. Leave it to a group focused upon historically informed Baroque music – the same stuff that could be voted most likely to be museum pieces – to develop a concert format for the 21st century.
PBO describes SESSIONS as "an entirely new type of concert." Events take place in small intimate venues such as the ODC theatre and SFJAZZ, where, not inadvertently, the PBO sound their best. This event was hosted by the familiar voice of KDFC's Hoyt Smith.
Don't think for a moment that the PBO is trying to con you into thinking that Brussels sprouts are palatable by offering free wine or some other gimmick to sweeten the deal. PBO respects their audiences too much for such tricks. Instead, they offer programming that's appropriate to an audience that's already spent at least eight hours at work and is looking to be recharged. In addition to a congenial venue, short pieces proffered up between multimedia presentations certainly beat staring at the dandruff from the seat ahead of you. Throw in world class musicians like cellist Steven Isserlis, and you'll leave feeling better than any of the great Baroque musical patrons possibly could.
Friday's concert programming was interesting, in part, because it focused on two non-Baroque composers: Luigi Boccherini and Carl Philipp Emmanuel Bach. Both are interesting because they point to ways out of the Baroque – and both are exactly what Friday night music should be.
The evening belonged to the leonine Steven Isserlis, playing his 'Marquis de Coberon' Stradivarius, on loan from the Academy of Music. Playing from the inside out, he inhabiting every cubic millimeter of the music, providing nuance and dimension where none existed before and finding depth and richness in sounds that you never appreciated. His use of vibrato was so economical and intentional that it sounded more like ornament than the reflexive character given by many musicians. You can't miss his unique sound even on crappy Macbook Pro speakers. In person, in a venue like this, he sounds positively transcendental. Friday evening's concert – Isserlis and the PBO – felt like a once-in-a-lifetime event.
Don't think for a moment that the PBO is trying to con you into thinking that Brussels sprouts are palatable by offering free wine or some other gimmick to sweeten the deal.
The evening's Boccherini's included the well known String Quintet Op. 11, No 5 in E major, with its Spinal Tap rift, as well as the Concerto for Violoncello No. 7 in G Major, G 480 and String Quintet Op 30, No. 6, Musica notturna delle strade di Madrid, the last of which include huge sections in which some subset of the strings were strummed in the manner of Madrid street musicians.
For me, the surprise was the CPE Bach's Concerto for Violoncello in A major, Wq 172.   Music director, conductor and Order of the British Empire Nicolas McGegan pointed out that it was more appropriate to refer CPE as "Emmanuel" than the conventional "CPE" shorthand that distinguishes this son of Johann Sebastian from all the other Bachs. 2014 is the 300th  anniversary of his birth, so he's appearing on everyone's programming.
If CPE – oops – Emmanuel – hasn't been on your radar until this year, there's reasons for that. Certainly not baroque and not yet classical, many academics dismissed him as an interesting footnote en route to something else. Notes from a decade-old musical appreciation class at Stanford read: "endearing and loveable," but "not yet classical" because sections sound "clunky as if blocks of music are stitched together." Hah! Thanks to the PBO and Steven Isserlis, now we know better know (1714 – 1788).
The Philharmonia performance of the aforementioned Concerto for Violoncello was exuberant, infused with vitality. The entire first and third movements were incredibly clean, clear, and punctuated with fully developed musical gestures that built to a totality that made some part of the universe better. You can expect no more from music. Isserlis commanded the slow movement – which could seem to senselessly wander in lesser hands – with a graduated expressiveness almost entirely absent from much Baroque music.
The bad news is that the next SESSIONS concert won't be until spring, 2015. However, the next PBO concerts – a program of J.S. Bach and Handel, with guest countertenor Andreas Scholl will be at various Bay area venues the first week of November.