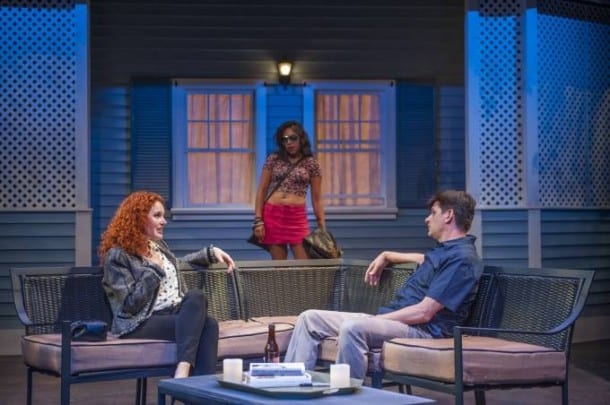 My thoughts on spending two hours in Berkeley watching a play about feminism? Not so much. Then again the universe has a way of righting itself sometimes. Having just finished watching the first season of Silicon Valley, maybe this was deserved justice. Turns out–contrary to Mike Judge's hugely entertaining, but male-dominated view of start-ups and testosterone-fueled coders–women can sometimes be college-educated, do more than manage others' calendars, and even prove to be valued as more than just a convenient love interest. Who knew?!
Any play that can weave in mentions of legendary Italian horror film director Dario Argento, and John Carpenter's genre defining Halloween, and critique the zeitgeist that resulted in the "torture porn" era is clearly doing something right.
Well, Gina Gionfriddo knew. Her new play Rapture, Blister, Burn last evening kicked off Aurora Theatre's 23rd season. And it's about as good as it gets. And no, not a single bra was burned. I'm not exactly a versed student of feminism, but I'd sign-up for Gionfriddo 101 in a heart beat. How witty, thought-provoking, entertaining this writing.
It must be said that any play that can weave in mentions of legendary Italian horror film director Dario Argento, and John Carpenter's genre defining Halloween, and critique the zeitgeist that resulted in the "torture porn" era (in my view a low point in modern horror ignited by the somewhat curious Hostel) is clearly doing something right. Using such topics and everyday subject matter is just one of "rock star academic" Catherine's (played expertly and with increasingly reckless abandon by Marilee Talkington) ways of getting her students to engage in the evolution of woman's rights and to discuss and debate the state of gender politics. With two published books and several media appearances, her career is going gangbusters. Her students include an old classmate who's now a stay-at-home mom (Rebecca Schweitzer) and a babysitter with a mysterious black eye (Nicole Javier).
UNDER THE SKIN

In Under the Skin (2013), Scarlett Johansson plays an alien preying on men on the streets of Glasgow (my review on Stark Insider). Jonathan Glazer's film is an art-house gem and anything but conventional sci-fi. It was one of the things my wife Loni and I discussed after seeing this play. I'm not sure why. But we were trying to apply the kinds of thinking and cultural analysis that the material provoked. SPOILER ALERT – do not read further if you haven't seen Under the Skin and don't want to know about the ending. Johansson starts out strong, robotic. She woos men. Seducing them in her lair, before capturing them into her murky oily trap. There's no emotion. She goes through the motions. Is she the equivalent of a modern day woman wearing a form of outer skin, climbing her way to the top with calculation? As the film progresses she starts to adapt to her surroundings, and, ultimately becomes increasingly human – she becomes empathetic, she cries, she discovers her sexuality (sort of). Later, she finds herself unwittingly the prey. The tables have turned. Her protective shield is gone. And, she is raped in the forest by a ranger, then left in a burning heap.
The first act is very much a classroom act – the history of modern feminism, expectations of women at home and at work, and the philosophies of Rousseau and Schlafly. That leads way to the story itself which sees two old friends coveting each other's lives. One has a family. One has a career. But neither is happy.
Homemaker Gwen wants to chase an artistic dream that involves moving to New York – her apathetic husband (Gabriel Marin) lounges around, smokes weed, and is addicted to internet porn, and yet somehow finds himself Dean at a local school. So you'll understand why from time to time she cries in her Shirley Temple. Her ailing Mom (Lillian Bogovich) doesn't help matters (though she makes a mean cocktail).
Meanwhile Catherine now finds herself on the wrong side of 40, and despite a rocketship of a career, secretly longs for a taste of domestic life.
What ensues, "a risky game of musical chairs," could sound like somewhat trashy television fodder. But Gionfriddo gives us characters who are far beyond caricature. Every word, line it seems is honed to authentic perfection.
If you support feminism, does that mean you support porn? So: she can do anything she wants… so long as she doesn't "suck dick on porn"?
A husband can divorce you. A child grows up and leaves. Why does a woman spend the majority of her life serving those who will ultimately abandon her?
And, if you leave the door open does that make it right to steal?
Questions abound. In Rapture, Blister, Burn you can't help but be sucked into the debate. Amazingly, to stoke the mental fire Gionfriddo gives us multiple, convincing viewpoints – no less than three generations of women, and what could be called a "heart man," the sole male, the husband.
SLASHER FLICKS AND WOMEN

In this play there's a mention that the advent of the horror slasher film was a reaction to feminism. That it was anti-feminism. To which I say: put that knife down and stop being ridiculous! Yes, the 80's saw its share of gratuitous horror where shapely women were used to titilate us teenage boys. But look closer and you realize that the best of that generation all featured strong women who did not stand down. In the incredible and low-budget wonder Halloween (1978) Jamie Lee Curtis was arguably the world's first true scream queen. But she was also a fighter. Even the boogeyman could not take away her will. She was as equally strong, calculating and relentless. In Friday the 13th (1980) everyone remembers Jason. But in the first (and best) of the series–the original–it's Alice Hardy who is ultimately the hero, fighting back, notably in a shocking finale that has become horror lore. Wes Craven's dream fantasy horror Nightmare on Elm Street (1984) – same thing. The bastard son of a thousand maniacs vs. a doey-eyed school girl (and her boyfriend played by a certain actor named Johnny Depp). Freddy didn't stand a chance. Well, not at least, until he tried again in NOES #2, 3, 4, 5, 6,  and 7.
Performances here at Aurora on this evening were once again uniformly sublime. Nicole Javier, in particular, is a firecracker, and nails several key lines with highly satisfying timing. Her precocious 21-year-old character flies in the eye of the conventional stereotype, the perfect foil to question decades of feminist thought. I forgot how enjoyable a thrust configuration can be – you're right down and dirty with the actors, distance a matter of feet. Sure, occasionally you get butt shot blocking, but that simply adds to the drama.
If I had one quibble it might be with the ending. It's too neat. I might prefer something less literal, clean – something like the ending of Rosemary's Baby maybe?
While everyone will walk away with their own thoughts, likely identical to the ones they had before walking through the doors of Aurora, they will have been vigorously shaken and profusely tickled. Whether or not your particular conversation blew up later like a can of Coke in the car ride home (ours didn't, but we did talk and debate and talk and debate some more) is perhaps a matter of context and individuality. But I can guarantee this: an evening of intelligent, comedic theater does not get much better than this play.