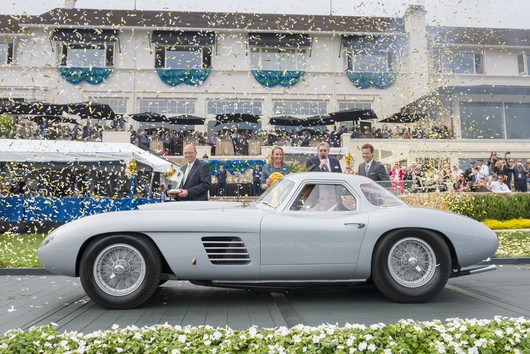 For the first time a Ferrari was named "best of show" ait this year's edition of the Pebble Beach Concours d'Elegance. Owned by Jon Shirley of Medina, Washington, it was also the first postwar car to take the top award in nearly five decades. The awards were held yesterday during the annual Concours along 17 Mile Drive which ended a week that featured classic cars, exotic supercars, concept cars and modern cars from manufacturers such as Infiniti, Lexus, and Porsche, among others.
"This is a road-going Ferrari, and it has had quite the famous life having been designed by Sergio Scaglietti for Roberto Rossellini," said Chairman Sandra Button. "Its design was also trend-setting. So it is fitting that this is our first postwar winner in many years." The last postwar car to be named Best of Show was a 1964 Maserati Mistral Coupé, which topped contenders back in 1968.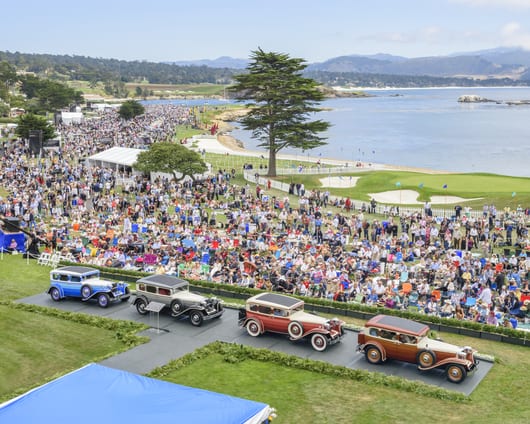 The 2014 Pebble Beach Concours d'Elegance showcased 216 cars and motorcycles, 35 of which came from outside of the United States. It also raised $1,677,445 for charity, bringing total charitable donations from the Concours to more than $19 million over time.
MORE STARK INSIDER: On Location: Pebble Beach Concours d'Elegance – Racing Through the Forest
When asked about the significance of the win by his postwar car, Shirley said, "I just hope it means that some more will have the chance to do the same thing. There are some wonderful coachbuilt postwar cars, and I think the owners should bring them here and try for the Best. I've won Best of Show before but this was really a special thrill to do it with this car." Shirley, the former president of Microsoft, previously won in 2008 with a 1938 Alfa Romeo 8C 2900B Touring Berlinetta.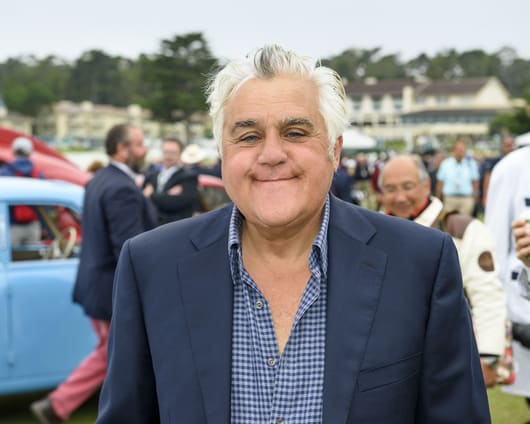 Shirley acquired his winning Ferrari back in 1995, and after a full restoration, he first showed the car at the Pebble Beach Concours in 1998. It won its class on that occasion, but did not go further. After being used on numerous tours and rallies, the car was recently restored once more, with a focus on originality, incorporating new research. For example, leather seats were returned to their original vinyl. The final result on Sunday was dramatically different, with the car garnering Best of Show.
"The styling is very special, but I love the engine, I love to drive the car," said Shirley. "It's a very powerful car. It's a racecar underneath; it's four and one-half liters. And it's a great deal of fun."
2014 Pebble Beach Concours d'Elegance

Complete List of Winners

SPECIAL AWARD WINNERS

Best of Show

Best Of Show
1954 Ferrari 375 MM Scaglietti Coupe
Jon Shirley, Medina, Washington

Best of Show Nominees

1934 Hispano-Suiza J12 Fernandez et Darrin Coupé de Ville
Robert M & Anne Brockinton Lee, Reno, Nevada

1934 Packard Twelve Dietrich Convertible Victoria
Frank & Milli Ricciardelli, Sarasota, Florida

1937 Rolls-Royce Phantom III Vanvooren Sports Cabriolet
Lord Bamford, Gloucestershire, England

1954 Ferrari 375 MM Scaglietti Coupe
Jon Shirley, Medina, Washington

Most Elegant Awards

J.B. & Dorothy Nethercutt Most Elegant Closed Car
1937 Bugatti Type 57SC Atalante
Jim Patterson/The Patterson Collection, Louisville, Kentucky

Gwenn Graham Most Elegant Convertible
1937 Cord 812 SC Cabriolet
Chris & Katrina Cord, Ketchum, Idaho

Most Elegant Open Car
1933 Auburn 12-165 Salon Speedster
Bill & Barbara Parfet, Hickory Corners, Michigan

Strother MacMinn Most Elegant Sports Car
1954 Ferrari 375 MM Scaglietti Coupe
Jon Shirley, Medina, Washington

Special Awards

Alec Ulmann Trophy
1934 Hispano-Suiza K6 Fernandez et Darrin Coupé Chauffeur
Robert M. & Anne Brockinton Lee, Reno, Nevada

Ansel Adams Award
1910 American Underslung Traveler Toy Tonneau
William Johnston & Ronald Elenbaas (The Off Brothers Collection), Richland, Michigan

Art Center College of Design Award
1954 Ferrari 375 MM Scaglietti Coupe
Jon Shirley, Medina, Washington

Briggs Cunningham Trophy
1910 Fiat S61 Racing
Susan & Bill Evans, San Diego, California

Classic Car Club of America Trophy
1934 Packard 1108 Twelve Dietrich Convertible Victoria
Frank & Milli Ricciardelli, Sarasota, Florida

Chairman's Trophy
1902 Toledo Model A Stanhope Runabout
Nick Howell, Penzance, England

Charles A. Chayne Trophy
1913 Peugeot L45 Race Car
Ann Bothwell, Woodland Hills, California

Elegance in Motion Trophy
1934 Hispano-Suiza J12 Fernandez et Darrin Coupé de Ville
Robert M. & Anne Brockinton Lee, Reno, Nevada

Enzo Ferrari Trophy
1959 Ferrari 250 TR59 Fantuzzi Spyder
John & Gwen McCaw

FIVA Postwar Trophy
1957 Ferrari 250 Testa Rossa Scaglietti Spyder
Tom Hartley Jr., Derbyshire, England

FIVA Prewar Trophy
1930 Ruxton C Roadster
Fred Guyton, St. Louis, Missouri

The French Cup
1936 Delage D6-70 Figoni & Falaschi Milord Cabriolet
Peter Harburg, Brisbane, Australia

Gran Turismo Trophy
1954 Maserati A6GCS Spyder
Madylon & Dean Meiling, Incline Village, Nevada

Lincoln Trophy
1933 Lincoln KB Sport Phaeton
The Passey Family, Watsonville, California

Lorin Tryon Trophy
Ken Gross

Lucius Beebe Trophy
1929 Rolls-Royce Phantom I Brewster Riviera Town Car
Quintessence

Mille Miglia Postwar Trophy
1957 Kurtis 500X "Caballo II" Sutton Sports Racer Open
Thomas Shaughnessy, Oceanside, California

Mille Miglia Prewar Trophy
1929 OM 665 SSMM Team Car Sport Milano Roadster
Dr. Richard D. Lisman, Southampton, New York

Mercedes-Benz Star of Excellence Award
1927 Mercedes-Benz 630K Hibbard & Darrin Convertible
The Keller Collection at the Pyramids, Petaluma, California

Montagu of Beaulieu Trophy
1952 Jaguar XK120 Open Two Seater
Kurt A. Engelhorn, St. Moritz, Switzerland

The Phil Hill Cup
1957 Ferrari 250 GT TDF Scaglietti 14 Louvre
Les Wexner, New Albany, Ohio

The Revs Program at Stanford Award
1957 Ferrari 250 Testa Rossa Scaglietti Spyder
Tom Hartley Jr., Derbyshire, England

Road & Track Trophy
1957 Ferrari 250 Testa Rossa Scaglietti Spyder
Tom Hartley Jr., Derbyshire, England

The Tony Hulman Trophy
1949 Maserati Tipo 4CLT/48 Monoposto
Daniel Sielecki, Acassuso, Argentina

The Vitesse – Elegance Trophy
1956 Maserati A6G 2000 GT Zagato Berlinetta
Jim Utaski, Princeton, New Jersey

CLASS WINNERS

Class A: Antique
1st:

1910 American Underslung Traveler Toy Tonneau, William Johnston & Ronald Elenbaas (The Off Brothers Collection), Richland, Michigan
2nd:

1908 Daimler TC48 Roi des Belges, The Longfield Family, Burlington, Ontario, Canada
3rd:

1915 Pierce-Arrow 48 7 Passenger Suburban, Ronald & Sandra Hansen, Fillmore, California

Class B: Early Steam Cars
1st:

1905 White Model E Light Touring Body, Michael Ersland, Chickasha, Oklahoma
2nd:

1902 White Model B Stanhope Steamer, Tom Goyne, Denver, Colorado
3rd:

1907 White Model G Runabout Prototype, Mitch & Wendy Gross, Scarsdale, New York

Class C-1: American Classic Open Early
1st:

1933 Chrysler CL Imperial Custom LeBaron Phaeton, Joseph & Margie Cassini III, West Orange, New Jersey
2nd:

1933 Cadillac 452C Fleetwood Convertible Victoria, Aaron & Valerie Weiss, San Marino, California
3rd:

1933 Auburn 12-165 Salon Speedster, Bill & Barbara Parfet, Hickory Corners, Michigan

Class C-2: American Classic Open Late
1st:

1934 Packard 1108 Twelve Dietrich Convertible Victoria, Frank & Milli Ricciardelli, Sarasota, Florida
2nd:

1935 Packard 1201 Eight Graber Convertible Victoria, Ralph & Adeline Marano, Westfield, New Jersey
3rd:

1934 Packard 1104 Super Eight Sport Phaeton, Larry & Susan Nannini, Daly City, California

Class C-3: American Classic Closed
1st:

1937 Chrysler Imperial C-15 LeBaron Town Car, Howard & Rosalind Kroplick, East Hills, New York
2nd:

1933 Packard 1005 Twelve Coupe, Laura & Jack B. Smith Jr., Elkhart, Indiana
3rd:

1935 Cadillac 370D Fleetwood Town Cabriolet, Pat & Pat Brothers, Bridal Veil, Oregon

Class D: Ruxton
1st:

1930 Ruxton C Baker-Raulang Roadster, Evelyn & Jim Fasnacht, Houston, Texas
2nd:

1930 Ruxton C Baker-Raulang Phaeton, Evelyn & Jim Fasnacht, Houston, Texas
3rd:

1931 Ruxton C Edward G. Budd Mfg. Co. Sedan, Academy of Art University, San Francisco, California

Class F: Fernandez et Darrin Coachwork
1st:

1934 Hispano-Suiza J12 Fernandez et Darrin Coupé de Ville, Robert M. & Anne Brockinton Lee, Reno, Nevada
2nd:

1931 Delage D8 SS 100 Fernandez et Darrin Cabriolet, The Keller Collection at the Pyramids, Petaluma, California
3rd:

1934 Hispano-Suiza K6 Fernandez et Darrin Coupé Chauffeur, Robert M. & Anne Brockinton Lee, Reno, Nevada

Class G: Duesenberg
1st:

1929 Duesenberg J Murphy Convertible Sedan, John P. Shibles, Sea Girt, New Jersey
2nd:

1933 Duesenberg SJ Brunn Riviera Convertible Sedan, John D. Groendyke, Enid, Oklahoma
3rd:

1934 Duesenberg J Murphy Custom Beverly Sedan, Tony & Jonna Ficco, Wheatridge, Colorado

Class H-1: Rolls-Royce
1st:

1937 Rolls-Royce Phantom III Vanvooren Sports Cabriolet, Lord Bamford, Gloucestershire, England
2nd:

1929 Rolls-Royce Phantom I Brewster Riviera Town Car, Quintessence
3rd:

1914 Rolls-Royce Silver Ghost Portholme Alpine Tourer, Steven & Susan Littin, Chardon, Ohio

Class H-2: Rolls-Royce Phantom Postwar
1st:

1961 Rolls-Royce Phantom V James Young Sedanca de Ville, Ken & Ann Smith, Rancho Santa Fe, California
2nd:

1956 Rolls-Royce Phantom IV H. J. Mulliner Saloon, The Nethercutt Collection – Helen & Jack Nethercutt, Sylmar, California
3rd:

1970 Rolls-Royce Phantom VI Mulliner Landaulette, Stephen F. Brauer, St. Louis, Missouri

Class I: Mercedes-Benz Prewar
1st:

1941 Mercedes-Benz 770K W150 Offener Tourenwagen, The William Lyon Family, Newport Beach, California
2nd:

1927 Mercedes-Benz 630K Hibbard & Darrin Convertible, The Keller Collection at the Pyramids, Petaluma, California
3rd:

1937 Mercedes-Benz 540K Cabriolet A, Thomas & Rhonda Taffet, Chatsworth, California

Class J-1: European Classic Early
1st:

1929 Bentley Speed Six Saoutchik Drophead Coupé, John & Gwen McCaw
2nd:

1936 Delage D6-70 Figoni & Falaschi Milord Cabriolet, Peter Harburg, Brisbank, Australia
3rd:

1931 Bugatti Type 50 Million-Guiet Coupé, Peter & Merle Mullin, Los Angeles, California

Class J-2: European Classic Late Open
1st:

1938 Delahaye 135 MS Figoni & Falaschi Torpédo Grand Sport, Jeffrey & Frances Fisher, Palm Beach, Florida
2nd:

1939 Lagonda V12 Rapide Drophead Coupe, Ron Rezek, Ashland, Oregon
3rd:

1937 Bentley 4¼ Litre Vanden Plas Roadster, Barry G. Hon, Dana Point, California

Class J-3: European Classic Late Closed
1st:

1939 Talbot-Lago T150C-SS Pourtout Coupé, The Hon. Sir Michael Kadoorie, Hong Kong SAR, China
2nd:

1937 Bugatti Type 57SC Atalante, Jim Patterson/The Patterson Collection, Louisville, Kentucky
3rd:

1938 Talbot-Lago T23 Figoni & Falaschi Faux Cabriolet, Paul Bloch, Miami Beach, Florida

Class J-4: Prewar Sports Racing
1st:

1925 Bentley 3 Litre Speed Model Taylor Tourer, Stanley & Merle Bauer, Beverly Hills, California
2nd:

1935 Riley MPH Roadster, Willem van Huystee, Lancaster, Pennsylvania
3rd:

1936 Aston Martin Speed Model , Michael Dee, St. Clement, Jersey

Class K: Streamlined Tatra
1st:

1936 Tatra T77 Aerodynamic Limousine, Pavel Kasik, Prague, Czech Republic
2nd:

1937 Tatra T77A Aerodynamic Limousine, Kees Smit, Amsterdam, The Netherlands
3rd:

1940 Tatra T87 Aerodynamic Saloon, Chris Ohrstrom, The Plains, Virginia

Class L-1: Prewar Preservation
1st:

1922 Packard Twin Six Brunn Cape Top Touring, Mark & Kim Hyman, St. Louis, Missouri
2nd:

1936 Horch 853 Cabriolet, Guy & Dorothy Mace, Springfield, Missouri
3rd:

1904 Turner-Miesse 10 HP Rear Entry Tonneau, Jack & Kingsley Croul, Corona Del Mar

Class L-2: Postwar Preservation
1st:

1954 Alfa Romeo 1900 SSZ Zagato Coupé, Corrado Lopresto, Milano, Italy
2nd:

1962 Mercedes-Benz 300 SL Roadster, Evan Metropoulos, Beverly Hills, California
3rd:

1967 Ferrari 275 GTB/4 Scagletti Coupe, Paul Stewart, Woburn, United Kingdom

Class M-1: Ferrari Grand Touring
1st:

1954 Ferrari 375 MM Scaglietti Coupe, Jon Shirley, Medina, Washington
2nd:

1951 Ferrari 212 Inter Vignale Cabriolet, Heinrich Kampfer, Seengen, Switzerland
3rd:

1961 Ferrari 400 Superamerica Pininfarina Coupe Aerodinamico, Larry & Jane Solomon, Woodside, California

Class M-2: Ferrari Competition
1st:

1957 Ferrari 250 GT TDF Scaglietti 14 Louvre, Les Wexner, New Albany, Ohio
2nd:

1954 Ferrari 250 Monza Scaglietti, Dana & Patti Mecum, Walworth, Wisconsin
3rd:

1951 Ferrari 212 Export Berlinetta, Dennis P. Nicotra, Fairfield, Connecticut

Class M-3: Ferrari 250 Testa Rossa
1st:

1959 Ferrari 250 TR59 Fantuzzi Spyder, John & Gwen McCaw
2nd:

1958 Ferrari 250 Testa Rossa Scaglietti Spyder, Willis Murphey, Jr. and Harry Yeaggy, Cincinnati, Ohio
3rd:

1957 Ferrari 250 Testa Rossa Scaglietti Spyder, Tom Hartley Jr., Swadlincote, England

Class N-1: Maserati Centennial Racing
1st:

1949 Maserati Tipo 4CLT/48 Monoposto, Daniel Sielecki, Acassuso, Argentina
2nd:

1955 Maserati 300S Fantuzzi Spyder, Pierre F. Mellinger, Crans Montana, Switzerland
3rd:

1957 Maserati 450S Spyder, Bruce R. McCaw, Bellevue, Washington

Class N-2: Maserati Centennial Coachwork
1st:

1956 Maserati A6G/54 Frua Coupé, Joe & Sharon Hayes, Chicago, Illinois
2nd:

1956 Maserati A6G 2000 GT Zagato Berlinetta, Jim Utaski, Princeton, New Jersey
3rd:

1951 Maserati A6G 2000 Frua Spyder, John F. Bookout Jr., Houston, Texas

Class O-1: Postwar Touring
1st:

1951 Jaguar XK120 Fixed Head Coupé, Stuart Dyble, Oxford, England
2nd:

1950 Bentley Mark VI Hooper Sports Saloon, Fred & Donna Kriz, Monte Carlo, Monaco
3rd:

1958 BMW 503 Series II Cabriolet, Karra L. Canum, San Jose, California

Class O-2: Postwar Sports Racing
1st:

1952 Jaguar XK120 Open Two Seater, Kurt A. Engelhorn, St. Moritz, Switzerland
2nd:

1957 Kurtis 500X "Caballo II" Sutton Sports Racer Open, Thomas Shaughnessy, Oceanside, California
3rd:

1953 Pegaso Z-102 Touring Spyder, Caballeriza Collection, Redondo Beach, California

Class X: Eastern European Motorcycles
1st:

1952 IFA BK350 , Jim & Sharon Dillard, Richmond, Virginia
2nd:

1964 Zweirad Union Kavalier Type 115 , John Landstrom, Norcross, Georgia
3rd:

1960 Jawa Z15 DOHC Racer, Virgil Elings, Solvang, California