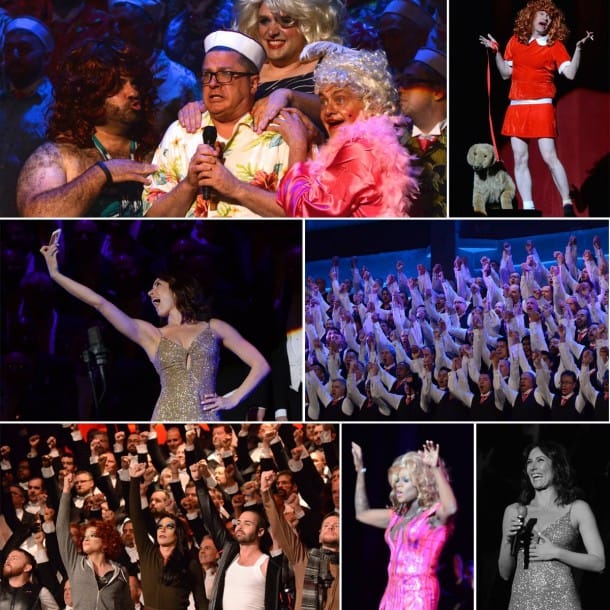 Last night's San Francisco Gay Men's Chorus (SFGMC) performance was bedeviled by one major problem: like all stellar concerts, it came to an end. That said, for once the Nourse's Auditorium's lack of a wine bar and adequate bathroom facilities worked in its favor because one got to enjoy the boys back on stage a little faster than logistically feasible in other venues.
SFGMC proclaimed that this was Broadway – Our Way" – which means it was informed by teasingly different arrangements, higher energy, and a deliciously gay sensibility that informed the choice of material, the arrangements, the staging, and the performers, including an opening by Nancyboy (imagine Joel Grey as the emcee in a fascinator and platform heels) through the program and the fabulous Laura Benanti (think Elsa Schrader in the televised version of the same just a few months ago), and the 250 hunky guys singing I'm Gonna Wash that Man Right Out of My Hair.
We all recognize the SFGMC as a flagship institution of San Francisco. However, having been spoiled by the electrifying snippets that make it out to the general press, I anticipated a little  less wattage. After all, with individual chorus sections bigger than most choruses, and nary an alto or soprano on hand, how could they possibly sound crisp or have any kind of range? After all, even Chanticleer, the other local all-male chorus, has to throw in a counter tenor or two to expand the melodic range.
Boy, was I ever wrong. Not only was this the most fun night out I've had in ages, the choral quality was uniformly excellent. From the high camp of Nancyboy (topped with a fascinator and moving gracefully in towering platforms) riffing off Joel Grey to an exquisitely nuanced Send in the Clowns, the artistic caliber of these two hundred and fifty hunky sweaty guys left nothing on the table.
Stepping on stage for tunes from "Nine," "My Fair Lady," and "Women on the Verge of a Nervous Breakdown," among others, Laura Benanti provided a mellifluous soprano that people pickier than I might claim was missing. Benanti's voice is a fascination in itself. Her warm and easy stage manner is about as genuine as they come, in part because her Uncle Bob was one of the founding members of the SFGMC.
However, it wasn't just Benanti's vocals and stage manner that balanced the program. The program was liberally interspersed with numbers like Spring Time for Putin, complete with Steve Huffines as a lederhosen-clad Putin. Couple the high humor of such numbers with imaginative medleys interweaving To Life from "Fiddler" with La Vie Boheme from "Rent" and you'll be on edge waiting to see where the group goes next.
missingPast history remains close – and provided some of the best moments of the evening with a few double-entendre songs with special meaning for all of us, including Empty Chairs at Empty Tables, from "Les Mis," No One is Alone, from "Into the Woods," and Wishing You Were Somehow Here Again from "Phantom" brought back so many beloved missing – if only by holding their absence closer.
Even if you're not gay – or maybe especially if you're not gay – the SFGMC is a great way to kick off this San Francisco Pride weekend. You'll be smiling from ear to ear if you do.