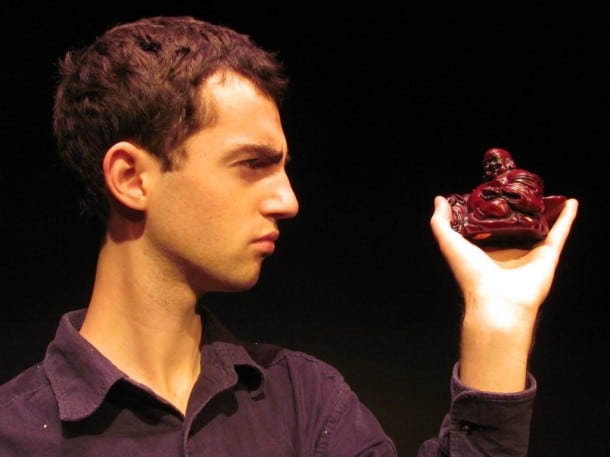 Dezi Gallegos' one-man show, God Fights the Plague, is as much a personal quest as an exploration of faith. Painfully honest, Gallegos takes his audience through a series of interviews conducted with believers and non-believers. We meet a self-proclaimed witch who prays to Elvis, a world Qigong leader, Muslims, rabid Christians, atheists, drag queens and rabbi Irwin Keller, and assorted others. Each brings a different slant on the universal question to which Gallegos seeks an answer.
Given the nature of this well trod material, Gallegos' characters often resort to clichés (haven't we all heard too much about atheists and foxholes?) and religious pablum, which some might find difficult to sit through. Likewise, his nonorthodox use of the word "plague" to describe any negative social or medical problem is mildly irritating. However, Gallegos' honesty and sincerity shine through as he struggles to synthesize ideas gleaned from his cast of characters without resorting to the annoying dogmatism of true believers.
Some of the most interesting parts of this show are unrelated to the quest of a skeptical wanna-be believer who's too smart to accept glib answers. Who knew that some Lyme disease patients experienced caused a type of digestive disorder that caused them to eat from an ever-shrinking list of foods? Likewise, I never thought of characterizing the Old Testament god as a warrior god.
That said, if these questions aren't yours, you might want to steer clear of this production. However, Gallegos' intellectual and emotional honesty in grappling with his material is impressive. I'd bring my students to this show in a heartbeat.