If you've been following me on Twitter, you're likely wondering what all the painting talk is about.
I'm actually in Monterey at a plein air convention. It's a one week immersion into the creative process, with lots of opportunity for outdoor painting later in the afternoons. I'm hoping to learn from the experts here.
Fortunately, there are many great artists sharing their knowledge during keynotes, panel discussions, and demos. Kevin Macpherson, a fellow neighbor in Loreto Bay, is probably the most widely recognized of all the painters here: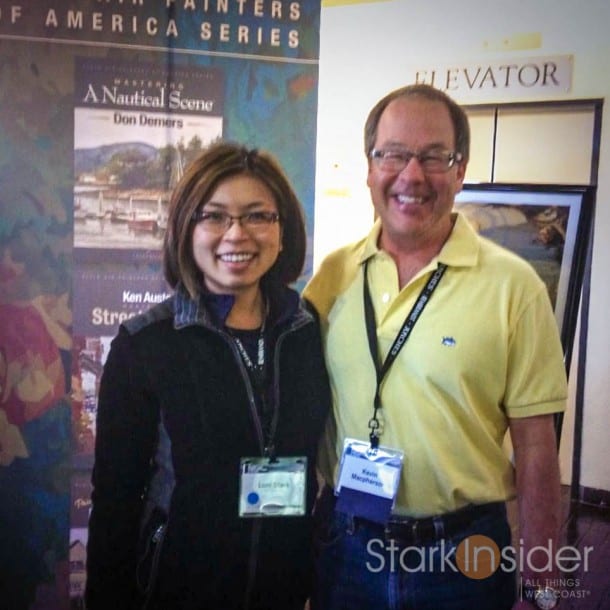 Yesterday I took a stab at painting Asilomar beach.
Set-up on a narrow, winding path, I was afforded stunning views of the Pacific Ocean and Monterey landscape. Whether or not I was able to capture the mood (and that frigid ocean breeze!) is another matter all together: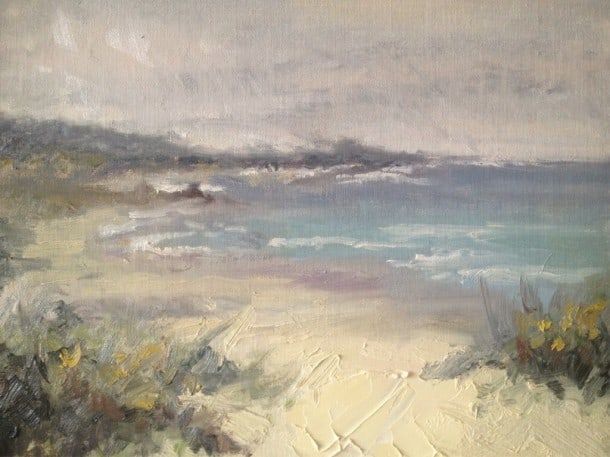 A cool ocean breeze made this a bone chilling session. Even with two layers, and a good old hoodie I was shivering my butt off. If you ever find yourself in a similar situation, a quick tip: Cliff Bar & Sobe water. Life savers!
It wasn't the first time I found myself painting on a cold, cloudy day. At Legion of Honor in San Francisco I encountered similar conditions when I attempted to paint that icon of icons, the Golden Gate Bridge. You can see what down on that day in this video "The Good, The Bad, and The Foggy" here:
Instructor Bill Davidson from Atlanta, ever gregarious and a wonderful teacher, tells me to be bold. Each brush stroke should be confident. Sigh. Easier said than done. Sometimes best just to watch and learn: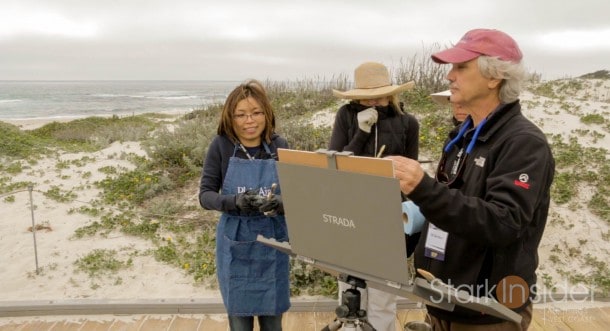 In just a few days I've already learned a great deal about composition and framing, palette management, and the importance of contrast – achieving dramatic lighting.
Meanwhile, Clinton Stark has been shooting episodes for The Artist Diaries. Stay tuned for "painting drama" as he calls it. As usual I'll be racing against the clock to complete a variety of paintings around the Monterey area.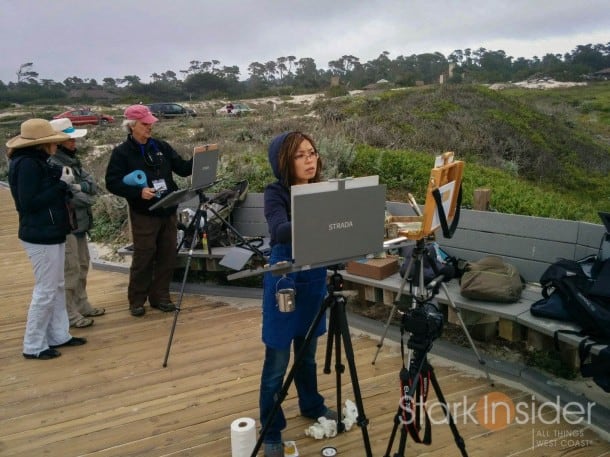 One of the delights of this conference is the host town. Monterey has charmed me again. From the perpetual calling of the seagulls in the distance, to the strollable streets, and relaxed cafes, I'd forgotten why I so enjoy coming out here, a respite from the hustle that is Silicon Valley – and, best of all, it's only about an hour drive south from San Jose. Every evening we make it a point of choosing a new restaurant. Last night it was a terrific sushi spot called Crystal Fish. Fresh fish, attentive service. If you're ever around Monterey, check it out.
Soon my attention will turn to Pebble Beach Food & Wine, the gastronomic wonder, set to revel foodies in a matter of days. Located just a hop, skip and a jump from Monterey it should prove once again to be a memorable experience. I hope to see you there, definitely say hello!
That's all for now, time to get back to the canvas.
Who knows how my plein-air painting will go. At least I'm dressed the part. Onward & upward! @PleinAirMag #trouble pic.twitter.com/1I2ywMmPfB

— Loni Stark (@lonistark) April 8, 2014