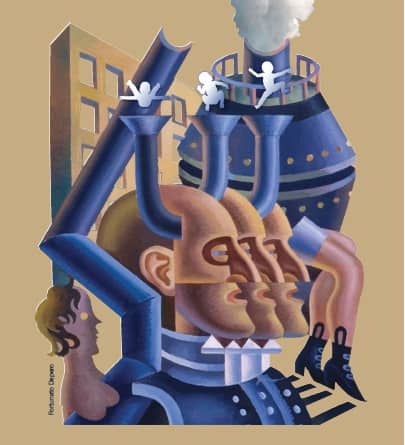 The current Opera Parallèle production begins way before music director Nicole Paiement picks up her baton; it begins the minute you enter the theatre and face the futuristic magazine covers projected on the scrim.
Rolling Stone cover stories from December 5, 2049 (for a mere $24.99) blare out "Lars Colfer: A Look into the Prince of Aqua-Terrorism," and "End of the Optical: Is Blueray Finally Dead?" Some headlines from the February 12, 2067 New York Times seem more of the same, such as "Rising Inflation Prompts Uncertainty in the Middle East." Others, such as "5,000th Desalination Plant Opens," suggest a future as grim as that of Mad Max Beyond Thunderdome. Vogue and Wired blare similar headlines, both timely and eerily spooky (Google Genetics and Advertising).
This pre-show immersion, a variant of which was also done with Golijov's Ainadamar, whose ghostly figures wandered the audience, seeking a place to settle. These pre-show teases whet your curiosity and frame the experience to follow. No one does it better than Opera Parallèle.
The current production melds Kurt Weill's "Mahagonny Songspiel' with Francis Poulanc's gender bending "Les Mamelles de Tirésias." While "Mahagonny" is an important work, authored before Weill moved to the US, it tends to be dreary so mating it with the surreally funny "Mamelles" was smart.
Other smart production decisions just kept happening. Whoever thought of bringing a real full size motorboat, looking as rickety as some of the sad vessels hugging the East Boston shore, on stage during "Mahagonny?" The wretched boat is symptomatic of the grim vision suggested by the magazine covers. We meet the acting troupe, dragging this pathetic shipwreck behind them as they search for water. There's not much fun on this stage, as voices echo "No telephone. No water. No whiskey bar. No pretty boys."
Just when you can't take any more of this and the librettist seems to be making a play on the word "agony," relief takes the form of "Les Mamelles," a short piece that was as long on comedic satire as "Mahagonny" was on grimness. Rachel Schutz's searing soprano and comic timing were the perfect antidote to the dystopic actors pushing their boat. If there's another soprano capable of performing a double mastectomy while singing, please rise. Her performance was capably matched by Gabriel Preisser, who gives birth 40,049 babies on stage, and amazingly looks no worse for the experience. Preisser's confident baritone anchors this piece, leaving the audience hanging on his every line.
The work returns to a brief snippet of "Mahagonny," offering up the exotic Benares Song, with which it closes.
As much as I loved individual vocal performances, the orchestra alone would be worth catching, especially if you're into a colorful mélange of winds and brass.
One is hard pressed to find other opera companies doing what Opera Parallèle does so well: specializing in contemporary works and infusing them with a new creative approach. This is a risky high wire act at best, and we're darn lucky that they're here in the Bay Area.