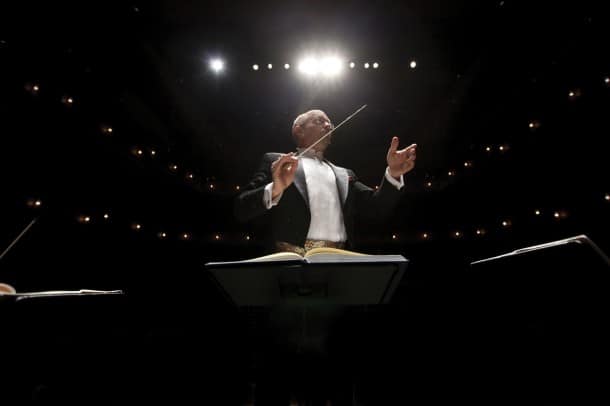 Random personal events of seeming little import can echo for decades. As a very bored 14 year old, I wandered through a lame charity tag sale and picked up two used LPs: Dinu Lipati playing Chopin and a European choral group singing Bach motets. I had no great interest in either beyond playing a bit of Bach and a tinier bit of Chopin as an indifferent piano student. However,  recorded music was expensive back then, and these were not. In picking up the motets, I unknowingly started on a path for the next four decades. Unlike the rest of Bach, the motets form a very small discrete world unto themselves. Not only are they very short, but there's only six or seven of them, depending how you count, so it's possible to know them very well. That album was the background music all the way through law school.
For this reason, the current American Bach Soloists (ABS) concert, which featured various motets, was high on my agenda. After mentioning this to pianist Gregory Mason, Mason countered that music director Jeffrey Thomas was the bomb. I quickly parsed the sentence to make sure he was using the word as a noun, not a verb. His remark calls for one small correction: the American Bach Soloists and Jeffrey Thomas are the bomb. Hosting voices so lithe and spirited, the First Congregational Church in Berkeley could have levitated without the audience being aware. In retrospect, it just may have.
The current program, entitled "Bach's Legacy" was particularly exciting because it took a motet and paired it with a newer work, moving up from Mendelssohn's Sechs Sprüche zum Kirchenjahr (which followed Bach's Sei Lob und Preis mit Ehren and Aus de Tiefen rufe ich, Jerr, zu dir) to Sven-David Sandström's Komm, Jesu, Komm (paired with Bach's motet of the same title) and Knut Nystedt's Immortal Bach, which initially begins with the same words as Komm, süßer Tod, Komm Selge Ruh, with which it was paired. Programmatically, this approach made the entire evening fly, with each piece getting repeatedly unwrapped and re-plumbed.
However, all of the above would be entirely beside the point had not the ABS exceeded all expectations with a transcendent performance. The audience seemed to collectively gasp at the startling crystalline clarity of the first syllables of Sei Lob und Preis mit Ehren. However, that was just the beginning. The complex polyphony of Aus de Tiefen rufe ich, Jerr, zu dir had voices richly layered, coupled with smoky oboes and a lovely violoncello solo by William Skeen.
The high point of the evening was Sandström's Komm, Jesu, Komm, which used the same libretto as the Bach motet. It was followed by the modernist Komm, süßer Tod, Komm Selge Ruh by Nystedt, which closed the evening. Sung traditionally, the music deconstructs, with notes drawn out almost to the point of breaking.
ABS voices have the feel of having sung together for decades, such was the warmth and precision. This is 25th anniversary of ABS.  May they continue to storm heaven for the next 25 years.