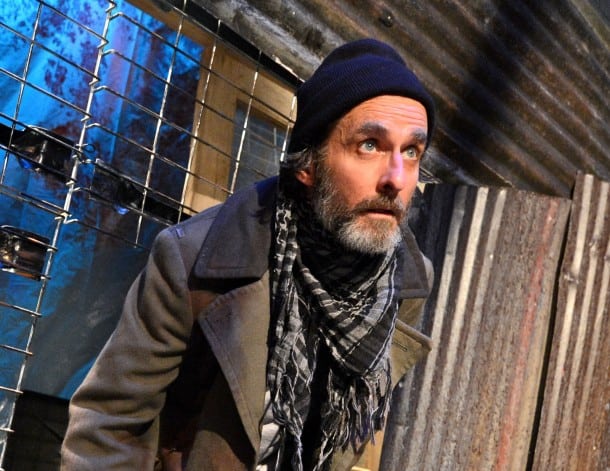 Recently a leading bay area artistic director lamented that the price for the  profusion of new premieres is the abandonment of older ones. Speaking straight to my heart, she noted that older works were in danger of getting erased from our collective memory.
San Jose Stage is doing its bit to stem this tide by producing The Iliad, based on Robert Fagles' translation. If you think you can take a pass because you already scanned the Cliff Notes, rest assured, you've never seen Iliad like this, with a set that smacks of urban werewolf country.
You've never seen Iliad like this before.
Lisa Peterson and Denis O'Hare did a brilliant job adapting Fagles' work to a modern setting without sacrificing the integrity and beauty of language. This is a massive tome, and their cuts were well placed to "sing the rage of Peleus's son Achilles" without tediously dragging the audience across every Greek battlefield or repeating the well known Trojan horse story. For the most part, they avoided the indulgence of adding unnecessary new text, beyond that which was necessary to connect loose ends.
While an occasional addition ran long, such as a discussion of every military venture known to the planet, for the most part, these additions heightened the work, bringing an emotional resonance that has been lacking in much of what I've reviewed lately. After all, who's to say that Helen really isn't in a tequila bottle?
The stamina of narrator Jackson Davis as he played Priam, Achilles, Hector, Agamemnon Hecuba, Petroclus, and the rest was positively heroic. No matter bored you may be with Greek classics, you still have to see Davis in this, just to watch him pull very iota of emotional energy from these characters – and still have enough  to dash repeatedly across the stage in heated battle.
Not only does Davis do justice to Fagles' work, but he does justice to the new text as well, sadly noting that it's been nine years of fighting and it's for you to understand "the dislocations of war, especially among those who have been fighting so long they forgot why." In many instances, his tone of resigned lament ("it's always something, isn't it?") works to give the audience a leg up on the original text that is sure to follow. Even if you never had any inclination of reading Homer, you'll understand this work differently, thanks to Davis' performance.
As the story unfolds, you'll also appreciate the exquisite care that was taken with this set. Many sets, regardless how resplendent, are little more than window dressing. Not so here, where every bit of trash in a landscape that smacks of zombie apocalypse is strategically positioned so as to be easily at hand to become a Greek helmet (cast off wire crate), a place to rest a spear (stacked pallets) or mourning garb (black plastic bag).
The Iliad is scheduled to run through May 4th – and is well worth taking in, for as Greek poet Pindar, wrote, "Unsung, the noblest deed will die" (Fragment 120).