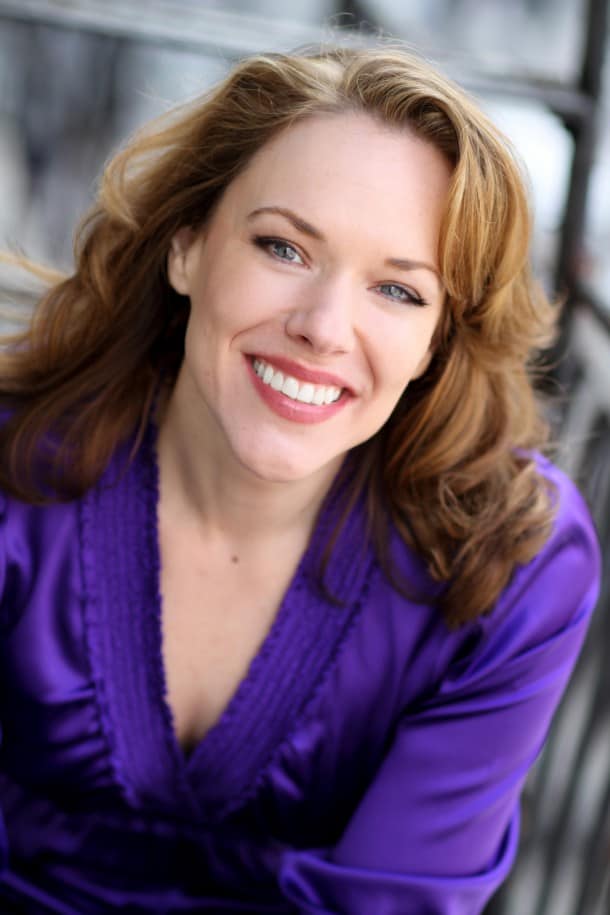 42nd Street Moon today announced the lineup for its 22nd season of musical theater.
Moon's 2014-2015 season kicks off with a starring appearance by Broadway's Emily Skinner (Tony nominee, Side Show) in the wistful Richard Rodgers-Stephen Sondheim-Arthur Laurents collaboration Do I Hear a Waltz?.
Next up is the Roaring 20s spoof The Boy Friend by Sandy Wilson.
Warming up for the holidays, the company tackles Cole Porter's hilarious look at a wacky dame who receives radio signals in her fillings (based on a true story): Something For The Boys.
In the spring audiences will get their first look at a musical that has been "lost" since its original Broadway run: the wisecracking Arthur Laurents-Charles Strouse-Richard Maltby collaboration Nick & Nora, based, of course, on the popular Thin Man characters created by Dashiell Hammett.
Closing out the season will be Where's Charley?, the Frank Loesser-George Abbott musical adaptation of Charley's Aunt  in which an Oxford student dons drag in order to chaperone his pals and their young ladies – but the gag's on him when two elderly gents decide his faux "Aunt" is just their cup of tea.
ALSO SEE: 'Artifact' and the art of creative revenge – Jared Leto gets his due
"We're so pleased to be announcing a season that features a spectacular guest star (with more to come!), a revisit to one of our most fondly remembered early shows, and a new production of a truly lost – and very unique – musical in its West Coast debut," said artistic director Greg MacKellan. "And with classics like The Boy Friend and Where's Charley?, we could not be more delighted with the shows we'll be bringing to San Francisco next season."
Best wishes from Stark Insider to 42nd Street Moon and congratulations on turning 22!
42nd Street Moon:
2014-2015 Season

Do I Hear A Waltz?

October 1 – 19, 2014 
Music by Richard Rodgers
Lyrics by Stephen Sondheim
Book by Arthur Laurents, based on his play THE TIME OF THE CUCKOO
Directed by Greg MacKellan
Music Director Dave Dobrusky
Starring: Emily Skinner

Broadway star Emily Skinner (Side Show, The Full Monty, Billy Elliot) stars as lonely American tourist Leona Samish in this lovely and poignant musical set in mid-1960s Venice. Based on Arthur Laurents' play, which also inspired the Katharine Hepburn movie Summertime, Do I Hear a Waltz? is the only collaboration between theatrical giants Rodgers, Sondheim, and Laurents. The stunning score includes Do I Hear a Waltz?; Someone Like You; Moon in My Window; This Week Americans; What Do We Do? We Fly!, and Take the Moment.

The Boy Friend

October 29 – November 16, 2014
Book, Music, and Lyrics by Sandy Wilson
Directed by Cindy Goldfield
Music Director Dave Dobrusky

A lighter-than-air spoof of 1920s musical comedies, The Boy Friend is one of the most delightful shows of the mid-20th century. English "perfect young ladies" become red-hot flappers as they frolic on the French Riviera in this delectable farce. The high-spirited score includes I Could Be Happy With You, A Room in Bloomsbury, Won't You Charleston With Me?, Safety in Numbers, and Poor Little Pierette.

Something for the Boys

November 26– December 14, 2014
Music and Lyrics by Cole Porter
Book by Herbert and Dorothy Fields

A special "20th Anniversary" production of one of 42nd Street Moon's earliest hits – the hilarious Cole Porter farce Something for the Boys. Take three unlikely cousins reunited on a ranch in San Antonio, add a character who receives radio signals in her fillings, sprinkle with WWII spirit and a dash of great Porter songs, and the result is a Porter blockbuster, which originally opened on Broadway in 1943 starring Ethel Merman. The great songs include The Leader of a Big-Time Band; Something for the Boys; Could It Be You?; Hey, Good Lookin'; By the Mississinewah; and He's a Right Guy.

Nick & Nora

April 1 – April 19, 2015
Book by Arthur Laurents Music by Charles Strouse Lyrics by Richard Maltby
Directed by Greg MacKellan
Music Director Dave Dobrusky
Choreographed by Staci Arriaga

This "lost" musical, not seen since its original Broadway run, features Nick and Nora Charles, the iconic sleuths from Dashiell Hammett's The Thin Man novel, who went on to inspire six films, a radio show, and a television series. Wit and mayhem co-exist in 1930s Hollywood as a studio bookkeeper is murdered and everyone's a suspect. Nick, the seasoned detective, and Nora a neophyte, compete to solve the murder case. Aside from an Australian concert of songs, this is the first time Nick & Nora has been seen since the 1991 Broadway production. Artistic Director Greg MacKellan says, "We're thrilled that Charles Strouse and Richard Maltby have entrusted it to us." Says Charles Strouse, "Nick & Nora held the greatest promise for me. I'm so delighted it's getting a second chance at 42nd Street Moon. When the curtain rises on the San Francisco production of Nick & Nora theater 'magic' may happen – it often does you know." Songs: Is There Anything Better Than Dancing?, As Long as You're Happy, Detectiveland, Look Who's Alone Now, Boom Chicka Boom, and Busy Night at Lorraine's.

Where's Charley?

April 29 – May 17, 2015
Music and Lyrics by Frank Loesser
Book by George Abbott
Directed by Dyan McBride

In Frank Loesser and George Abbott's lively musical adaptation of Brandon Thomas's uproarious 1892 farce Charley's Aunt, an Oxford student dresses up as his aged Aunt in order to chaperone his friends, and their young ladies. Romantic, farcical complications ensue as the faux Aunt becomes the object of attention for more than one elderly suitor. Of the musical's Broadway premiere in 1948 starring song-and-dance man Ray Bolger (later to be known forever as the "Scarecrow" in MGM's The Wizard of Oz), the World Telegraph declared, "A sublimely satisfactory evening. It is the sort of show you fall in love with, and go back to see over and over again." Loesser next teamed up with the same producers, Cy Feuer and Ernest Martin, for his first long-running smash Guys and Dolls. Songs: Once in Love with Amy; The New Ashmolean Marching Society; Make a Miracle; My Darling, My Darling; and Lovelier Than Ever.