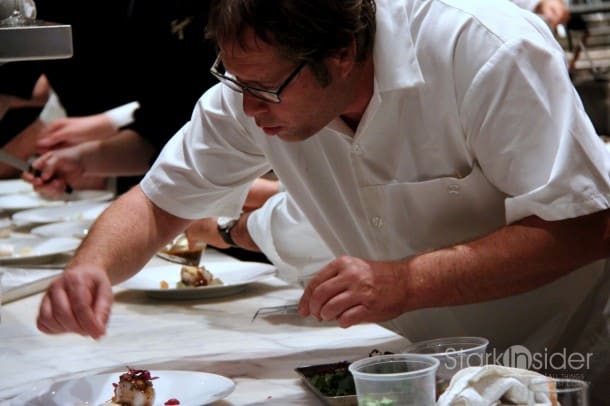 San Francisco and the Bay Area are once again well represented in this year's James Beard award finalists. The list, which also included finalists for journalism, and cookbooks among other categories, features 13 chefs, and restaurants from the area.
Chef David Kinch (interview) of Manresa (Los Gatos) once again takes the spotlight. He was named a finalist for "Outstanding Chef," a category that includes heady competition inclluding Michael Anthony of Gramercy Tavern (NYC) and Nancy Silverton of Pizzeria Mozza (LA). Here's a quick look at Chef Kinch at work in the kitchen during the Napa Truffle Festival, where he worked alongside several other notable local stars of the kitchen including Chef Ken Frank (La Toque):
Chef Kinch must be running a solid operation. In addition to getting a finalist nom for his Manresa cookbook, Jessica Largey, also of Manresa, was tagged a finalist in the "Rising Star Chef of the Year" category.
Other Chefs in contention for James Beard awards include Stuart Brioza and Nole Krasinski of State Bird Provisions, Corey Lee of Benu, and Daniel Patterson of Coi — all based in San Francisco.
The Slanted Door will go up against Hearth (NYC), Highlands Bar and Grill (Birmingham), Spiaggia (Chicago) and wd~50 (NYC) for "Outstanding Restaurant."
On the beverages end, Bar Agricole (San Francisco) was short-listed for "Outstanding Bar Program" and A16 (San Francisco) for "Outstanding Wine Program."
Chef Cindy Pawlcyn (Mustard's Grill and others) was named a finalist for "Outstanding Restaurateur. You can see a recent appearance by Cindy and an interview in the video below shot at COCHON 555 in Napa Valley:
Those with uncompromising taste in their dining experiences would do well to seek out Quince (San Francisco) and The Restaurant at Meadowood (St. Helena), both short-listed for an "Outstanding Service" award.
Those with a sweet tooth will want to pay a visit–or two, or three–to b. patisserie (San Francisco) where Chef Belinda Leong has been named a finalist for "Outstanding Pastry Chef."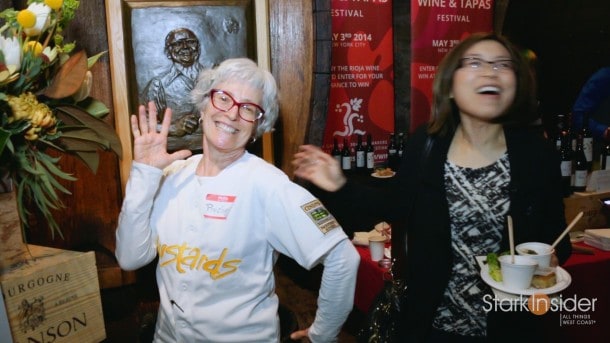 Many locals will pleased to see the Chronicle's wine columnist Jon Bonné reach the finals with his book New California Wine.
Speaking of wine, up in Napa, Master Sommelier Andrea Robinson was named a finalist in the "Outstanding Personality/Host" category for her web series The 30-Minute Wine Whiz.
Paolo Lucchesi of Inside Scoop SF has more details, including the complete 2014 James Beard award finalists list, and a handy photo gallery for those eager to acquaint themselves with some of the best culinary talent San Francisco has to offer.
Winners will be announced at a May ceremony in New York City.