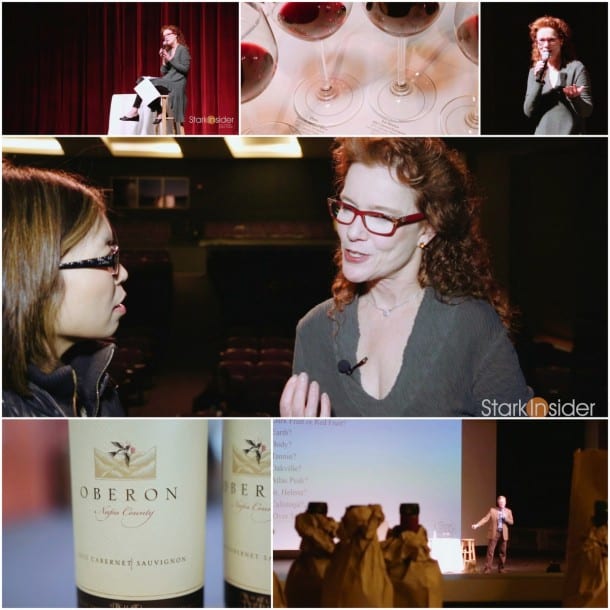 "Great wine has the power to make us feel."
And if anyone knows how to describe that feeling it's Karen MacNeil. The Wine Bible author says contemplating whether to use "pepper and salt" or "salt and pepper" is often what keeps her up at night. "That's the kind of thing writers do," she says in this special Stark Insider TV interview.
We were fortunate to get some time with Karen, thanks to the organizers of the inaugural CabFest Napa Valley, who graciously granted us on-stage time in between wine panels. There we spoke about everything from Napa wines and the essence of terroir to her favorite wines and why drinking windows drive her crazy.
All great, aesthetic ideas are connected to a place.
Based in Napa Valley, Karen MacNeil has been writing about wine since a career shift in the mid-70s. That's when she was commissioned by Elle magazine to write a wine article. She hasn't looked back since. Her 900-page introductory book, The Wine Bible, became wildly successful, enchanting burgeoning oenophiles everywhere with its eloquent prose, and down-to-earth approach. Even some thirteen years after its original publication the book remains the best-selling wine book on Amazon. Paired with Jancis Robinson's World Atlas of Wine it would be hard to find fault as the cornerstone of any wine library, digital or otherwise.
Karen MacNeil: Turning Wine into Words

Here's a few excerpts from my interview with wine writer Karen MacNeil.

Stark Insider: What does Napa Valley Cabernet wine taste like to you?

Karen MacNeil: It's very majestic. It is fleshy and full-bodied and has this beautiful core of fruit. I'd always imagine it as a man. It's a large male statue which is greatly defined and has great structure. Tall, dark, and handsome.

SI: How do you find the right words to describe something?

KM: You know, I think it comes from being a writer. Not everyone lays in bed at night thinking "Does it sound better to say 'pepper and salt,' or 'salt and pepper'?" But that's the kind of thing writers do. They love words. And I love words. So I spend a very long time thinking about how to describe a wine, and just find that right way of bringing its personality to life so, that, you know, 50 people in a room would be "Mmm hmm, that's it. Exactly!"
But do words really matter?
I'd suggest yes. Yes, of course they do. Especially for subject matter not easily conveyed to others – experiential driven topics such as the arts, food, and, most essentially, wine. And in this age of truncated social media communication, perhaps words–sentences, paragraphs, chapters even!–should be cherished, celebrated, and ultimately, put up on a pedestal as an art form that matters and that should be protected from the ravages of diminishing attention spans.
As if right on queue, one of Karen's fans awaited by the stage after her presentation, eagerly awaiting a chance to meet her idol. She was on the verge of tears, and fervently expressing gratitude; Karen's words had touched her deeply over the years. You can see clips in the Stark Insider video below of that charming encounter.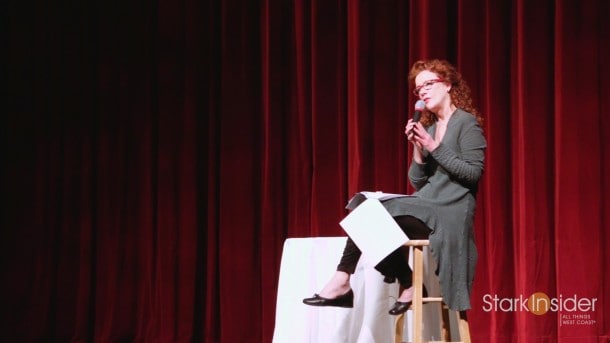 What about those pesky drinking windows?
Don't even get her started. The question was asked by an audience member during one of her well-attended sessions at CabFest (at the Performing Arts Center in Napa Valley). "It drives me crazy, when you read a magazine and it says, 'Drink this in February 2019,'" she said. "What?! This is so intellectually fallacious. Wine is not a cake. It isn't ready at a moment in time."
ALSO SEE: Scarecrow Winemaker on $4,300 Bottles of Cult Cabernet: "It was just a crazy price." (VIDEO)
And does Karen care to name some of her current favorite Napa wines?
Do tell. And, yes, tell she does. It's not often someone will put a stake in the ground and actually name names. Often we get the "It's hard to pick a favorite. They're all my babies!" Thankfully, not with Karen. She names "a gem" of a winery in Napa. But I have to keep some secrets and give you a reason to watch our chat to find out the name of that winery:
WATCH: Wine Author Karen MacNeil on Napa and Tall, Dark, Handsome Men
This interview was shot during CabFest Napa Valley. Also making appearances in the video: Master Sommelier Bob Bath ("Last One Standing"), Delia Ceja from Ceja Vineyards, Scarecrow winemaker Celia Welch (leading a wine tasting), and Jeff Bridges and the Abiders, the musical act from opening night.