San Jose Stage's production of The Threepenny Opera picks you up by the scruff of your neck with the first notes of the Flick Knife Song (Mack the Knife) and doesn't let you down until the lead MacHeath (Johnny Moreno) is improbably sprung and elevated to a peerage. This musical is a wildly ambitious undertaking, having been done by everyone from Leonard Bernstein to Sting. However, just as SF Playhouse's re-envisioning of My Fair Lady was so successful, so too is this version of The Threepenny Opera. It is, by far, the best thing that San Jose Stage has ever done.
Think back to the opening dance scenes of Caberet. Cross that with steampunk. Take Joel Grey and infuse him with the intense, sexuality of everyone's secret favorite bad boy. Place it all in London. Give the cast unerring accents. This isn't your mother's musical theater.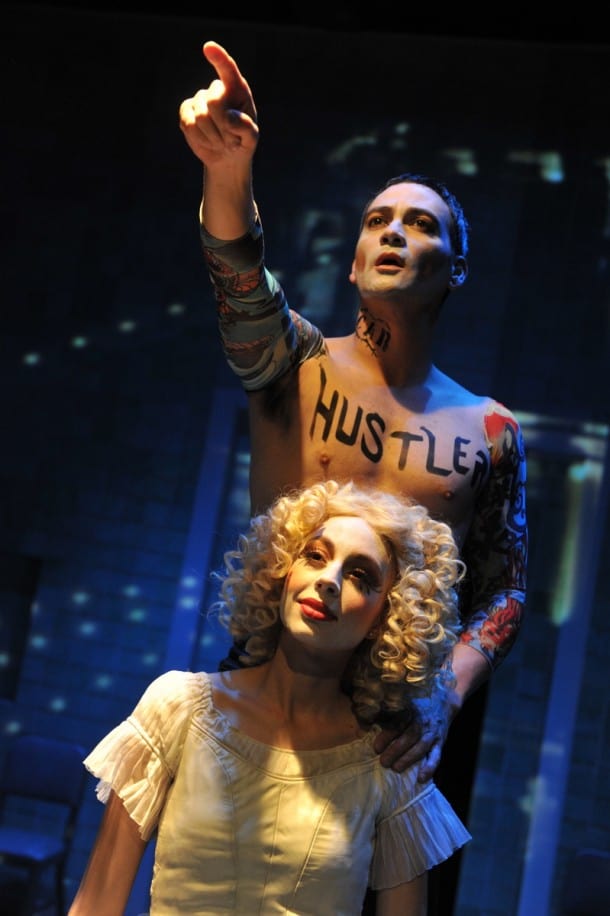 In addition to the fabulous costume designs by Jean Cardinale, the cast was gifted with strong vocals and backed by excellent musicians. You'll be leaning in, with tapping feet, so as not to miss a single note. The energy in this musical builds throughout the entire production. If you've never seen Threepenny Opera you'll be dumbfounded how much is familiar. This is where Judy Collin's Pirate Jenny comes from. This is where Bobby Darin's Mac the Knife comes from. There's even sections of Les Mis that seem to be melodic echoes.
I'd be taking the easy way out by crediting the success of this to individual actors. Yes, it's true that Halsey Varady made a perfect Jenny Diver, with marionette-like movements etched in acid. Monique Hafen combines a shrewd coquette's willful ignorance with a genuine sweetness to give a fairly complex Polly Peachum. Johnny Moreno gives us a commanding Macheath who dominates everything on stage, even when he's in the slammer. Macheath's intelligence and intensity make him irresistible. Allison Rich brings us an electric, wild-eyed Lucy. However, the sum total, including Paul Myrvold as Jonathan Peachum, Susan Gundunas, as his wife (whose purple behive makes that of Mrs. Slocum shrink in comparison), and Will Springhorn, as Tiger Brown, work together  so seamlessly that the total effect exceeds any one individual's talents.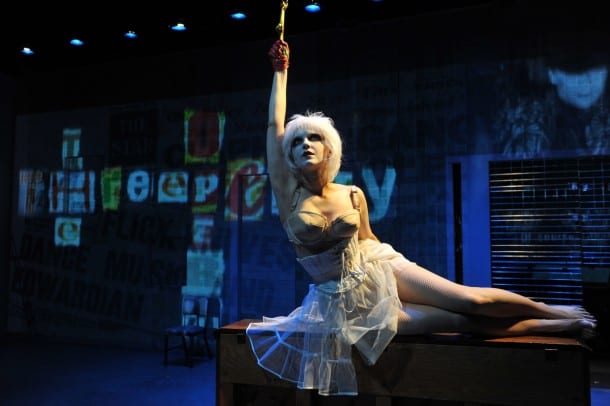 Shows like this are why you go to theatre in the first place. If this production doesn't take you out of yourself, I suspect nothing will.
Some critics, out of a need to find something amiss, might point to the unchanging, pale institutional green tile walls of the set as unimaginative. However, this non-distracting set provides a perfect foil for the considerable talents of the cast and an excellent backdrop for the deftly executed projections of headlines from British tabloids and song titles.
The Threepenny Opera runs at San Jose Stage through March 30th.