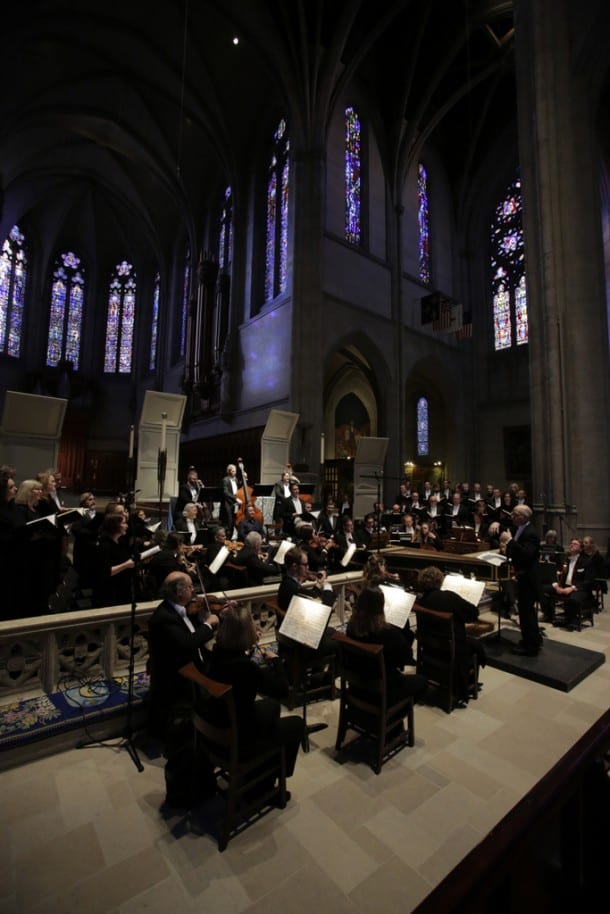 American Bach Soloists (ABS) graces their audience with historically informed performances using original baroque instruments, played the way they were originally intended. While many  string instruments from the 1700's and late 1600's are in playable shape today, almost none of the original Baroque brass and woodwind instruments are found outside of museums. Musicians rely on scholars and craftsman who work together to produce copies of keyless trumpets, wooden oboes and bassoons, and other instruments.  Some instruments found in historically informed groups no longer have a place in modern orchestras. For example, Sunday's ABS performance included a violone grosso, a six stringed instrument bigger than a cello and smaller than a bass.
All of the above would be little more than an interesting historical curiosity, but for the deliciously warm tone that these instruments produce. Since these instruments weren't designed for the large concert hall (the most comparable venue in Bach's time was probably a cathedral), optimal sound is best found in smaller venues, such as the First Congregational Church in Berkeley, where the ABS performed on Sunday.
Sunday's concert included Orchestral Suite (Ouverture) in C Major BWV 1066, Missa Brevis (Lutheran Mass) in G Major BWV 236, and Laßt uns sorgen, laßt uns wachen BWV 236, also referred to as Herkules auf dem Scheidewege ("Hercules at the Crossroads"). I was entirely unfamiliar with the last of these works, as were several knowledgeable friends. Spiking the program with such relatively unknown gems such as this last one is part of what makes ABS so very special. As someone recently commented on a new music blog, "we don't want what we already know; we want something to learn to love."
The Orchestra Suite included the usual overture, gavotte, forlane, minuet, bouree, and passepied. This selection brought not just the usual variation in rhythm, but in color as well. So while the prominence of the oboes, with bassoons chugging behind made this suite more enjoyable than many, it was balanced by an exquisitely luminous passage in the minuet involving just string and harpsichord.
We don't want what we already know; we want something to learn to love
Just like the name says, Missa Brevis is a brief six-part mass. I marvel at these works intertwining multiple voices in patterns so complex I quickly lose the ability to follow them completely, and instead focus on soaking in the texture. Baritone Jesse Blumberg begins the series of solos, with a strong Gratias Agimus. His delivery is powerful enough to sing over the entire string section without obscuring the melody line, which often gets lost in the lower registers. Listening to his light ornamentation was one of the delights of the evening. Soprano Kathryn Mueller delivered the Domine Deus with countertenor Ian Howell. Her crystalline soaring soprano is perfect for this music – and even more so when paired with Howell who delivers a warm, soulful performance. Tenor Derek Chester delivered the Quoniam tu solus sanctus before the chorus concluded with a awe-inspiring, raise-the-roof performance of the Cum Sancto Spiritu in gloria Dei Patris. 
Laßt uns sorgen, laßt uns wachen was saved for last. A birthday gift for the eleven year old Friedrich Christian, son of Augustus II, Elector of Saxony, this animated work sketches out a battle between Vice and Virtue for the young Hercules. Mueller may have been born to sing the role of Vice, delivering a tantalizingly sensual performance. Her aria is in sharp contrast Chester's powerful delivery of Virtue. When he cuts in with the line Wohim, men Kerules, wohin? (Where my Hercules, where are you going?), it's obviously game up for the battle for Hercules. Howell, as the young Hercules, is as throaty, rich, and expressive as any alto I've heard. His delivery over an extended pizzicato cello, oboe, and bassoon section would be worth the price of admission alone. Blumberg sings the role of Mercury, who heralds the virtues of the young Hercules.
My only concern with this otherwise stupendous concert is that the soloists were positioned between the chorus and the orchestra, instead of in front, as is often customary. While all were more than clearly audible, I kept worrying that I might be missing nuances of individual performances.
The next ABS concert (not including what looks to be a dynamite fundraiser) will be April 25-28, featuring motets and choral works by Bach and his followers, including Mendelssohn, Brahms, Sandström, and Nystedt.