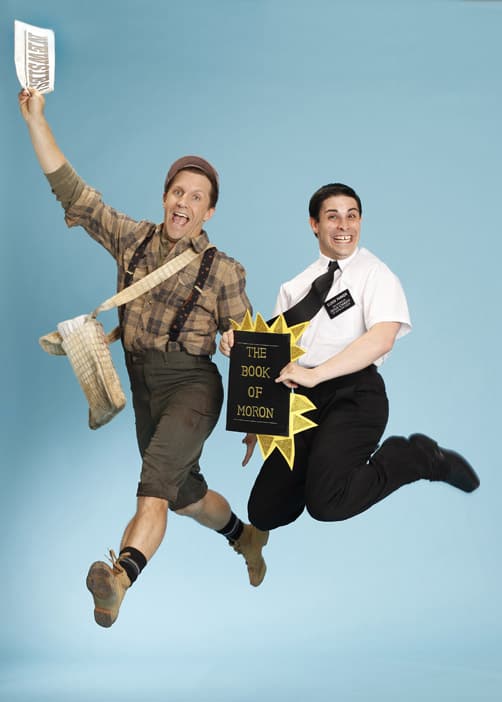 Within the first five minutes of Forbidden Broadway Alive and Kicking you'll know you're in for an easy ride. By ten minutes, you'll be cackling with the rest of the audience.  On the ride home, you'll be killing the car radio to sing "superfrantic, hyperactive, self-indulgent Mandy."
Gerard Allessandrini deftly pens these spoofs, now totaling fifteen, every few years. With titles like Forbidden Broadway Goes to Rehab, Forbidden Broadway 2001, a Spoof Odyssey" etc. these works have become as much an institution as the great white way. Having hit on a formula that works (two men, two women, one on-stage piano),  Allessandrini's shows are like a Saturday Night Live takedown of Broadway hits.
You don't have to be a theatre buff to appreciate Forbidden Broadway because so many of the songs are written into our cultural DNA. Even if you can't tell Mandy Patinkin from Patty Lupone, or Stephen Sondheim from Cameron Mackintosh, you won't be feeling like no one's let you in on the joke. If you've ever seen Liza Minelli, "Liza One Note" will be instantly recognizable.
This Forbidden Broadway takes on Annie, ("I'm 30 years old tomorrow"), Phantom, Les Mis, ("I dreamed a show in days gone by"), Lion King ("Can you Feel the Pain Tonight"), Wicked, Jersey Boys, Mary Poppins, Book of Mormon ("Book of Morons"), Spiderman, and more. Alessandrini's libretto pokes fun at the earnest folks from Jersey and Connecticut schlepping into the City for shows, and not the least, supporting the souvenir concession.
Gina Kreiezmar, Kevin B. McGlynn, Craig Laurie, and Jeanne Montano make putting on this vaudeville-style production seem like a piece of cake, in large part because all of them have appeared in the off-Broadway originals of Forbidden Broadway or in touring versions of the same. Don't think for a minute that their lengthy experience risks making this look tired because they seem to be having as much fun as the audience. Credits don't stop there, though because much of the success lies with accompanist and music director Catherine Stornetta.
Ten minutes before you might start thinking that this is unnecessarily nasty or merely a gratuitous trashing, the show ends, leaving you to marvel at how the evening flew by. If you're interested, you'll have to act quickly, as this run ends on March 2nd.