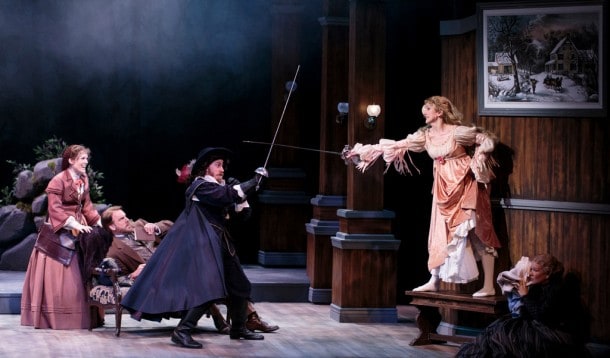 Producing a story that everyone knows so intimately is always treacherous because so many expectations must be satisfied. It's even harder, when it's a longish novel based on a series of vignettes that need to be carefully shaped. Add to this all the problems associated with making the show a musical and you've got a recipe for disaster.  However, TheatreWorks' production of Little Women exceeds all expectations. If you've ever spent some part of your childhood sobbing over Beth's death and being perplexed as the nature of a blanc-mange and why Pilgrim's Progress was so important, this TheatreWorks production will be like coming home.
One of the strengths lies is the excellent script. Allan Knee barely tried to keep the original dialogue and he excised huge swatches of the book. Gone is most of Jo's poetry (including "Here lies Pip March" and "Four little chests all in a row.") Gone too are the chapters of Laurie's European philandering, Amy's doomed tea party, Meg's spending $50.00 on a silk dress, the birth of Daisy and Demi, and much more.  However, you won't be missing these, as the story line hewed to all the critical parts of the book without deviation. The play is stronger because these cuts were made.  What remained advanced the story and illuminated the characters – who are exactly as you always imagined them.
The second strength was the casting. Elizabeth Ward Land brought as much wisdom to the role of Marmee as the original Alcott character brought to the book. Vocally, she has a slightly more mature voice than that of the March girls, which brought a depth and beauty befitting her role.
Julia Belanoff and Arielle Fishman go straight to the heart of their characters, bringing signature humility of Beth and petulance of the blond and coifed Amy, respectively. Sharon Rietkerk was the perfect Meg. Emily Koch brought us an energetic, determined and slightly over the top Jo March, who formed  a perfect duo with Laurie (Matt Dengler).  Koch had some of the most vocally demanding songs, which she delivered with astonishing strength. The lesser male roles of Professor Bhaer (Christopher Vettel), Mr. Laurence (Richard Farrell) and John Brooke (Justin Buchs) were everything you always imagined. The surprise of the evening was Elizabeth Palmer's Aunt March. Who could imagine this dowager crone with such comic timing?
The snow was pelting down as you exited the old Stern Theatre into the cold night air. For the smallest of seconds, it could have been the same New England night that opens the story of Little Women. Such is the magic of this TheatreWorks production.