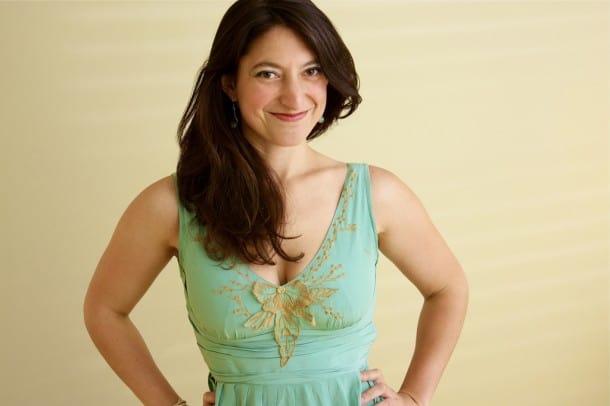 If you like Sarah Silverman, you might like Alicia Dattner. Conversely, if you find Sarah Silverman just a wee bit too self-absorbed to be funny, you'll probably think the same about Alicia Dattner. Her new show, Oy of Sex, opened recently at the SF Marsh to a very enthusiastic audience.
Dattner's a more than capable performer, having won the Best of the Fringe Festival in 2009. She brings her usual irrepressibly high energy to this new work. There are no half measures in Dattner's performances and the Oy of Sex is no exception. When she puts her material out there, she so commits that you almost want to tell her to stop because she'll hurt herself.  I suspect she'd counter by saying that already happened.
The catch to the Oy is her material. As my late husband used to say, "Five minutes of someone else's sex life is interesting." Dattner doesn't stop at five minutes, she makes an entire 80 minute show of it. It feels a little bit like college revisited, a nonstop mix of sex, drugs, and intensity that has run its course. Her hook with this material is that she's a sex-and-love addict. One keeps waiting for the irony to kick in, but she's serious, talking about her twelve step program, her sponsor, and the difficulties of distinguishing addictive from healthy behavior after a year of celibacy.
This leads to the second catch – talking about enlightenment, and loving oneself and loving others and letting go to be your real you… and for me, it just makes me want to cross to the other side of the street before someone shakes me down for a donation or a yoga lesson. It feels like someone is trying to hard to convince me of something – and there's way too much of that around these days.
The enthusiastic response of the audience suggests that I might be in a distinct minority here. Dattner is a good performer – and there is much that's laugh-aloud funny here. The sheer physicality of her performance works well. When she's not trying to convince you of something, she brings a wistful vulnerability that's very appealing.  She'll be at the SF Marsh through January 18th.