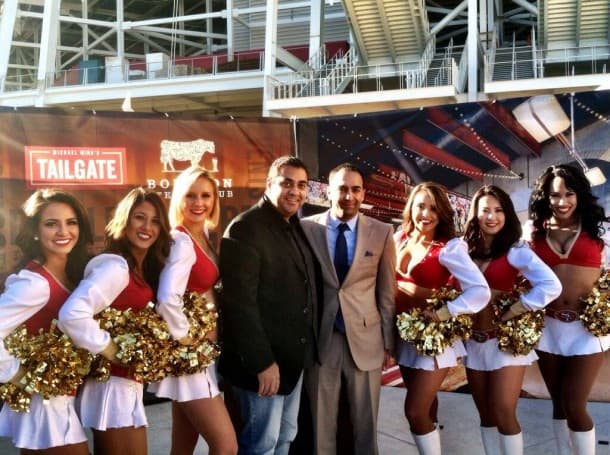 In the end there was little surprise. Michael Mina is the man. In San Francisco the name is synonymous with quality cuisine. So it's only fitting that the well-regarded Chef would be "drafted" today by Levi's Stadium, the new $1.3 billion home to the San Francsico 49ers.
As part of the partnership, Mina will open "Bourbon Steak & Pub" in August 2014.
The 14,500 square-foot restaurant will feature an open kitchen design with a wood-burning grill, a seafood action station, and a one-of-a-kind 13-foot tall, fully rotating rotisserie.
"When I was presented the opportunity to partner with Levi's Stadium, I knew I wanted to create a versatile restaurant that catered to the dynamic Silicon Valley community, and one that would allow me to throw the ultimate pregame experience for fellow 49ers Faithful," explains Chef Michael Mina, a 22-year 49ers season ticket holder.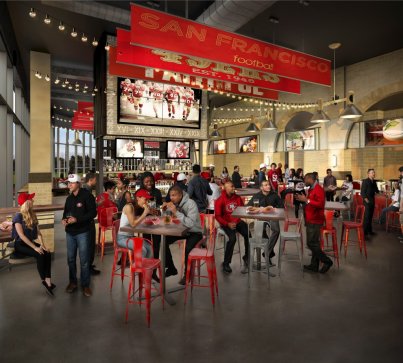 The showstopper we were told at a presser today at Levi's Stadium will be the procession of several seafood "mega-pots" delivered to their front-row boil stations via a ceiling mounted gantry track, an industry first. Whimsical plays on pub-style dishes, such as the Peanut Butter Crunch Burger and Bacon-wrapped Wagyu Dog, will be joined by Bourbon Steak signatures including Dry Aged Brandt Farms steaks, the freshest local seafood, and innovative vegetable sides from famed South Bay farms.
MORE CALIFORNIA FOOD & WINE NEWS: Spain takes top honors for best wine of 2013 – How did California fare?
During home games the space (designed by AvroKO of New York) will transform into "Michael Mina's Tailgate" and be open to members only.
Dishes and cocktails will be game-themed. For example, at a 49ers versus Giants matchup, tailgaters might see a menu of "Meatball Parmesan" hoagies, whole fried Castroville artichokes with roasted garlic aioli, Devil's Gulch Ranch Porchetta spit-roasted and basted in wild herbs, and a shellfish station of East and West coast favorites like Half Moon Bay Dungeness crab legs, Maine lobster, and peel-and-eat shrimp.
As a @49ers faithful, I could not be more honored to announce @bourbonsteakpub will come to Levi's Stadium in 2014 pic.twitter.com/rEjAebMxZj

— Michael Mina (@ChefMichaelMina) December 5, 2013
49ers Chief Executive Officer, Jed York, said, "We immediately thought of Chef Michael Mina to anchor the new Levi's Stadium. He is a huge 49ers fan, one of the Bay Area's foremost chefs, and he knows how to tailgate like no other. Michael Mina's Tailgate at Bourbon Steak & Pub will provide an unparalleled gameday experience for our fans."
The space is located on the ground floor of the new stadium, which, as you might already know, is located down the peninsula in Santa Clara.