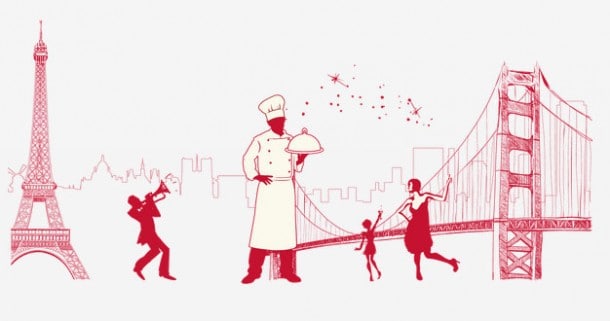 Parlez-vous Français? Me neither, but it sure won't stop me from having a fabulous time at La Soirée, the 32nd annual fundraiser of San Francisco's French American Chamber of Commerce, Friday, November 22nd.
After all, I'll be surrounded by sophisticated Bay Area food and wine enthusiasts, all decked out in their liveliest Roaring 20's cocktail attire, sipping excellent wines and nibbling on tasty French food, (just to whet your appetite, think divine goat cheese, pate, charcuterie, macaroons, etc.) picking up some inside tips from watching the professional Chef demonstrations, then dancing the night (and a few calories) away to the sounds of DJ Aykut.
ALSO SEE: The Artist Diaries: The Good, the Bad and the Foggy (VIDEO)
What's not to love? But I'm warning you, things could get ugly if you outbid me at the auction. Nah,just kidding. I'll live because it's all going to a great cause. This fundraiser gives the opportunity for the French American Chamber of Commerce to support culinary and wine education and contribute to training tomorrow's wine & gastronomy professionals.
Even though I LOVE macaroons, I sure wouldn't mind winning the grand prize: a week in Club Med and 2 round trip tickets to Paris.
La Soirée

The French-American Gastronomy & Wine Show of the San Francisco Bay Area

WHEN:

Friday November 22nd

General Public: 7pm – 12am

VIP & Press: 6pm – 12am

Desert & dance party only: 9:30pm – 12am

The full itinerary:

6:00pm: Soft opening & Wine competition – VIP, Press & partners only

7:00pm: Grand opening – Gastronomy & Wine tastings – savory area: charcuterie, cheese, crepes, culinary competitions, silent auctions, raffles & roaring 20's entertainment

7:15pm: VIP Dinner

8:45pm: Announcement of the Culinary competition award – last minutes to bid on your favorite auctions!

9:00pm: Auctions close

9:15pm: announcement of Auction winners & opening of the Sweet area: pastries, chocolates, dessert wines, a sweet tooth heaven…

9:30pm: opening of the dance party. Let DJ Aykut rock that party!

12:00pm: "Toutes les bonnes choses ont une faim fin"… It's time to leave, see you all next year!

WHERE:

Terra & Mer Gallery
511 Harrison St
San Francisco, California

Buy your tickets here:

FACCSF Members: $55
Non members: $85
At the door: $100
Dance party and dessert buffet: $35