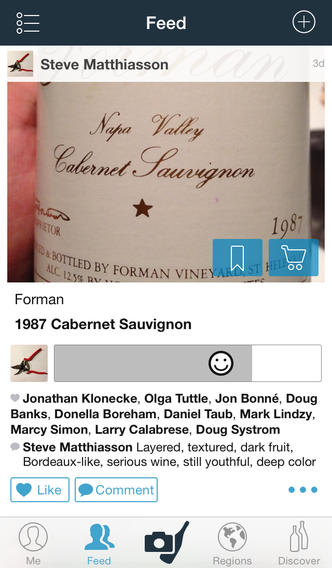 Interesting wine news for those that like to follow mobile apps and the social networking industry.
Delectable, a wine app that appears to be gaining increasing momentum with mobile wine lovers, today announced a partnership with Napa-based VinTank, a social CRM platform for wineries.
According to Alex Fishman, founder of Delectable and Paul Mabray of Vintank, the integration between the two products will help "producers build long-lasting relationships with their consumers."
For its part, VinTank, we're told, currently counts some 4,700 wine brands as customers.
"We've thoroughly analyzed and looked at all wine apps and their relevance to the consumer for the last five years and produced multiple reports about the state of wine apps," said Paul Mabray, CEO of VinTank. "While each of the apps served a particular consumer need, it was only Delectable that built a solution that put together all the needs of a consumer. It was only Delectable that strived to connect wineries and customers."
Vintank monitors nearly one million wine conversations per day. Wineries can use the platform (which is sold as a subscription cloud service) to track trends, increase consumer engagement, and ultimately ring up more sales.
The partnership underscores social media's increasing influence on consumer buying decisions.
ALSO SEE: Winemaker Perspective: "People that rate wines… are not understood" (Video)
Like other passionate communities–food, film, sports–conversations amongst enthusiasts now take place in open forums and on popular social networks such as Twitter, Instagram, Facebook and Pinterest. As we're discovering with Millennials, trust and the premium placed on transparency is quickly altering the landscape for how products and services are judged and recommended. In the past, wine scores were seen as transcendental–handed down from high on above to the mere mortals that would latch on to them like so many hyperbolic oenophiles. Traditional trades, the vaunted "gatekeepers" of years past, such as The Wine Advocate, Wine Spectator and Wine Enthusiast, however, are facing increasing headwinds in the form of quality content that is increasingly free, often highly credible, and–most importantly–available instantly thanks to the proliferation of smartphones and apps. Delectable and Vintank find themselves as the vanguard of this movement, and, come hell or highwater, appear determined to help wineries and consumers make the best of it.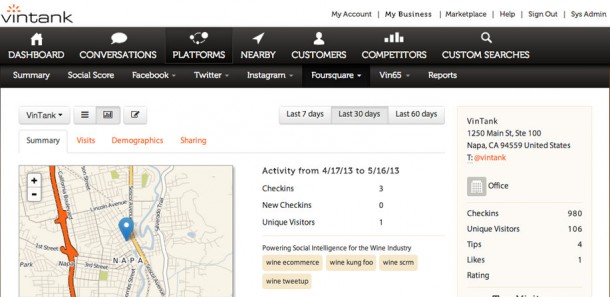 It's still early. Many wine apps have come and gone. Surprisingly none have yet to emerge a clear winner, such as what Yelp has done with restaurant reviews. I polled the Stark Insider team and none of us can recall a mobile app previously partnering with a social CRM platform in the wine space. So this could be an interesting move to watch.
Meantime, that 1987 Forman Cabernet (see photo above) does look mighty tempting…
With Clinton Stark contributing from San Francisco.