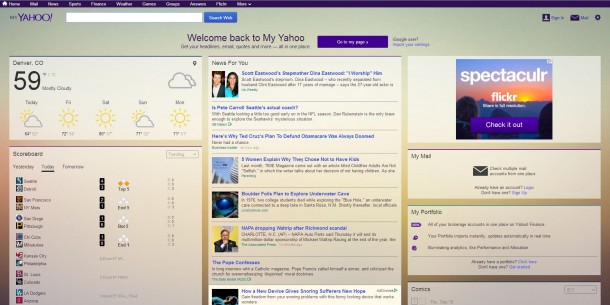 Yahoo today took the wraps off its new "My Yahoo!" page. The new look is part of CEO Marissa Mayer's ongoing effort to kickstart one of the Internet's most recognized brands.
"The refreshed design gives you a sleek, tailor-made starting page to access your email accounts, calendars, stock portfolio, sports scoreboard, weather, Flickr, and of course your favorite content — from Yahoo and around the Web," wrote products executive Mike Kerns in a blog post on Tumblr.
The update still includes all the features that made Yahoo one of the early darlings of the Internet in the late 90's. You can choose between three custom layouts (2, 3 or 4 column), add content from a variety of sources including Yahoo and other providers across 14 different topics (arts & entertainment, finance, news, sports, technology, etc.), and select a theme.
"Whether you're a foodie, news junkie, fashionista, or a stock trader, you can customize a page that's completely you."
Mayer herself must have lent a hand on the design. Oscar de la Renta, reportedly her favorite designer, is one of several themes available as part of the new design.
Yahoo hired DJ Clinton Sparks to help get the word out: