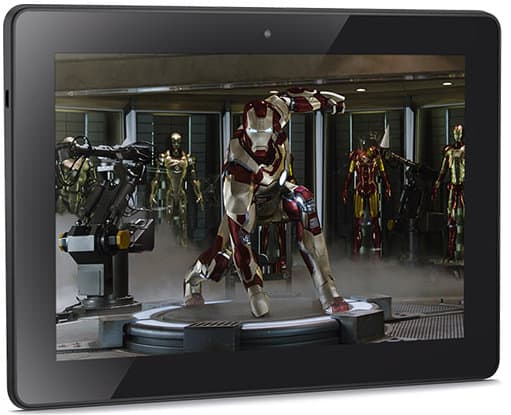 First off. Hat tip to the wizard himself. Jeff Bezos made like a thief in the night. There were no rock star cameos, no thundering music. Truth be told, there was no event. At least not in the way we're accustomed to seeing them. Product launches in tech these days aren't supposed to go down like this. Refreshing it is. I wish more companies would take this tact, as it keeps us squarely on one thing: the product.
You probably already heard about the new Kindles that were, almost stealthily, introduced last evening (odd time). A quick recap just in case.
Bezos unveiled three models. All are available for pre-order, with shipments starting in October.
The most familiar is the redesigned Kindle Fire HD 7. A basic pleasure model, the HD 7 goes for $139 (8GB) and $169 (16GB). In a world chock full of dirt cheap Android tablets, this is the new king, so long as you don't need 4G. Sure, it's not a barn burner, but with a 1280 x 800 display, and dual-core 1.5GHz processor this can do just about anything you throw at it save for high end games and demanding video apps.
Kindle Fire HDX is a new line — that we're most interested in — that comes in two sizes: 7- and 8.9-inches. You can opt for configurations all the way up to 64GB, and, unlike the HD 7, both are available with 4G should you desire it. Prices start at $229. The displays are higher res than the HD model, and you get Amazon's most advanced thinking about tablets, which, at this point, is turning heads.
Amazon could use a hit.
According to IDC, Amazon's table share has fallen to 2.3% (versus 4.4% a year ago). Meanwhile Samsung, with its product fire-hose set to "flood the market", continues to dominate with an estimated (and astonishing) 18.9% share of the tablet space. MarketWatch notes that ASUS, Acer and Lenovo have all passed Amazon in the tablet space. Not good news.
Enough about the specs, and backstory. Here's re 5 favorite things about the new trio of Amazon Kindle tablets:
1. The Price is Right
For $139, the updated Kindle HD 7 is an aforementioned bargain. It used to be that if you wanted a discount tablet you had to turn to a non-marquee Chinese brand. Not so anymore. This is about as good as it gets if you just want to read, surf the web, listen to some music, catch up on social media. The more powerful HDX range is competitively priced. The top end, for an 8.9-inch 64GB/4G Kindle Fire HDX, maxes out at $579. A comparable iPad (granted with a slightly larger screen) on the Apple site lists for $879. Bargain hunters unite.
2. Cool, Stealth Fighter Design that's Practical Too
Flip over the HDX and check out that angular design. It's unlike anything I've seen on a tablet. Not only is it slick, it's functional. Volume and power buttons are now much easier to use. And because the speakers are located along the top edge–which has breathing space when sitting on a surface–sound quality is not compromised.
If there's one thing I don't like about the new design it's that Amazon didn't reduce the bezel. It's still looking a little 2012 for my liking. In this regard I prefer what Apple is doing, for instance, with the iPad Mini.
3. Those Stylishly Hip Origami-style Covers
Someone — probably an Eames fanatic — has flair and knows exactly what they're doing when it comes to designing tablet covers for the new Kindle Fires. Starbucks is going to look a whole lot more interesting. Foldable, adjustable covers are nothing new of course, but these are nicely integrated, and come in flashy colors (what did I tell you… A Colorful Year for Mobile). I'll be curious to see how this compares to the built-in kickstand to the new Surface 2.
4. Mayday…!
There's a lot of talk about this one on Twitter. Within 15 seconds of tapping the help button a tech support agent will pop up on your screen (24×7, 365 days a year, free). Either: wow, or scary. Your call. The agent can take full control of your Kindle, even helping you respond to emails and send birthday wishes on Facebook. Okay, not sure about that last part, but still… if this new feature works as Amazon says it will, it could be a game-changer. Not for die hard Androids like myself. What?! Me, read a manual, use help?! Just root it already! But there's a large base of mainstream users intimated by all these new features. Though technology in some ways is getting easier to use (voice recognition), it's at the same time becoming more complicated (many chided Samsung and its flagship Galaxy S4 for having too many frivolous, confusing features). Customer service, a glaring weakness for Google, has always been a strong suit for Amazon (and Apple). Mayday, which is being dubbed as a "Virtual Genius Bar", seems like a shot against the bow of the competition: hug your customers, treat them as humans, not as chat-room, dungeon crawlers.
5. Mojito
Unlike Google and KitKat I don't believe there's a confectionary sponsorship here. Mojito doesn't even come with a recipe. But Amazon's new Android-powered Fire OS 3.0, at first blush, goes down smooth. I especially like "Quiet Time" – an easy way to turn off notifications so you can live like we used to in the 80's, reading books, listening to Walkmans, and dancing to Duran Duran. X-Ray adds scrollable music lyrics. Prime Instant Videos can be downloaded and watched offline–for me, reason enough to buy a Kindle HDX and according to Amazon the only streaming subscription service to do it. And thanks to some system tuning, in "Reading Mode", you can expect up to 17 hours of battery life.
All around I'd score this one an A+.
Amazon really gets the tablet market. Bezos has proven a master at seamlessly marrying respectable hardware and customized versions of Android that put "content forward" with Amazon's deep, deep arsenal of content and cloud services. Only Apple is better; and perhaps that's a matter for debate.
In the past I didn't recommend Kindles. The Android implementation was too restrictive, the design inelegant, and performance slow compared to others. Also, I didn't appreciate that we had to pay extra for ad-free versions of the Kindle (this is still the case).
Nexus 7 used to be the Android tablet to beat.
Today, that's all changed.
Although the new Kindles might not appeal to the diehards that want the absolute most blazing specs, I expect the HD and HDXs to speak to the masses. And how fitting is that? Amazon, scale, masses. Yep, sounds about right.