Travel guru Janice Nieder continues her overseas getaways in a special Stark Insider series. Earlier she visited Liverpool, the home of The Beatles. In this installment Janice ventures to Manchester.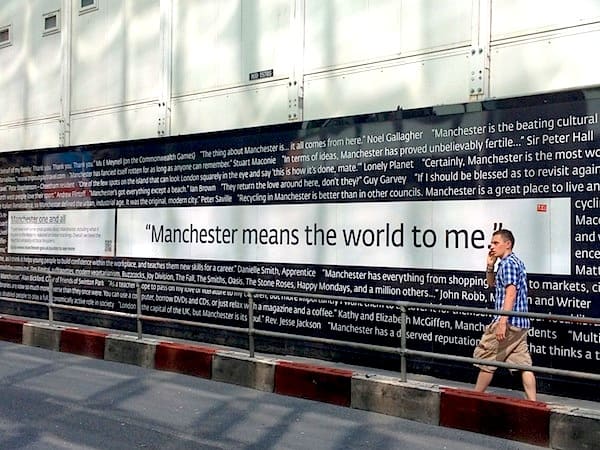 Sophisticated, cultural, trendy, exciting, glamorous are all adjectives one might use to describe London, but Manchester? Absolutely, which comes as no surprise to Mancunians, who are bursting with pride over their newly fashionable city which has two of England's best football clubs, spit-polished grand old stone buildings, the award-winning $200 million Lowry Center filled with exciting galleries, theaters and eateries, upscale loft developments, the inspiring Museum of Science and Industry, etc. I couldn't even begin to scratch the shiny new surface during a recent three-day getaway. Here's a list of my not-to-be-missed stops, but I strongly suggest you plan a week here!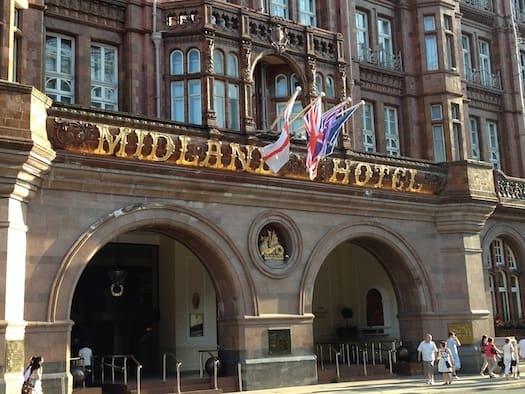 Sleep
The Midland, a four-star, historic railroad hotel opened to great acclaim in 1903, when it was described as a "twentieth century palace" due to its opulent décor, sumptuous fabrics and sparkling chandeliers. Over 100 years later it still offers superior city center accommodations for discerning girlfriends who require tasteful surroundings.  Not only was it good enough for Queen Elizabeth, who dined here in 1959 after attending a show at the  Palace Theatre (the first time a crowned head had ever dined in a public restaurant) but it was also where the Honorable Charles Rolls first met Henry Royce, which resulted in their creating the legendary Rolls Royce cars.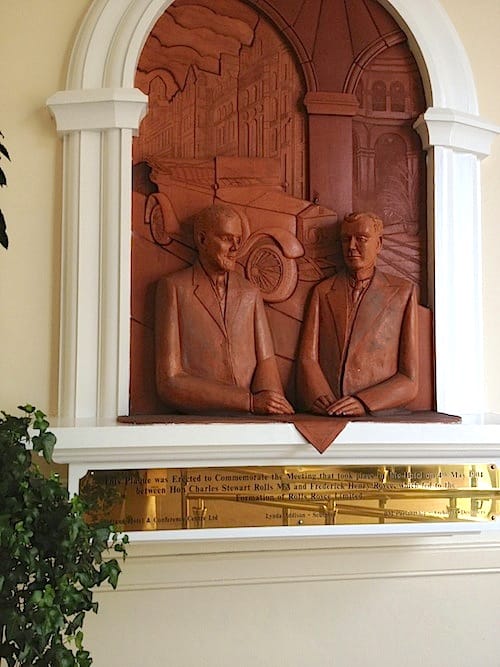 Our two-room junior suite (one bedroom plus a large living room) was tailor-made for sharing, with two of almost everything, so for once my sister and I didn't have to fight over the TV, vanity, mirror, or hairdryer.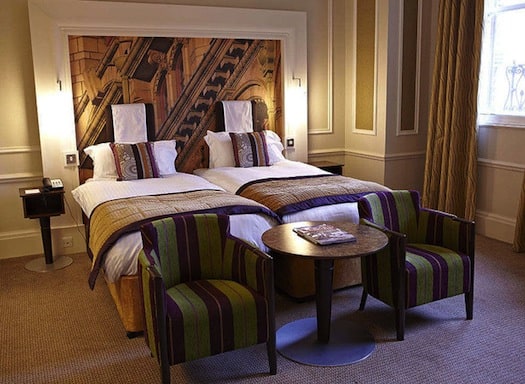 There is no more civilized way to get your Girlfriend Getaway started than to don your best hat and gloves and head down to the Octagonal lobby for a grand Champagne Afternoon Tea. Nah, just kidding…no need to dress up. As a matter of fact, our vivacious server, Samantha, was actually quite irreverent. Sweets and savories were all scrumptious and we loved that there was no need to choose between Madeira and champagne since Sam brought us both. The freshly baked flaky Sultana Scones that came with Cornish clotted cream, organic strawberry preserves and a fruits of the forest compote were stellar.
Most Memorable Meal
Get ready, Manchester, there's a new chef in town, whose game plan is not only to raise the bar for luxury dining, but also to recapture a lost Michelin star (or two) for The French at The Midland.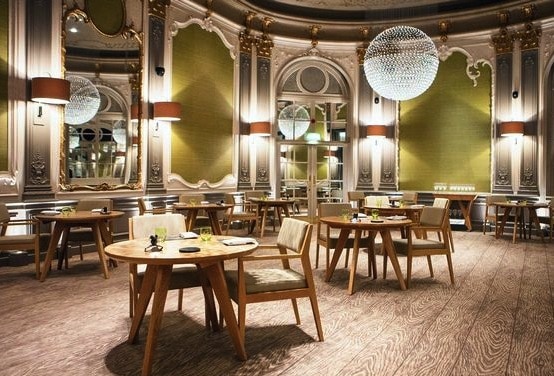 Simon Rogan is no stranger to the star mentality having received two Michelin stars for his restaurant L'Enclume in Cartmel, Cumbria, so I wouldn't place odds against this culinary genius scoring again at The French.
The recently renovated dining room, with an upscale/casual décor is hard to describe but actually it kind of works- think Palais de Versailles-ish crystal and gold rococo meets Ikea with austere Scandinavian furniture and a quirky "wooden" carpet. It obviously worked for David Beckham who wooed his Spice Girl here.
We went for the 6 course tasting menu, too hungry for the 3 course, but not wanting to be a complete piglets with the 10 course offering, although with several amuse bouche and extra desserts it added up to well over ten courses.
We were captivated after the first amuse bouche. The nibbles of Rice Crackers with potato mousse, celeriac emulsion and a dusting of onion ash could be a riff on the beloved American potato chips with French onion dip.
We were curious about the highly touted Ox in coal oil, which easily surpassed my favorite Parisian steak tartar.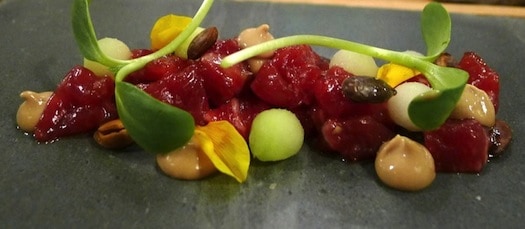 We were mesmerized by the still life beauty and intense flavors of the Asparagus with salty duck skin scratchings, then intrigued by the one of the simplest dishes, Reg's chicken topped with earthy root vegetables
We were slightly disappointed by our first dessert of Pear, meadow sweet and rye, buttermilk & linseeds, which was missing the "it" factor, but giggled over the sassy pink Sarsaparilla soda with a sarsaparilla meringue on the side.
At the end, we were utterly seduced by what is arguably the best cheese platter in the U.K.
The evening was made even more pleasurable by the attentive, yet never overly so, care provided by the entire wait staff (who graciously to answered our endless stream of questions) as well as by the superbly paired wines, enthusiastically described by the passionate somm.
And Rogan is just getting started at The Midland.  This September he will open 'Mr. Cooper's House & Garden'.  Not only will this be his biggest operation yet, at 150 seats, but it will also provide an interesting departure from Simons current British repertoire to a more "the world is my oyster" international menu.
Sky High Bar
If you're not ready to end the evening, Cloud 23 offers a long roster of original cocktails, such as Mr. Mercer's Cotton Peculiar or Old Thom Henry's Cherry to enjoy while looking at the twinkling city lights far below. Cloud 23 is located on the 23rd floor of Beetham Tower, Manchester's tallest building.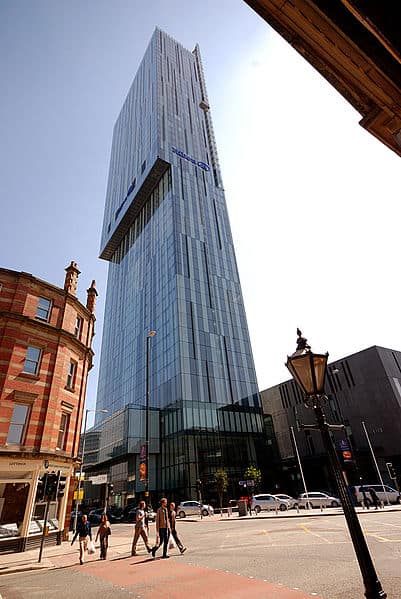 Fun Nabes to Explore: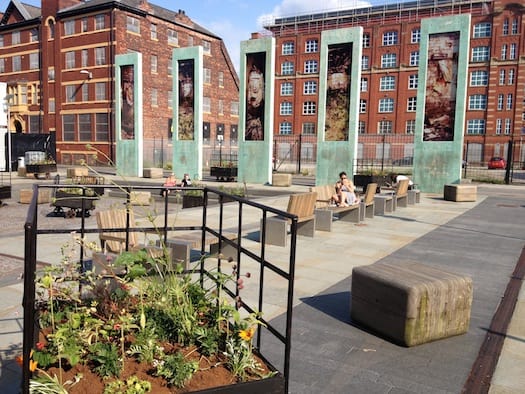 Save yourself hours of research learning about Manchester's background or trying to find some off the beaten track places to explore and simply sign up for one of Manchester Guided Tours. We went on a general bits and pieces Discover Manchester walking tour ably led by top Green Badge guide, Jean Bailo, who thoughtfully asked what our particular interests were and then quickly adapted the two hour walking tour to accommodate our every whim. There are many public tours covering broad categories such as cultural, sports, buildings and places etc. or bespoke tours to address your particular quirks such as Hidden Pubs or a Toilet tour.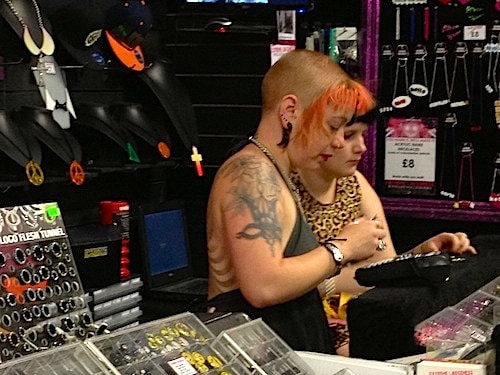 We ended in the trendy Northern Quarter, where Jean turned us lose to shop the one-off indie stores such as Affleck's, four floors of eclecticism, Vinyl Exchange, which specializes in rare and collectible records and CDs vinyl, and the Manchester Craft and Design center, a creative hub for local artists. Thankfully, she also steered us to Teacup, a very tasty lunch spot, owned by local DJ, Mr. Scruffs. Even if you're not hungry, stop in to just see the line up of scrumpy puds.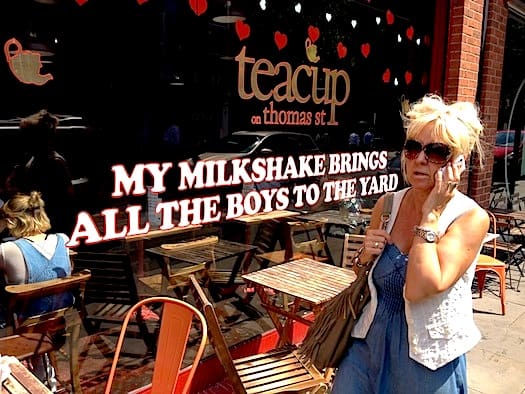 Castlefield
This picturesque area is fun to meander through, partic on a sunny afternoon. Castlefield, once a maze of industrial canals and viaducts lined with warehouses, factories and railways, with its Roman legacy (you can see reconstructed bits of the original Roman Fort, plus the oldest railway station in the world) has undergone a major regeneration and is now brimming with alfresco restaurants, sophisticated bars and beer gardens overlooking its idyllic canals.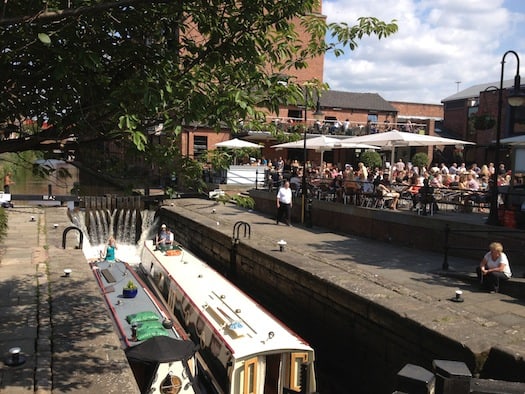 My fave free Attractions:
MOSI-Museum of Science & Industry
This captivating museum is set among the converted remains of the world's oldest surviving passenger railway station.
There are permanent galleries spread across five listed historic buildings with collections ranging from early textile machinery to modern X-ray equipment with an emphasis on Manchester's many achievements in these fields. Don't miss seeing their one ton, 17 ft X 7 Ft "Baby", a replica of the World's First Stored-Program Computer which was originally built in 1948 at the University of Manchester as an experiment.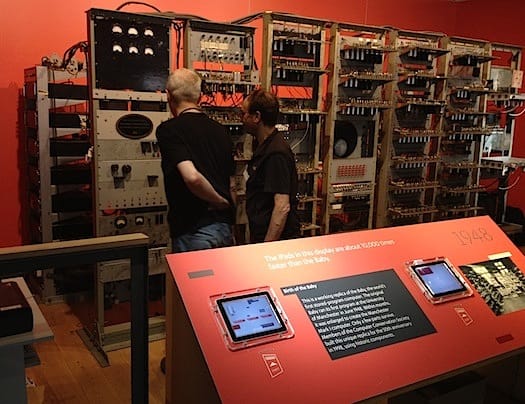 National Football Museum
As my sis will attest, even if you think you don't like football (or soccer) you'll still want to see this interactive museum, whose goal is to explain how and why football has become 'the people's game', a key part of England's heritage and way of life.
Non-sporty spice girlfriends will love the current, Strike a Pose: Fifty Years of Football and Fashion. Then check the schedule for the next viewing of  'The Arthur Wharton Story', which explores Arthur's remarkable journey from Ghanaian missionary's son to South Yorkshire sporting legend. Wharton was inducted to the Hall of Fame in 2003, as the first black professional footballer.
ALSO SEE: Liverpool's beat goes on and on
Two upcoming exhibits, 'Hey'Ya: Arab Women In Sport' which celebrates female athletes in the Arab world and 'Girls Allowed: Women's Football History Tour' also sound inspiring.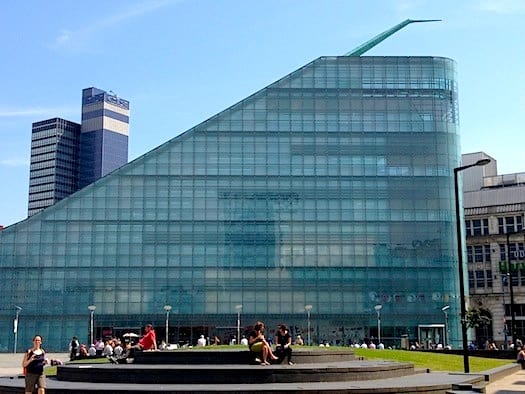 John Rylands Library
I know it sounds like one big yawn but it's so not. One of the world's most beautiful libraries, this gothic masterpiece was built by Enriqueta Rylands in 1900, in memory of her husband, John, Manchester's first multi-millionaire as well as a great philanthropist. The impressive building houses an even more remarkable collection, including the world's oldest surviving fragment of the New Testament, a first edition of Shakespeare's sonnets and a copy of the "Wicked Bible" in which the printer omitted the word 'not' in the 7th commandment. Definitely worth a visit and a guided tour is highly recommended. Don't miss the authentic old bathrooms in the basement.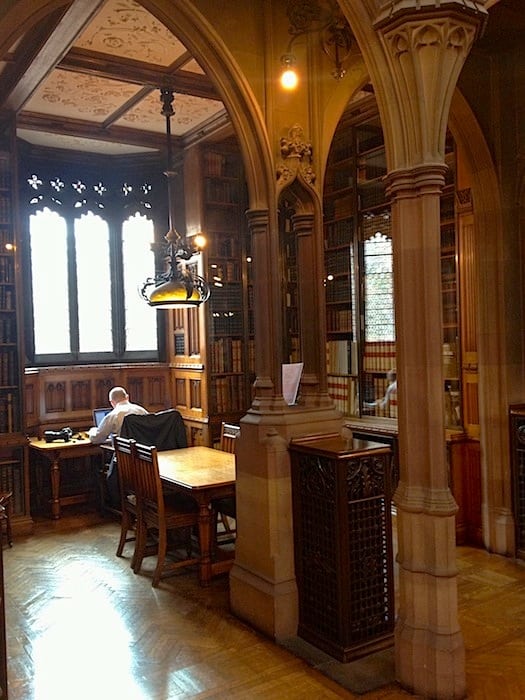 Extreme Shopping:
Manchester, no slouch in the fashion category, was invited to join the fashion capitals of Paris, Milan and Tokyo as the site of Vogue Fashion's Night Out, a one-night-only shopping extravaganza held in Manchester for the first time this October.  Most befitting since Manchester was the hub of the world cotton and textile industry during the Industrial Revolution.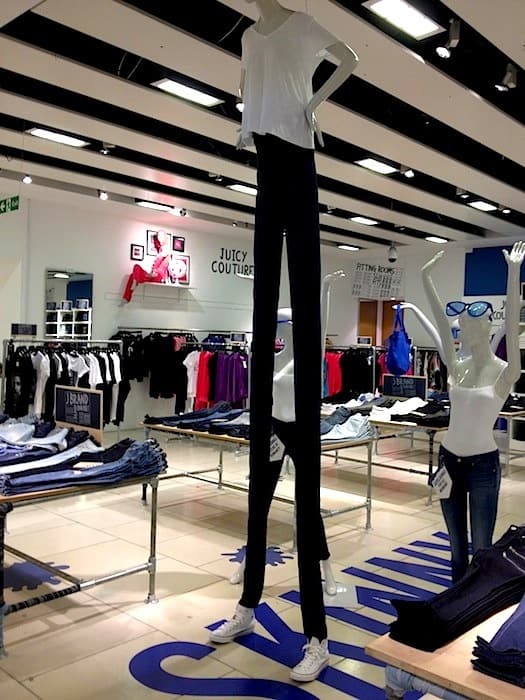 Glammy Selfridges Manchester (the first store Selfridges opened outside of London) will be a key player in the event. If you can't make it back in October, stop in to Selfridges any time to see why it was voted Best Department Store in the World. Might have something to do with the fact that it stocks everything from Victoria Beckham to Concoction- mix-your-own hair care products. Or perhaps it's because of their exciting Concept Store. When we were Concept was celebrating "all things denim" with everything from blue cupcakes to their exclusive denim bags.
If you don't know where to begin, stop in and let personal shopper, Georgina Alexander, take you under her well-dressed wing. After all, she does dress many of the price-is-no-object, WAG's (Footballer's Wives And Girlfriends).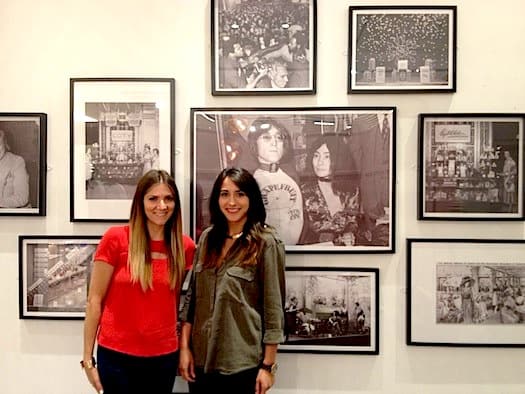 Afterwards, retreat downstairs to the Beauty Hall for a relaxing hand massage at the Jo Malone counter or pop into the Clarins Spa, like I did, for a much needed moisturizing facial where Tracey, a most gifted esthetician, worked her magic on my airplane dehydrated skin, restoring it to baby-butt softness.
Side trip: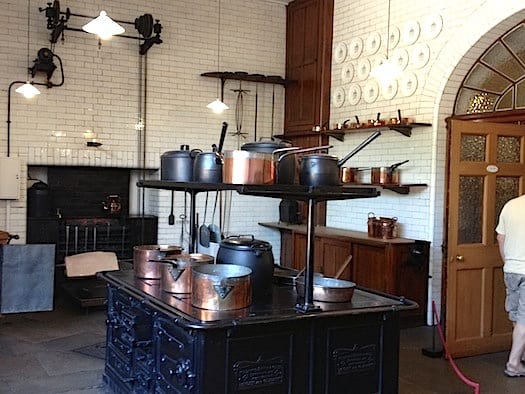 Girlfriends won't want to miss a visit to Tatton Park in Chesire, a scenic hour train ride from town. Tatton Park is home to one of the UK's most complete historic estates, the elegant Egerton Mansion as well as 50 acres of beautifully landscaped gardens, a rare-breed farm and 1,000 acres of parkland, where the deer roam free. The park also hosts many special events ranging from music concerts to flower shows. Plan on a full day of fun, starting with an upstairs/downstairs tour of the mansion. Our guide shared all sorts of juicy stories about the family, particularly about the last Baron to live in the mansion, Maurice Egerton, a pioneer aviator, hunter, photographer, filmmaker, and world traveler who died single after a most unhappy love life.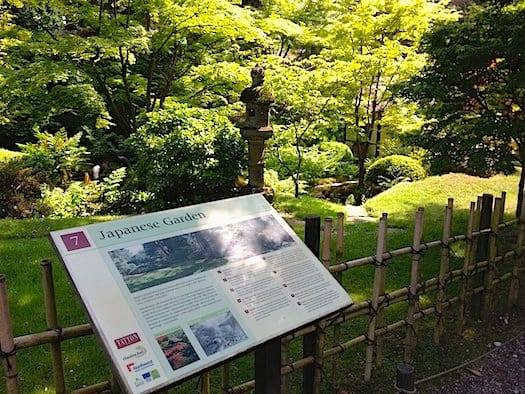 Grab a map to help navigate your way through the Japanese, Italian and Rose gardens or rent a bike if you want to explore more of the vast park.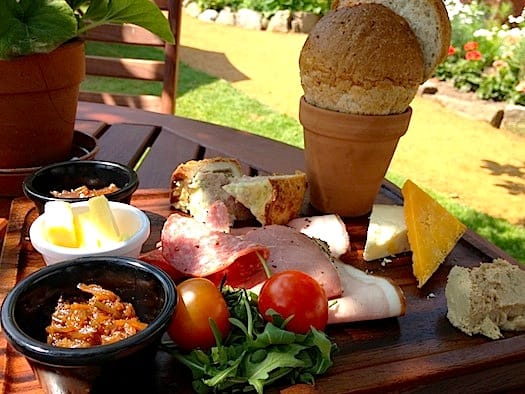 Insider Tip: 

For a scrumptious meal don't forget to make advance reservations  (try to book a table outdoors overlooking the orchard) at the delightful new Gardener's Cottage Tea Room, which served as the head gardener's cozy home for the last 30 years. The chef takes full advantage of the fresh garden produce plucked right from Tatton's Kitchen Gardens to create scrumptious seasonal salads, savory tarts, and homemade soups served with hot bread baked in a plant pot.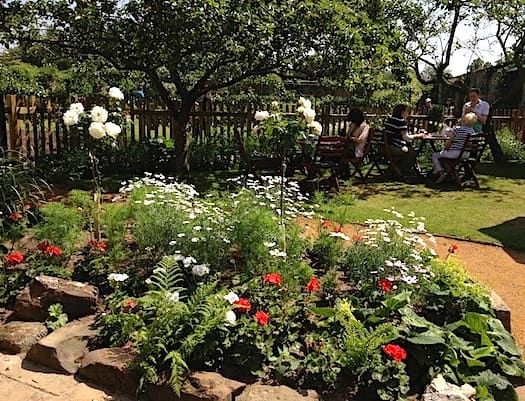 BritRail Travel Tip:

Traveling there really is half the fun when you take the BritRail train from London, particularly if you splurge a bit and opt for First Class. Shortly after I settled into my first class, spotless seat, piled all my maps and notes on the table, and got on the complimentary Wi-Fi, the train attendant offered me coffee or tea. Later, another attendant rolled a cart through, filled with tasty salads, assorted sandwiches, crisps, sweets and wine or beer-all included. About two hours later we pulled into Manchester, well fed, refreshed, and all of my notes were neatly organized.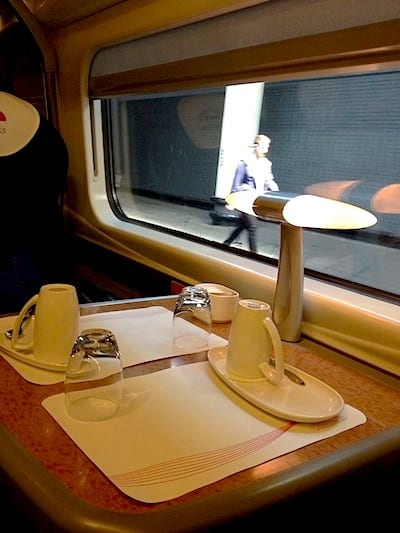 Note: BritRail Pass offers a wide range of convenient, economical, hassle-free passes allowing flexibility for exploring over 2,500 fascinating destinations in England, Scotland and Wales, BUT these are not available in the UK. You will need to purchase your tickets in advance from ACP Rail International, BritRail's exclusive global distributor.
Janice continues to explore the world in style. Be sure to follow her Girlfriend Getaways here on Stark Insider and be sure not to miss a thing!