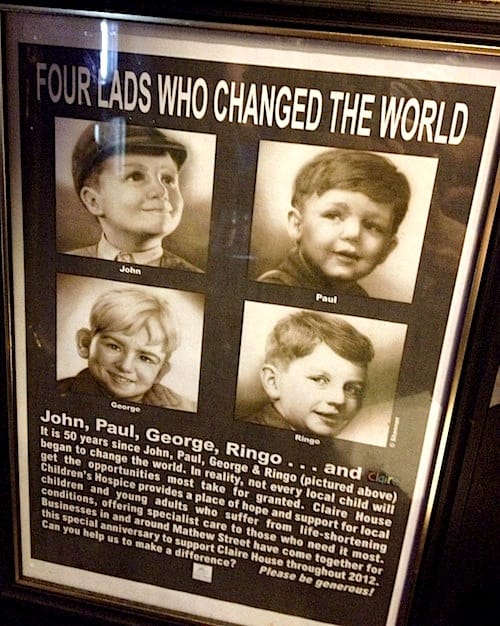 "Listen… do you want to know a secret? Do you promise not to tell?"
I wonder if these lyrics from four British guys in a rock band were actually in reference to their hometown of Liverpool. Possibly, since the recently revitalized cosmopolitan city of Liverpool, the 2008 European Capital of Culture, totally rocks when it comes to Girlfriend Getaway fun.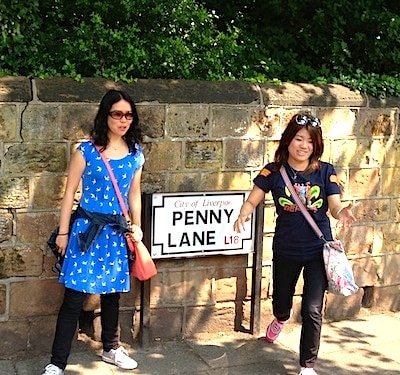 Think fabulous shopping, amazing architecture, spectacular waterside attractions, world class museums (most of which are free) electrifying nightlife and, of course, an unsurpassed music scene and Liverpool should shoot straight to the top of your list of travel spots.
Easily navigated on foot, Liverpool will forever be known as the birthplace of the Beatles and therefore draws a huge number of fans to walk in their steps, from a drive down Penny Lane to a show at the Cavern Club where The Beatles were first discovered by their soon to be manager, Brian Epstein. They also performed there 292 times. But wait… there's more!
City Sights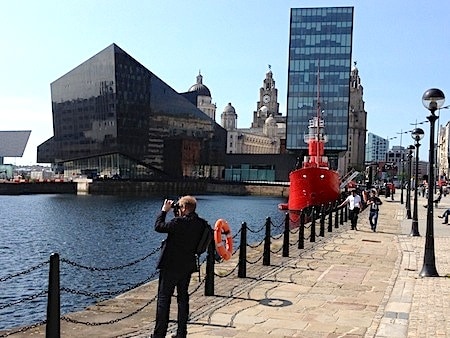 Albert Dock
The iconic Albert Dock plays a starring role in Liverpool's story beginning in the early 19th century when a whopping 40% of the global trade passed through these docks, transforming Liverpool into one of the wealthiest cities in the world. Over the years, war and poverty took its toll and this once prosperous the area fell into decline until the Docks were finally abandoned in 1972. Twenty-five years ago, the Docks were revitalized and the historic waterfront is now part of Liverpool's UNESCO World Heritage Site. The turnaround began with the opening of the Merseyside Maritime Museum and Tate Liverpool, which features a superb collection of modern art and many special exhibitions, such as the current Chagall show.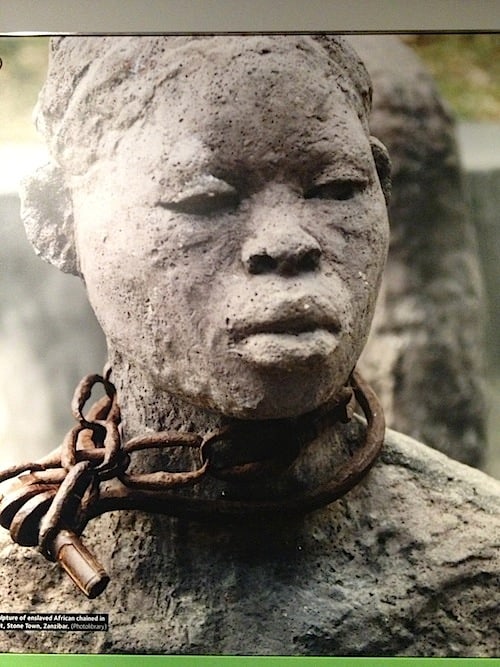 Other cultural attractions occupying this enviable waterfront location include the Merseyside Maritime Museum (on display is the only known surviving Titanic first class ticket), the thought-provoking International Slavery Museum (the only national museum in the world dedicated to the history of the transatlantic slave trade and its legacy), The Beatles Story and the Wheel of Liverpool. Nab one of the 42 chairs on The Wheel for a unique bird's eye view of the city's regeneration.
In 2011, the showy Museum of Liverpool opened nearby, at a staggering cost of £72million, and quickly became the most visited national museum in England outside of London. Like many of Liverpool's museums and galleries there is no charge for admission.
Fresh Air Break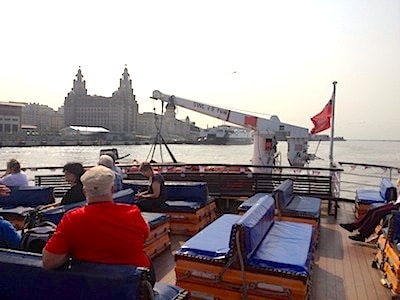 Hop aboard the Mersey Ferry River Explorer for a 50-minute ride, complete with an interesting historical commentary. Feel free to sing along when they play Gerry And The Pacemakers 'Ferry 'Cross the Mersey' (am I the only one who always thought it was Ferry 'Cross the Mercy?) as you take in the stunning views and fresh sea air.
Beauty Break
Tame that windswept 'do at the brand new Beauty Bazaar, Harvey Nichols the world's first one-stop beauty destination. Kudos to Liverpool for being selected by Harvey Nichols as the launch site of this revolutionary new concept store.
Beauty Bazaar, Harvey Nichols offers three floors of premium products cocooned within a luxurious environment complemented by a sophisticated Champagne and Cocktail Bar, which also serves lunch and a generous afternoon tea.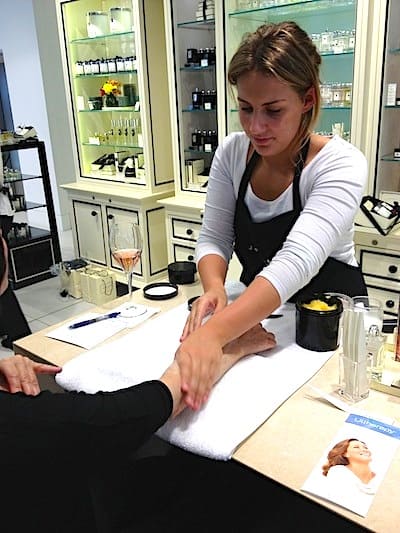 Stop by the Jo Malone Tasting Bar for a complimentary hand and arm massage (It took a while but I ended up loving their esoteric new fragrance – a spicy Saffron, particularly after I layered it with Blackberry & Bay) accompanied by a glass of wine.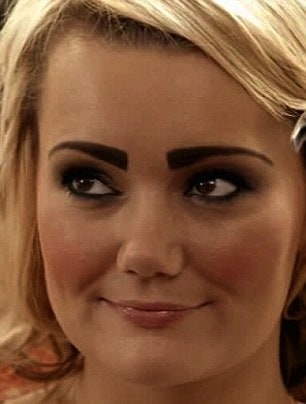 Or choose from one of their many treatment services, including Mark Woolley's Electric Hair Lounge, a Lash and Nail Bar, and a Blink Brow Bar. Liverpudlians – trust me, that really is what locals are called – take their brows VERY seriously. Thankfully the infamous, heavy, black Scouse brow has given way to the H.D. sculpted-to-perfection brow.
If you need a wee bit more help than just covering up with the perfect shade of BB cream, take the dedicated express lift upstairs to Karidis Medispa where specialist services include teeth whitening, permanent makeup, botox, fillers and body contouring treatments. If you have any questions about what treatments would best suit your needs, the super friendly, spa consultant, Helen Pardoe-Matthews, is a wealth of useful information.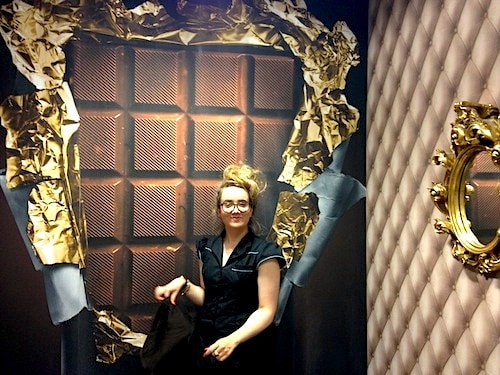 Insider tip:

The Strip waxing boutique offers a popular calorie and pain-free Chocolate & Hazelnut Wax, which will leave you smooth and smiling.
Fun for even non-Beatlemanians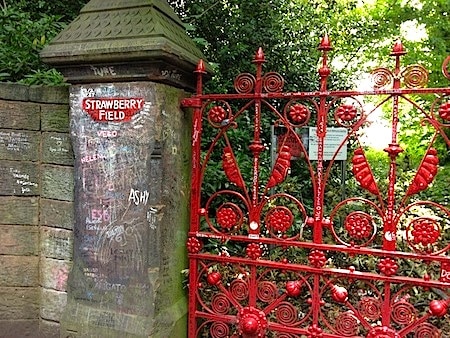 Magical Mystery Tour and The Cavern Club – There is no shortage of Beatles tours and attractions but the Magical Mystery Tour is definitely one of the best.  Paul, our enthusiastic guide kept us totally entertained for two hours as we drove by The Beatles homes, schools, Penny Lane, Strawberry Field and many other landmarks, ending at the world famous Cavern Club, where the Fab Four last performed 50 years ago.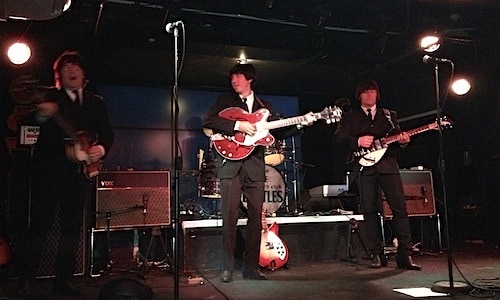 Shoppers are spoiled silly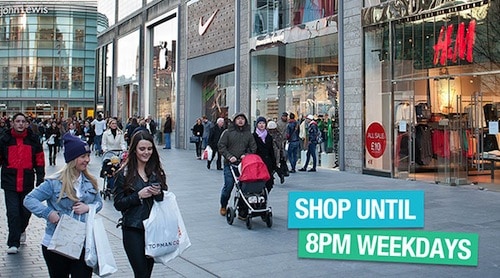 Liverpool ONE
Shopping in the city was completely transformed in 2008 with the opening of Liverpool ONE (Beauty Bazaar, Harvey Nichols is located here) one of the largest open air shopping complexes in Europe. Over 160 shops, ranging from Apple Mac to Miss Selfridge, are housed in this $1.5 billion retail and leisure complex.
Metquarter
For more upmarket retailers, Metquarter (formerly Liverpool's main post office) will tempt you with designers such as MAC, Hugo Boss, Jo Malone, Armani and DKNY.
Cavern Walks, Cavern Quarter
Prefer indie shopping? Head over to the uber-cool Cavern Walks area, peppered with independent designer boutiques featuring Vivienne Westwood and Cricket-where you'll find outrageously pricey handbags.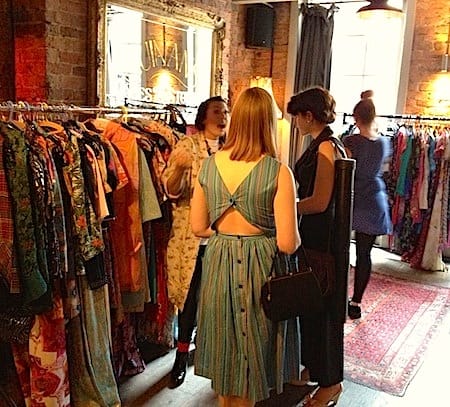 Insider Tip:

Vintage lovers can score marvelous British treasures, ranging from a pair of spats to a pristine pillbox hat at the fun-filled Pillbox Vintage Fairs.  Take note of how the locals add their twist to retro-style dressing. Jeans, t-shirt and an antique silk dressing gown worn with rubber wellies was one creative example. Katy Mousaada and her daughter, Nadia, hold monthly events at a variety of unique venues so check their website for the deets.
Best Bites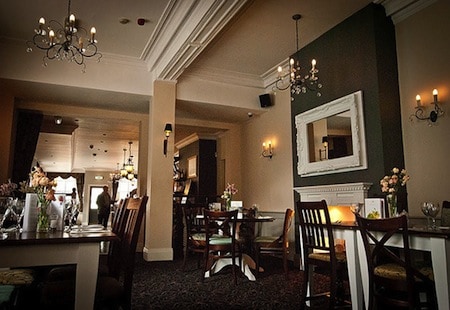 Lunch – The Monro, Liverpool's (deservedly) acclaimed gastropub serves beautifully presented dishes made from locally sourced ingredients, some which are grown right in the courtyard. It is named after the merchant vessel, the James Monro, which was the first scheduled sailing service from Liverpool to New York in 1817. The Monro is nestled inside a wonderful, historic listed building. The food, ambiance, and friendly service are all top-notch, particularly at such a reasonable price point. Extra credit points for the three ghosts that reside upstairs. "One is a very mean man," our hostess told us with great seriousness as she took us on a tour of the private dining rooms upstairs.
This hidden gem is worth searching out, particularly for their popular Sunday roasts.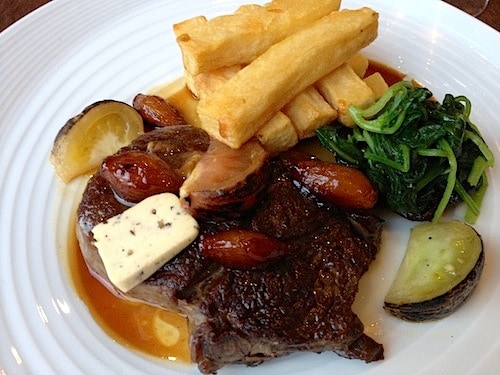 Dinner – The award-winning London Carriage Works, housed in the lovely Hope Street Hotel (Liverpool's first boutique hotel and still one of its finest) acquired its interesting name when the original sign was uncovered during construction work. It turned out that the structure, built in the 1860s in the style of a Venetian Palazzo, was once the home of coach and carriage builders.
Renowned Chef Paul Askew, serves modern international food featuring the finest produce of the North West region. The prix fixe menu is based on produce gathered within a 25-mile radius of the restaurant.
My succulent rib-eye steak was anointed with smoked Roma tomatoes, a tangle of field mushrooms and a smidge of truffle butter. My sister thoroughly enjoyed her pick, 'Mr. Reeves' fish and chunky chips'. Even though we were stuffed, we could not resist the lure of the decadently delicious, "Dr Harvey's banana and toffee Eton mess with caramel ice cream."
Best Bar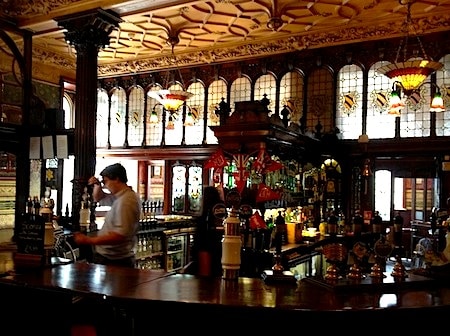 Ornate would be an understatement when it comes to describing the flamboyant Philharmonic Dining Room/Pub, affectionately known as "The Phil". Across the street from the Royal Liverpool Philharmonic Orchestra, this art nouveau gem is perfect for a quick pint during intermission.
Best Sleep

Base2Stay Liverpool – Unlike Jo Malone's Saffron Cologne, it didn't take more than a minute to fall in love with the Base2Stay concept. What's not to love about an old warehouse that morphed into an immaculate, trendy hotel in a great location run by an impeccably trained staff – more helpful and better informed than many 5 star hotel concierges I've encountered. Every night there is a knock on the door and you are handed a bag containing cereal, pastry, fruit juice, milk, yogurt, etc. Your room has a fully accessorized mini-kitchen, perfect for "preparing" your breakfast whenever you want it. Accommodations are quite roomy (by British standards) with a flat screen TV, great shower, comfy beds and quality linens. Complimentary Internet sealed the deal. All this comes at prices that are almost too low to be believed.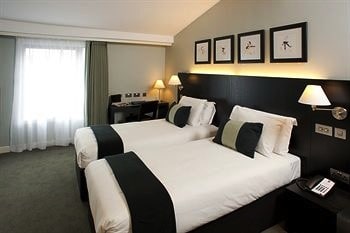 Liverpool, the secret's out- I'm in love with you!
When you go:
For lots of user-friendly info on accommodations, events and attractions across Liverpool City Region go to the Visit Liverpool website.
BritRail Travel Tip: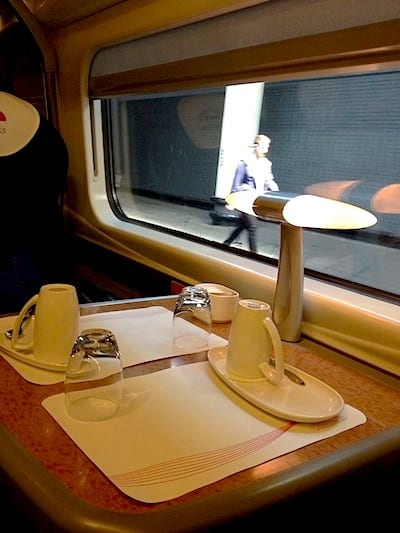 Traveling there really is half the fun when you take the BritRail train from London, particularly if you splurge a bit and opt for First Class. Shortly after I settled into my first class, spotless seat, piled all my maps and notes on the table, and got on the complimentary Wi-Fi, the train attendant offered me coffee or tea. Later, another attendant rolled a cart through, filled with tasty salads, assorted sandwiches, crisps, sweets and wine or beer-all included. Just about two hours later we pulled into Liverpool, well fed, refreshed, and all of my notes were neatly organized.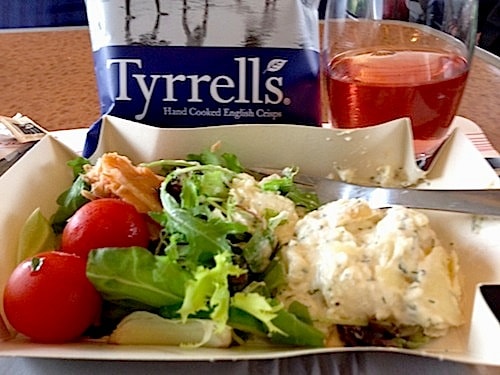 Note: BritRail Pass offers a wide range of convenient, economical, hassle-free passes allowing flexibility for exploring over 2,500 fascinating destinations in England, Scotland and Wales, BUT these are not available in the UK. You will need to purchase your tickets in advance from ACP Rail International.