Canon today announced the EOS 70D, the successor to the well regarded 60D DSLR shooter, popular among video enthusiasts. Based on the APS-C image sensor, the 70D features 20 megapixels (10% more, no surprise there), a 19-point autofocus system (the same as found on the 7D), and wi-fi.
Most notable, though, for those that (like me!) use their DSLRs to shoot video is the addition of video auto-focus. Sweetness and beans, no doubt.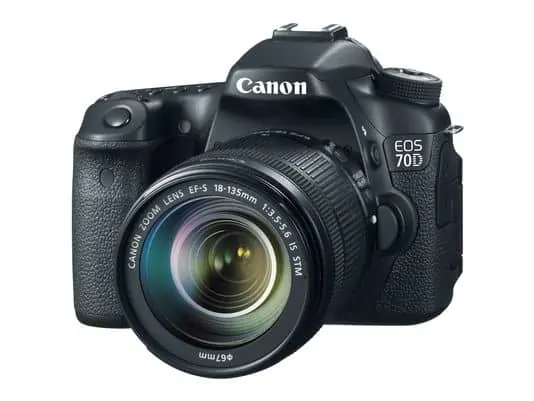 According to Canon a "Dual Pixel" CMOS covers 80% of the surface area that features two photosites. Meanwhile a more powerful DIGIC 5+ will analyse in real-time. To most, these specs won't mean much on their own. But in practice it means the 70D can automatically focus as a subject moves across the frame. The user can opt to specify a specific focal point–say, a child's head–or allow the camera to decide. None of this was possible on the 60D, which could only autofocus in video mode when not recording – making it far more difficult than a traditional videocamera to use for real-time videography. For films, it's less of any issue as scenes are planned and set-up in advance, including lenses, focus and lighting.
Other upgrades over the 60D include:
— ISO range up to 12800 which should improve low light performance
— faster, high-speed continuous shooting; up to 7 frames per second
— 63-zone Dual Layer IFCL (Intelligent Focus, Color & Luminance) AE metering system
The 70D goes for $1,200 for the body only, $1.350 for the kit with an 18-55mm STM lens, and $1,549 for the kit with an 18-135mm STM lens. The STM lenses allow for quiet, fluid auto-focus so if you're interested in that feature be sure to look for the designation. Canon says the 70D will go on sale in September.
Time to upgrade the 60D
I will be one of the first in line to upgrade my (wonderful) 60D. I've shot a few hundred videos for Stark Insider since buying one in 2010. It's never let me down, and the build quality is top notch. Most of what I shoot is sit-down interviews with actors, directors in the Bay Area and also in film. But often we also shoot run 'n gun style scenes.
I've learned to focus the 60D, shoot a scene, and then do it over again when the subject moves. This means post-production becomes essential; I can cut out the parts where the camera is "hunting" for focus. I often use b-roll to hide these parts. With a camcorder, or the new 70D, this will become a non-issue as the lens will be auto-focusing dynamically. Nikon has led in this regard, but now it appears Canon is finally adding the much-desired featured to its line-up.
If you're contemplating a move into DSLR video, or are looking to upgrade, the 70D should be near the top of your list. If video auto-focus is not important, a used or discounted 60D could also be a good choice.
Get your Canon EOS 70D now on Amazon.
Here's an example of a video shot with a 60D and edited in Adobe Premiere Pro.
ON LOCATION: Napa (Shot with Canon EOS 60D)