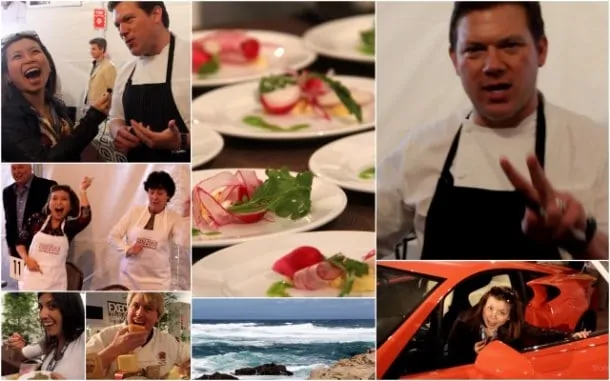 Pebble Beach Food & Wine, one of our favorite West Coast extravaganzas is almost upon us, and we've got the exclusive SI preview featuring Chef Tyler Florence (see video below).
Now in its fifth year, PBFW features some of the top names in the business: Anne Burrell (Food Network), Masaharu Morimoto (Morimoto Napa), Roland Passot (La Folie), Charles Phan (Slanted Door), Jason Wrobel (Cooking Channel), Dominique Crenn (Atelier Crenn), Nancy Oakes (Boulevard Restaurant), among scores of others sure to ignite your gastronomic impulses.
Festivities kick off this Thursday April 4th with an opening night reception at the Spanish Bay Inn (how good is that?!), and runs through the weekend to Sunday.
Expect compelling food demos, luxurious fine wines, and plenty of opportunities to socialize and enjoy the gorgeous setting which includes expansive views of the Pacific Ocean.
A Stark Insider favorite?
Two words: You betcha.
ALSO: Inside the Star Chefs and Vintners Gala (Video)
We've been covering the event since it first debuted in 2009, and took California by storm. Here's a sneak peek at Pebble Beach Food and Wine and what to expect this year. Watch as Loni Stark of Stark Insider TV meets up with superman himself, Chef Tyler Florence, and discuss PBFW, his restaurant, the food business, as he interacts with fans who have lined up in droves to meet the charismatic San Francisco-based restauranteur.
WATCH: Pebble Beach Food & Wine with Chef Tyler Florence
Pebble Beach Food & Wine

April 4-7, 2013

"Premier epicurean lifestyle event on the West Coast, matching 250 acclaimed wineries and 75 celebrity chefs to create a hedonistic four-day destination on one of the most picturesque strips of coastline in the world. Throughout the weekend you'll enjoy intimate access to the pinnacle of culinary and wine talent at wine tastings, cooking demos, and some of the most exclusive, unique dining opportunities available in the world."