To conclude its 45th season, Berkeley Repertory Theatre welcomes back a pair of acclaimed collaborators: Sarah Ruhl and Les Waters, the creators of Eurydice, Three Sisters, and In the Next Room (or the vibrator play), return to Berkeley Rep with another tale of love and longing.
Dear Elizabeth follows the beautiful and bittersweet friendship between Elizabeth Bishop and Robert Lowell. Across oceans and continents, across three decades, these esteemed poets found a true marriage of minds in their eloquent correspondence. Dubbed the Dickinson and Whitman of the 20th century, they traded hundreds of vibrant, witty, and passionate letters that now spring to life on stage. This West Coast premiere paints an intimate portrait of two extraordinary – and quite ordinary – lives, told anew by two of the finest artists of our time.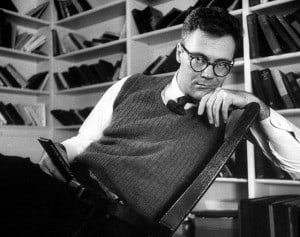 Ruhl and Waters deliver Dear Elizabeth to the Roda Theatre, where it begins previews on May 24, opens May 29, and runs through July 7. In this new production, Mary Beth Fisher portrays Elizabeth Bishop and Tom Nelis plays Robert Lowell.
ALSO: Stark Insider TV: 'Mad Men' star Vincent Kartheiser (Pete Campbell)
"It's a delight to come back to Berkeley Rep, which has been an artistic home for me – and for Sarah – for many years," Waters remarks. "It's always a pleasure to direct in the Bay Area, as audiences here crave smart and savvy new works. I hope that they are as engaged by this subtle and touching story as we have been."
"I'm so happy to be working again at Berkeley Rep with Les," Ruhl remarks. "I think there is no better town to receive an unconventional love story between two brilliant and unconventional poets. I was terribly moved when Les signed on to direct the play before I'd finished writing it, and when Tony signed on to produce it while it was still in process. Having an artistic home like that in this day in age is rare and radical."
DEAR ELIZABETH

Berkeley Repertory Theatre
May 24 – July 7, 2013

Written by Sarah Ruhl
A play in letters from Elizabeth Bishop to Robert Lowell and back again
Directed by Les Waters
Designed by Annie Smart (sets), Maria Hooper (costumes), Russell Champa (lighting), Bray Poor (sound), and Hannah Wasileski (projections)
Starring Mary Beth Fisher and Tom Nelis