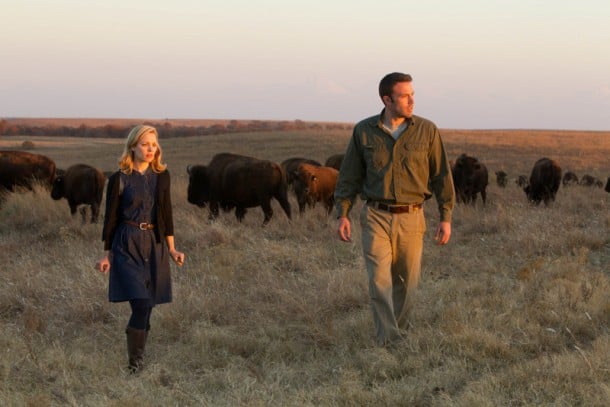 Terrence Malick's highly anticipated followup to his polarizing Cannes film Tree of Life is coming to San Francisco. Starring Ben Affleck, To The Wonder opens April 12 at Landmark Cinemas in San Francisco.
The film "boldly and lyrically" explores the complexities of love in all its forms.
Parisian single mother Marina (Olga Kurylenko, Quantum of Solace) and Midwestern tourist Neil (Ben Affleck, Argo, The Town) fall madly in love in France and relocate to Oklahoma with Marina's young daughter to start a life together. As their relationship wanes and her visa nears expiration, Marina makes the acquaintance of a priest and fellow exile (Javier Bardem, No Country for Old Men, Biutiful) who is struggling with his faith, while Neil renews a relationship with his childhood sweetheart, Jane (Rachel McAdams, Midnight in Paris).
Ben Affleck is coming off a strong award season with his blockbuster Argo which screened at the Mill Valley Film Festival before achieving massive success. The 2012 film in which he stars and directs won three Academy Awards – best picture, best adapted screenplay, best editing.
ALSO: Cinequest Film Festival Winners Announced
Though Tree of Life polarized audiences (and was even booed at Cannes), it went on to gross over $54 million worldwide – noted film critic Roger Ebert gave the film a perfect four stars, saying that "the only other film I've seen with this boldness of vision is Kubrick's 2001: A Space Odyssey and it lacked Malick's fierce evocation of human feeling."
To the Wonder runs 119 min and opens April 14 at Landmark's Embarcadero Center Cinema in San Francisco and Landmark's Shattuck Cinemas in Berkeley.
WATCH: Trailer for 'To the Wonder'