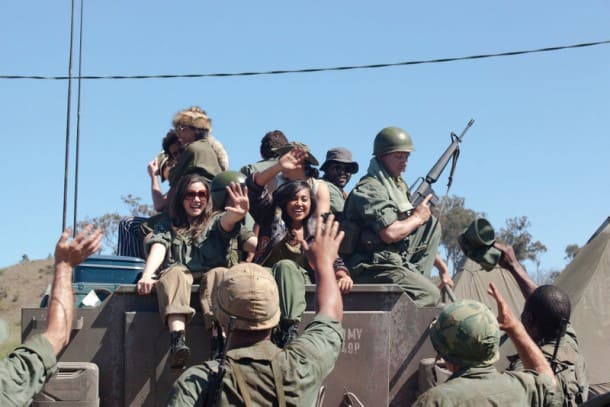 Cinequest Film Festival has wrapped in what organizers are calling "record breaking" fashion, and have released the complete list of winners.
The Saphhires (Director Wayne Blair) was named audience favorite narrative. Wampler's Ascent (Elizabeth Wampler) won for best documentary.
The Playback Singer, starring Navi Rawat (interview), won the "New Vision Award."  See below for the complete list of Cinequest award winners.
Over 100,000 participants took to the streets of San Jose over the past twelve days to attend 86 premieres, enjoy 4K screenings of classic films (Taxi Driver, Lawrence of Arabia) and mingle with stars and filmmakers.
This year's Cinequest "Maverick Spirit Awards" went to Harrison Ford (Star Wars, Indiana Jones), Chuck Palahniuk (Fight Club), Phil Molyneux (President & COO, Sony Electronics), Chris Cookson (President, Sony Pictures Technologies) and Salman Rushdie (Midnight's Children).
Bay Area Chef Dominique Crenn (Atelier Crenn, San Francisco) was also recognized with a special award.
Cinequest Film Festival 2013 Award Winners

Audience Favorite Narrative
$25,000 Prize
The Sapphires
Director: Wayne Blair

Audience Favorite Documentary
$25,000 Prize
Wampler's Ascent
Director: Elizabeth Wampler

Jury – Best Narrative Feature: Drama
Solace
Director: Vandon Gibbs

Jury – Best Narrative Feature: Comedy
One Small Hitch
Director: John Burgess

Jury- Best Feature Documentary
Stable Life
Director: Sara MacPherson

New Visions Award
The Playback Singer
Director: Suju Vijayan

WATCH: Actress Navi Rawat Discusses The Playback Singer

Global Vision Award

Loveless Zoritsa
Directors: Christina Hadjicharalambous and Radoslav Pavkovic

Thrive Award
Wampler's Ascent
Director: Elizabeth Wampler

Best Animated Short
Butterflies
Director: Isabel Peppard

Best Narrative Short
No Rest for the Wicked
Director: Ryan Schifrin

Best Documentary Short
Sky Burial
Director: Tad Fettig

Best Student Short
Tatau
Director: Chantelle Burgoyne

Screenwriter Competition

Winner
Blindman's Land
Writer: Mark Heck

Second Place Award
Black Mustard
Writer: Michael Clevenger

Third Place Award
Hancock Park
Writer: Steven Wolfson

Remaining Seven Finalists:
Accidentes: Written By Thomas Heys
Snapper: Written By Claire Fowler
Dime Store Saint: Written By Nate Lane
Butterfly Children: Written By Melanie Schiele
Mrs. Seyerling: Written By Marie-Juliette Steinsvold
Through Maria's Eyes: Written By David Rich
Open Book: Written By Philip Chidel