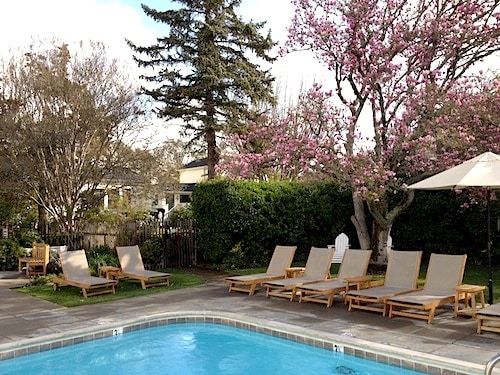 I haven't been to the town of Sonoma (a mere 45 minute drive from San Francisco) because I stayed in Healdsburg on my last few jaunts to Wine Country and, frankly, it was never my favorite spot because I thought I'd had totally been there/done that. After joining Access Trips for a one day sample of their new five day "Wine Country Culinary Tour," I realized I had barely scratched the surface.
To experience the heart of Sonoma you really have to be a local, or at least, BFF with one. But now there's another option… you can leave it all in the capable hands of Tamar Lowell, Access Trips CEO, whose rolodex is loaded with the area's most accomplished chefs, biodynamic farmers, legendary winemakers, fascinating historians knowledgeable historians and local guide, artisanal cheesemakers and chocolatiers. When you sign up with (big A) Access, you get access to all the above as you learn, cook, taste, and schmooze with Sonoma's best of the best.
MacArthur Place Hotel & Spa- a total delight
Our sample day started with a real eye-opener when we met the congenial G.M. of MacArthur Place Hotel & Spa, Bill Blum, for an entertaining tour of the property. This just-off-the-beaten-track luxury hotel, rated as one of the "World's Best" US hotels in Conde Nast Traveler's annual Reader's Choice Awards, becomes your "home" for the next five days. I can't believe that I had never visited here before. Big mistake-thankfully rectified.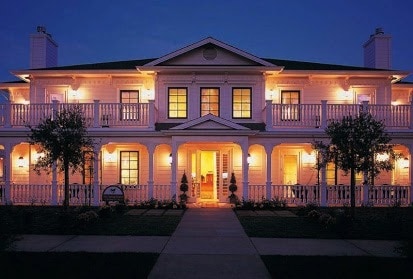 Originally a 19th century estate in the middle of a 300 acre vineyard and working ranch, MacArthur Place has been transformed into country-chic accommodations consisting of the historic main house and a handful of Victorian-style cottages, surrounded by spectacular flower and herb gardens, original flagstone paths, abundant fruit trees, whimsical sculptures (including a life-size chess set and chair swings made from repurposed ski lifts) and original flagstone paths leading to an inviting outdoor swimming pool and whirlpool.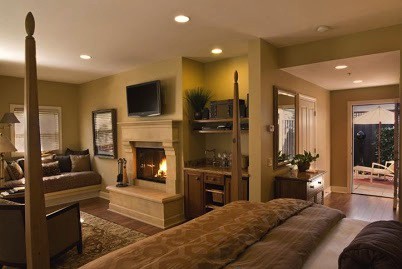 Each of the 64 rooms and suites has its own individual  "sense of place" featuring sumptuous feather beds, designer linens, cozy fireplace, comfy seating areas, eclectic paintings by local artists, a mini bar with refrigerator, premium coffee maker and a thoughtfully laid out bathroom with European walk-in showers and a fab assortment of their special grape seed bath amenities.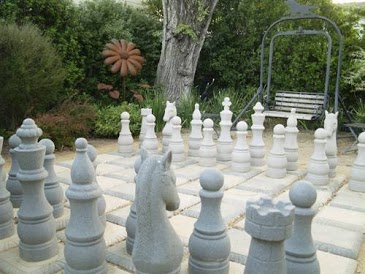 Other niceties (all complimentary) include a healthy buffet breakfast at Saddles Steakhouse, (located in the estate's atmospheric barn with cowboy boots, saddles and painted horses adorning the walls) a well-stocked library with a wide choice of DVD's for cocooners, a nightly wine and cheese reception, fitness center with steam room, free Wi-Fi and parking.  If you have any questions, the genuinely warm, well-trained staff jump to serve you. The woman at the front desk helped me avoid bridge traffic by suggesting I postpone my drive home a bit and instead take a scenic hour long trail walk, thoughtfully highlighting every turn on the map so even I couldn't get lost.
ALSO: Neo Cocoa: The Sweet Life of a Bay Area Chocolatier
Note to self:  next time plan on spending some quality time at the tempting Garden Spa, which offers dozens of "Farm to Massage Table" facial and body treatments utilizing the inn's home-gown flowers and herbs. One of their signature treatments, named Red Red Wine – 100 blissful minutes of a Red Wine Grapeseed Bath, Grapeseed Body Polish, topped off with a Grapeseed Essential Oil Massage, was shouting my name.
Cooking with the all-stars at Harvest Moon Café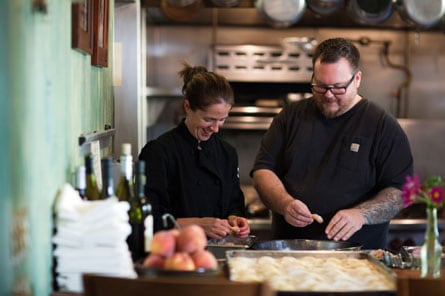 But no time for that now, because we're off to a private cooking class, at the Harvest Moon Café, one of the hottest restos in town, where co-owner, Chef Jen Demerest and her trusty sous-chef, Shawn Henton, patiently spent the next three hours sharing their culinary expertise. We learned some great tricks-of-the-trade, such as the fastest way to peel beets is to do it after roasting them in a little olive oil, because then you can easily rub the skin off with your fingers. Shawn also had us all practice using a pasta maker, which I aced! The time flew, particularly after imbibing a few glasses of wine, which they wisely waited to pour after we put down the sharp knives. Amazingly enough, our rather culinary -challenged group managed to produce a ridiculously good meal including a marinated beet salad with avocado relish, handmade ricotta raviolis (Shawn politely suggested that I might have added too much Parmesean cheese in my filling but to my way of thinking, a girl can never have too much Parm!) topped with a tangle of sautéed greens and an addictive nut pesto, followed by a Frangipane-Red Wine Poached Pear Tartlette for dessert.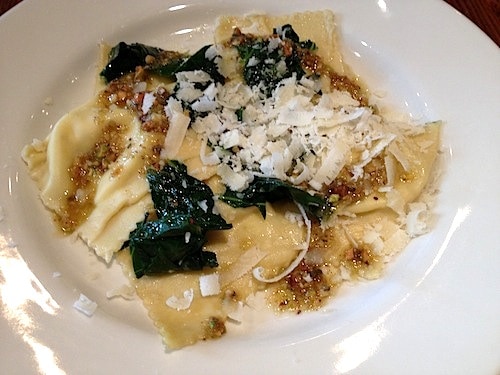 Stuffed to the max, we were happy to work off some calories (at least one ravioli's worth) on a cultural heritage walking tour led by a Sonoma historian and author, Arthur Dawson. When asked what Sonoma meant, he explained that there were several meanings but that in the native Wappo language, Sonoma means a "good place to live" and from all the smiling locals we encountered, I'd vote for that one. He shared the back-story on the Spanish mission (including the real scoop on the slave quarters) as well as some juicy gossip about Sonoma's founding families he learned while documenting oral histories by the town elders.
Insider's tour of Stone Edge Farm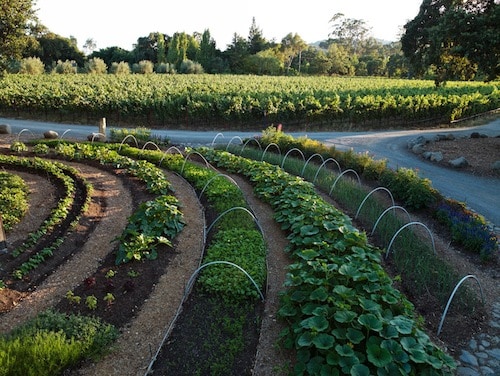 It's a vicious circle but after our walk we were thirsty again and more than ready for our visit to the shangrila-ish Stone Edge Farm, a private artisanal winery with organic vineyards, olive groves, and a holistic farm complete buzzing with honeybees, happy chickens and a one-acre heirloom veggie garden that supplies local restaurants. The striking landscape blends harmoniously with the dramatic tasting room (only open to their collectors) and other buildings including an observatory housing a 20-inch telescope.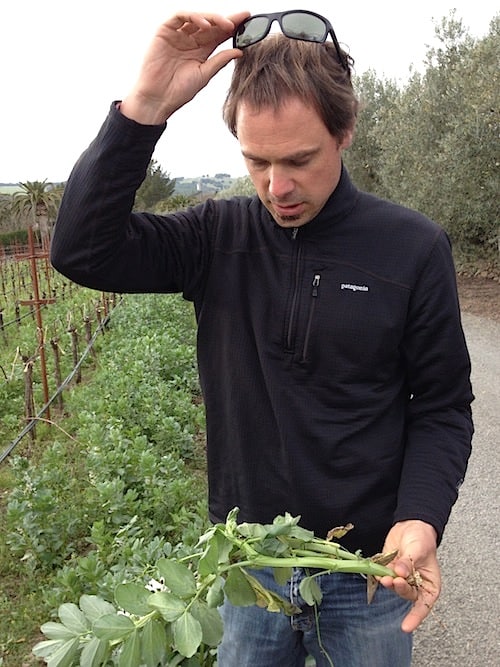 The incredibly knowledgeable (and hunky) head gardener, Colby Eierman, walked us around the property, enthusiastically explaining the principles of sustainable farming, stopping to point out the baby asparagus stalks that were just poking out of the dirt, which would be delish simply roasted in a little Stone Edge Farm Manzanillo olive oil.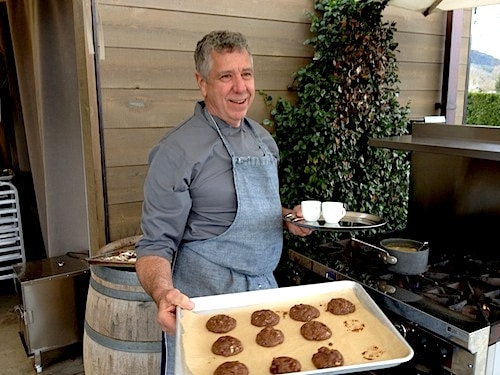 A waft of chocolate filled the air as we headed to the garage-turned-kitchen, where we found the Culinary Director of Stone Edge Farm, Chef John McReynolds, pulling out a sheet pan of chocolate cookies from the oven.
"Have one while they're hot," he encouraged. We didn't need a second invitation.
Previously the chef and co-founder of Sonoma's acclaimed Café La Haye, John wears many toques here: chef, cooking instructor, winery docent, olive oil meister, garden forager, and home canning specialist. He often partners up with Colby for an exclusive farm-to-table experience that includes a garden tour and a hands on cooking class ending with lunch in the vineyard.  We also got the scoop on his soon to be released Stone Edge Farm cook book, which features 12 chapters, one for each month, including gardening notes by Colby.
Harvest Moon Cafe's NUT PESTO TOPPING RECIPE

(You can try this at home )

½ C Pistachios, toasted

½ C Walnuts, toasted

¼ C Grated Parmesan

1 Clove garlic, minced

4 Leaves sage, chopped

½ Tsp Salt

Olive oil to cover

Grind or chop nuts fine. (You may also use a mortar and pestle, if you prefer.) Combine all the ingredients and cover with olive oil. Taste and adjust seasoning.
John's farm-fresh appetizers were waiting for us in the classy, minimalist tasting room.  They paired perfectly with a couple of their organic, estate wines: a newly released 2008 Stone Edge Farm Cabernet Sauvignon, a complex Pepper Spice girl, loaded with berry flavor as well as the Farm's first release, the 2006 Stone Edge Farm Cabernet Sauvignon (only 200 cases produced) a lushly layered wine with big tannins that should soften beautifully with age.
Sadly, our wonderful day came to an end.
"But it can't be over yet." I whimpered. "We didn't have time to hike to the best vista point, or do the chocolate truffle tasting, not to mention the cheese tasting, and taking a class with Cody and John, and I wanted to meet the chef at Café La Haye, and go to the farmer's market, and…."
"Which is why we made it a relaxing five day tour," Tamar maturely responded.