Guest post by Rita Change.
With an already legendary reputation for turning out artisan breads, coffees, cheeses and wines, chocolate would seem to be the missing link in the artisanal repertoire of our Bay Area, especially now that Scharffen Berger has gone the way of Hershey's.
To be sure, the Bay Area artisanal chocolate scene is teeming with a new generation of chocolatiers who bring a deeply personal vision to the art of chocolate-making. Dedicated to producing innovative cocoa-based confections in small batches using high-quality ingredients– often with an eye towards sustainability – many of these chocolatiers come with back stories that are undeniably stamped right out of Silicon Valley. Chocolate businesses funded by crowd-sourcing or born out of incubator programs are a few cases in point. Notably, Todd Masonis, who cofounded Plaxo and sold it to Comcast in 2008, now runs Dadelion Chocolate in San Francisco's Mission district.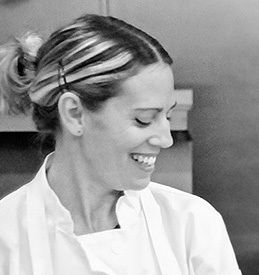 So with Easter around the corner, I had the perfect pretext to go searching for a local chocolatier who could talk up the decadence, delight – and travails– of the craft and business of fine chocolate making. I didn't have to look far: in Belmont, only about a few miles from my home, Christine Doerr makes a line of award-winning chocolate truffles marketed under the name of her company, Neo Cocoa.
When I arrived at the Belmont office and kitchen she subleases, Christine was hand-packing her truffles in pastel boxes for the week's delivery. She spends Mondays making truffles and hand-cuts them the next day. In any one week, she turns out about 2,500 pieces, which she delivers to retailers like Whole Foods and Bi-Rite where her products are sold.
It's hard work that doesn't end when she turns off the lights to go home, but Christine says she wouldn't have it any other way.
ALSO: Truffles in America (Video)
Her love affair with chocolate started in earnest when she was a teenager working at a Cocolat shop in the South Bay, part of the small chain of stores founded by Berkeley-based Alice Medrich who popularized chocolate truffles across the Bay, if not beyond. Christine got her start in the food world working as a pastry chef for 10 years after culinary school. This was followed by a return to school where she got her BFA in graphic design. "I've always enjoyed expressing myself via design or food," she said. After working in the corporate world as a graphic designer for several years, she felt burned out and following a bit of soul-searching, her true calling surfaced. "I asked myself: what would I do for nothing? The answer was, work with chocolate!" She applied and was accepted to the La Cocina kitchen incubation program that helps female food entrepreneurs create and grow their business by providing access to commercial kitchens and business planning support. Christine founded Neo Cocoa in 2008, and after graduating from La Cocina three years later, got her own kitchen, which meant no longer did she have to make chocolates alongside her peers who were sautéing up onions or deep-frying shrimp in the same space.
There's a whole zen-ness to spreading out the ganache thin and perfect.
In the few years since founding Neo Cocoa, Christine has garnered some serious accolades including being most awarded at the 2011 San Francisco International Chocolate Salon including Best Truffle and Most Luxurious Chocolate Experience. The same year, she was named a top 10 North American chocolatier in Dessert Professional magazine.
Impressively, Christine has largely operated as a one woman show and has maintained profitability since the beginning thanks to starting small and taking her time to grow the business. She built her retail distribution by tapping into LaCocina's connections to Bay Area retailers like Whole Food. From the outset, Christine adopted the common trade practice of guaranteeing sales to retailers, with an agreement to take back any inventory that didn't sell over a certain time period. For a brief time, she replaced a few boxes by their "best-by" dates, but very quickly, her products began to move. This success has not made her drag her feet any less when it comes to the business side of chocolate-making. "I know I should be out there selling more," she says. She recently hired her first employee to help manage the business, including winning more wholesale accounts. But hitting a home run is not why Christine works 15-hour days. "Even if I was breaking even, I'd still do it. I don't care about the money; it's really a labor of love," she says.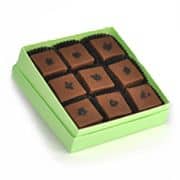 For having an even-tempered disposition, Christine gets decidedly animated when she talks about her truffle experiments and clearly feels most at home in the kitchen. "There's a whole zen-ness to spreading out the ganache thin and perfect," she says.
What makes Neo Cocoa truffles unique is they have no tempered chocolate shell around them. "It's why I call them 'the hearts of chocolate truffles,'" Christine says. "It's been challenging creating this type of confection. I've formulated a recipe that keeps the ganache soft but firm enough to stand on its own." One taste and you will know that her tireless experiments have yielded a unique chocolate experience that is so rich and luxurious that you won't be longing for a thick chocolate shell. A Neo Cocoa bestseller, the salted caramel truffle was a standout for deftly balancing the sweet and salty, helped by a sprinkling of Hawaiian black lava sea salt. Neo Cocoa's other big seller is Christine's sophisticated and decadent take on peanut butter and chocolate – the almond butter truffle topped with Applewood smoked sea salt. Indeed, the high chocolate content is a defining attribute of Neo Cocoa truffles. When Christine set out to create a confection inspired by the refrigerated "house truffles" sold at Cocolat, she opted for a high solid-to-liquid ratio so the candy can withstand room temperature. After all, Christine reasoned, who would look for truffles in the refrigerated section at Whole Foods?
For Easter, Christine is offering a confection that gets its inspiration from Marshmallow Peeps. Far from the neon-colored kiddie treats, this very adult concoction sandwiches a layer of handmade vanilla marshmallow between espresso dark chocolate ganache, then is cut into bite-sized morsels and enrobed in dark cocoa powder. The slight bitterness of the coffee against the homemade marshmallow makes for an unexpected but surprisingly effective pairing.
Committed to using ingredients sourced from the Bay Area as much as possible, Christine says when she wants a taste of someone else's chocolates, she goes for locally made ones. Indeed, why have your artisan chocolates shipped from New York when they're in plenty supply around the corner?
"San Francisco has a naturally good climate for chocolate-making with generally cool, temperate temperatures," Christine says. "We have access to the bounty of the area … we are privileged to have such a plethora of beautiful, inspiring foods." So, run, don't walk, to your nearest chocolatier for some innovative takes on the world's most beloved confection.
Meet Christine at the San Francisco International Chocolate Salon on March 24, or click through to Neo Cocoa where you can order her truffles or see which retailers carry them.