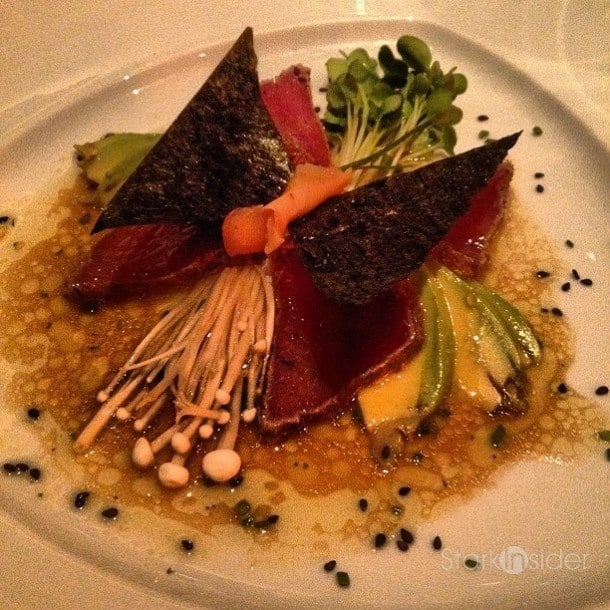 Esteemed restaurant guide Zagat has published its top restaurant picks for 25 cities. I was pleased to see Gary Danko come out on top for San Francisco. There's a lot of competition in this city, and any number of spots – La Folie, Atelier Crenn, Baume, Manresa, Bouchon, Boulevard, Luce – could take the crown, but when it comes to top-drawer service and exceptional gastronomic pleasures, Gary Danko is unquestionably a front-runner.
Zagat had this to say, "Gary Danko's truly American classic on the Wharf offers the epitome of white-tablecloth fine dining without the stuck-up feeling via exceptional, flexible prix fixe options, marvelous wine pairings and a most gracious staff that treats everyone like a millionaire."
On my recent visit to the restaurant, I once again discovered why I so love the place; there's a fine dining atmosphere, but it's comfortable in a way you don't usually find at upscale restaurants.
Surprisingly, the cost may not be as stratospheric as you might expect. Far from it. This is not French Laundry territory, and you won't need to speak with an American Express representative at the end of the night (well, of course, if you go crazy on the wine list, that's your prerogative!). Indeed, Zagat called it a "relative bargain."
You can read my full review of Gary Danko Restaurant for more photos, and this foodie's assessment of the overall experience. Quick tip: corkage is only $35, so pull that special Napa or Sonoma bottle for the occasion.
Other restaurants of note that I enjoy that made the Zagat list include Per Se (New York), The Mariposa (Salt Lake City), and Next (Chicago).