Well that's a new one. We've been covering the Bay Area theater scene here on Stark Insider for four years now, and I don't yet recall a season announcement being made exclusively on Twitter.
But that's exactly what happened tonight when TheatreWorks Silicon Valley announced its 2013/14 season.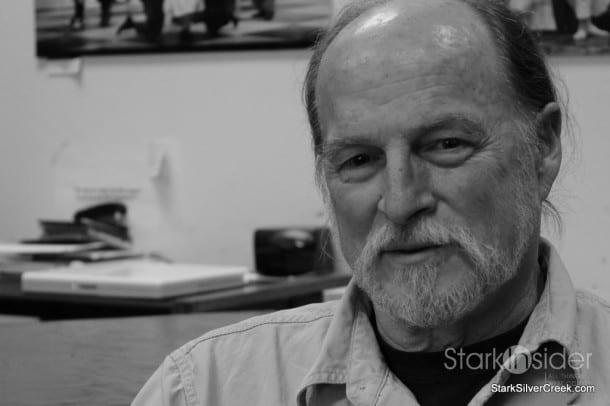 Typically we get advance media alerts or embargoed information. This time nada. Instead, we were glued to Twitter, which was plenty busy with Obama's State of the Union address, the Dormer manhunt in Southern California, and Fat Tuesday. And there was the tweet from one of our favorite houses giving us the social media reveal.
And how about that lineup of plays?
I took a look at the TW Silicon Valley lineup on their web page and have to say the new season — their 44th — has (artistic director) Robert Kelley written all over it; which is, of course, a good thing. There's a nice mix of comedy, musicals, and dramas here – and at least one "hilarious spook" in the vein of the well-received 39 Steps which was staged last season. Little Women? I'm not so sure about that one — though the Little Loni has other thoughts concerning the selection — but otherwise a strong season awaits.
WATCH: Robert Kelley interview
Below is the complete listing of the season (8 productions) coming to TheatreWorks in 2013-2014 which, in the words of Kelley, "celebrates the human spirit." Stay tuned to Stark Insider for the reviews, news, photos and videos throughout the season. And: let the show begin…
TheatreWorks Silicon Valley 2013-14 Season

The Loudest Man on Earth

By Catherine Rush

World Premiere

He: A Deaf, reclusive stage director. She: A bold, charismatic journalist. Two worlds—signing and speaking—collide in a sizzling romantic comedy that invents a soaring new language of the heart. The runaway success of our 2012 New Works Festival, it features a tour de force performance by Deaf actor Adrian Blue, who speaks volumes without saying a word.

July 10 – August 4, 2013
Lucie Stern Theatre, Palo Alto

Other Desert Cities

By Jon Robin Baitz

Drama League Award for Distinguished Play 2012
Regional Premiere, co-produced with The Old Globe, San Diego

A Hollywood star's desert estate glows with Christmas cheer. But home for the holidays is daughter Brooke, a novelist whose tell-all memoir is sure to rip the politically-divided clan apart. Are we having fun yet? With dazzling wit and razor-sharp insight, this Pulitzer finalist balances fierce comedy and riveting family drama in the blockbuster hit of last year's Broadway season. Contains adult language.

August 21 – September 15, 2013
Mountain View Center for the Performing Arts

Warrior Class

By Kenneth Lin

California Premiere

Son of Chinese immigrants, decorated vet, and a charismatic speaker, congressional candidate Julius Lee is dubbed "The Republican Obama." But when word of a youthful indiscretion threatens scandal, he discovers the dangerous intersection of politics and idealism. In this taut, topical saga of backroom electioneering, the campaign lies ahead, the warriors are at hand, and our future's at stake. Contains adult language.

October 9 – November 3, 2013
Mountain View Center for the Performing Arts

Little Women

Music by Jason Howland
Lyrics by Mindi Dickstein
Book by Allan Knee
Based on the novel by Louisa May Alcott

Four precocious New England sisters come of age in this exhilarating Broadway musical of Louisa May Alcott's beloved 1860s novel. Overflowing with laughter, tears, memorable songs, and an irrepressible American spirit, it follows endearingly independent Jo, traditional Meg, soft-spoken Beth, and vivacious Amy on their exuberant journey of personal discovery, romance, heartbreak, and enduring sisterhood.

December 4 – 29, 2013
Lucie Stern Theatre, Palo Alto

Silent Sky

By Lauren Gunderson

Regional Premiere

Astonishing discoveries await Henrietta Leavitt as she maps distant stars in galaxies beyond our own. But this brilliant, headstrong pioneer must struggle for recognition in the man's world of turn-of-the-century astronomy. In this exquisite blend of science, history, family ties, and fragile love, a passionate young woman must map her own passage through a society determined to keep a woman in her place.

January 15 – February 9, 2014
Mountain View Center for the Performing Arts

Once on This Island

Book and Lyrics by Lynn Ahrens
Music by Stephen Flaherty
Based on My Love, My Love by Rosa Guy

From the creators of Ragtime comes an exhilarating Caribbean carnival of infectious rhythms, rousing dance, and exuberant theatricality. Set on a lush Antilles island, this effervescent hit chronicles the fairytale love of a naïve peasant girl for a handsome young aristocrat. As the gods debate the star-crossed lovers' fate, the islanders gather to sing and celebrate the hope of the human spirit.

March 5 – 30, 2014
Lucie Stern Theatre, Palo Alto

Hound of the Baskervilles

By Sir Arthur Conan Doyle
Adapted by Steven Canny & John Nicholson

Regional Premiere

In the wacky style of The 39 Steps, this laugh-a-second send-up of Sherlock Holmes stirs an ancient curse, a spectral hound, and a deranged killer into a comic masterpiece alive with mystery, suspense, and uproarious fun. A small but gallant troupe of actors plays dozens of roles as the boys of Baker Street face off against the colossal canine of the moors.

April 2 – 27, 2014
Mountain View Center for the Performing Arts

Marry Me a Little

Music & Lyrics by Stephen Sondheim
Conceived and Developed by Craig Lucas & Norman Rene

The master of the modern musical weaves an intimate tale of yearning and possibility in this charming, funny, and sophisticated collection of rare Stephen Sondheim songs. In their walk-up apartments, two lonely 20-somethings pass a night filled with poignant dreams and romantic fantasies, unaware that they live just a floor apart. This rediscovered off-Broadway gem features songs once written for Follies, Company, A Little Night Music, and many more.

June 4 – 29, 2014
Mountain View Center for the Performing Arts