Here's something you don't often see, and receives our Starkie of the Day.
A.C.T. (American Conservatory Theater), one of our favorite theatre houses in the San Francisco Bay Area, will unveil an "Art-o-mat" machine in April.
We're told the machine is made from revamped vintage cigarette machines, and dispenses small, cigarette pack–sized original pieces of artwork. Ranging from stained glass to watercolors to clay sculptures, the original artwork can be purchased from the machine for $5 per item.
The idea is the brainchild of Clark Whittington, a Winston-Salem, North Carolina–based artist, who created Art-o-mat in 1997 as a way to sell photos at his art showin a local café. After the success of the installation, Whittington recruited other local artists in the area to join the project and formed Artists in Cellophane with the intent to easily distribute affordable art to the general public. Since then, the project has grown to include works from more than 400 artists from around the world in more than 100 colorfully custom-designed machines placed throughout the United States, including at the Whitney Museum of American Art in New York and the National Portrait Gallery in Washington, D.C.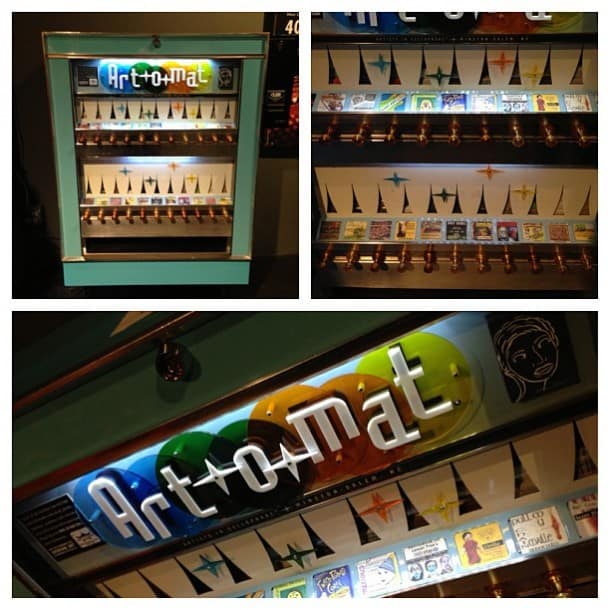 San Francisco Bay Area artists are invited to submit their artwork for consideration in A.C.T.'s machine, as well as in machines across the country. Artist submissions are accepted on an open, ongoing basis.
SEE: Review: '4000 Miles' at A.C.T.
If you want to see the Art-o-mat in person, A.C.T. will be holding a public unveiling  the Costume Shop theater (1117 Market Street) on Monday, April 8, from 6:30 to 8:30 p.m. Whittington himself with curate.