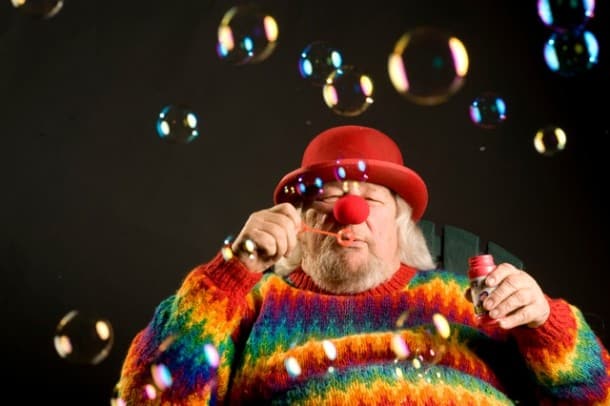 My patience for psychedelic war stories is even less than I have for geriatric relatives who continue to whinge on about rationing during WWII. The point is learning the lesson and moving on with it, not getting wrapped in the red-white and blue or some recycled tie-dyed freak flag. That kind of moral high ground seems too mentally constipating.
It was precisely this sense of moving on and staying current that touched me so much about Wavy Gravy when he appeared at the Berkeley Marsh's holiday gala. While every other performer that night went on with their very clever, witty acts, only Mr. Gravy (as the New York Times calls him) appreciated that every parent in the audience was in the shoes of the Newtown parents and we were all mourning. With enormous heart and graciousness, Mr. G connected with his audience from this place in a way that one else did.  Precisely because of this, I caught him again at the Marsh where he appeared on Friday.
He remains a clown for our time.
This time around, I appreciate what everyone else seemed to already know… this guy is a performer!  Unlike other counterculture gasbags, his skills were initially honed at BU, during the McCarthy era  when their drama department took on blacklisted actors. What touched me more than anything was the open-hearted gratitude Mr. G. had for these teachers.
Settling on stage, he made himself at home flanked by two small tables cluttered with plastic tschotkes, clown noses, bobble-headed dolls, and figures of everyone from Barack and Michelle Obama to Sponge Bob Square Pants (think of a big square of tofu). A clown suit, luggage, mics, and a one-stringed instrument remained strewn on the floor, while his wife of almost 50 years beamed in the front seat.  Comfortable in this nest of clutter, he propped a book on his great belly and began to read Ken Kesey's "Little Tricker the Squirrel Meets Big Double the Bear," complete with bear and squirrel voices in a performance worthy of the best of the old Rabbit Ears Radio performances.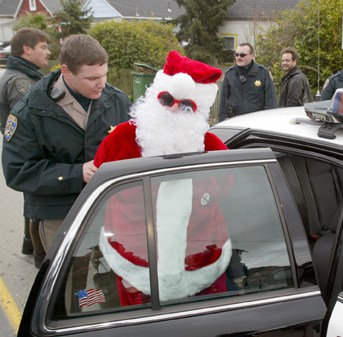 Children's book dispensed with, Mr. G. discoursed on everything from meeting Albert Einstein to Neal Cassidy to traveling with Pink Floyd. No secrets here – these stories are for  telling and retelling. As he spoke, the magic began to happen.  As he wove stories of old arrests (or non-arrests), cracked minds, political theatre and theatrical politics, his smile got bigger… and face grew younger and younger… until you could almost see young Wavy beaming out from the white-haired fringe.
We need our elders, and as Mr. G. approaches 76, we need him to be long of tooth, beaming with his great heart.  It's been a long time since he told the Woodstock audience that "what we have in mind is breakfast in bed for 400,000." We need to be reminded that is possible to live a good life.  We need to be reminded that there are people who are content enough not to take too much too seriously. We need to be reminded not to take ourselves too seriously, and we need to be reminded to take care of others.  Being equal parts Mother Theresa and Harpo Marx (as Paul Krasner described him), Wavy Gravy's not just another counter culture icon and former frozen dessert. He remains a clown for our time.