Sonoma may never be the same again.
After conquering the restaurant world, and astonishing critics with his Donkey-style New York eatery Guy's American Kitchen, Guy Fieri is branching out. Stomping grapes and yelling random fun facts, after all, go hand in hand.
According to the Press Democrat, the energetic star chef, and host of Food Network shows such as Diners, Drive-Ins and Dives, has bought a 5-acre property in the Russian River Valley and plans to open a tasting room.
"In his first vintage, 2012, he sold his grapes to Jackson Family Wines for its La Crema brand and to Williams Selyem winery in Healdsburg, which both have had long-term contracts to purchase grapes from the vineyard." reported the Democrat.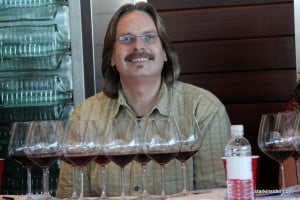 SEE: A Cover-Up in Napa (and an incredible Shiner)
Bob Cabral, winemaker at the esteemed nearby Williams Selyem winery (especially known for their fine Pinots) is looking forward to the partnership.
"I think it will be a fun relationship," Cabral told the Democrat. "He talks just like you'd talk to the next door neighbor. He's a very big personality on TV, but he's a very humble person at home, and I really respect that."
Only one question remains: which wine critic will pen the first exclusive, question-based review?
What People are Saying about Guy and Sonoma:

"haters are going to hate. the wine industry can be for all, not just the self appointed bohemians with a shaved head and crossfit membership. good for him for keeping the $'s in sonoma county."

"He should improve the quality of food in his restaurants before starting a new venture! Maybe if you drink enough of his cheap wine, his food will taste better!"

"Man Gatorade. Dying."

"Perhaps he should just buy drums of Windex and put it in dark bottles with a trendy label. Call it CleanGuy, or FieriBlue…"

"The comments here show how hard it is for people to accept others success. Maybe a little envy!"

Source: Opinionated Facebookers on Press Democrat.
[Press Democrat]