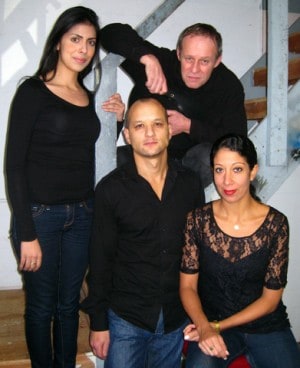 Magic Theatre announced today it is welcoming back renowned playwright Octavio Solis for the rolling world premiere of Se Llama Cristina, directed by Producing Artistic Director Loretta Greco.
Running January 23 – February 17, the multi-layered fever dream from the mind of cherished Bay Area playwright Octavio Solis, places the audience in the midst of mystery as a young man and woman wake up in a strange room, and must piece together their past identities and relationship while they construct a new future and grapple with the possibility of being parents.
"It's a great homecoming for Octavio at the theatre where he first forged his career," said producing artistic director Loretta Greco. "Se Llama Cristina is a very personal play for both Octavio and me. Its legacy harkens back to perhaps both Ionesco and Shepard, but it's purely Octavio in its skewed humor and humanity, as a young man and woman struggle to transcend their past and their fate."
"This play is about night terrors," said playwright Octavio Solis. "Not those that children have, but those that moms and dads face when all the doubts weigh in on them. Loretta and I both have children and our struggle with parenthood has fused our partnership in this work. Se Llama Cristina is teaching me that to be a better artist, I must be a better parent, for the greatest creation is the life we bring into the world."
Octavio Solis is a playwright and director living in San Francisco. Se Llama Cristina is his third play to be produced at Magic Theatre. His first play at Magic was produced during the 1990-91 season (Man of the Flesh), followed in 1996 by Prospect. Solis also returned to Magic in 2010 to direct Tarell Alvin McCraney's The Brothers Size to critical acclaim.
The stellar cast of four includes Bay Area favorites Sean San José, last seen on Magic's stage in Bruja, and Rod Gnapp, last seen at Magic in Annapurna and What We're Up Against. Magic also welcomes to its stage Bay Area native Sarah Nina Hayon, who is a product of A.C.T's Young Conservatory program, and who has received three Drama Desk Award nominations for her work at various Off-Broadway theatres. Finally, Magic newcomer Karina Gutiérrez, who has been seen in productions at San Diego Repertory Theatre and Playwright's Foundation, rounds out the cast.
Se Llama Cristina will feature set design by Andrew Boyce, costume design by Alex Jaeger, lighting design by Burke Brown, sound design by Sara Huddleston, fight choreography by Dave Maier, and dramaturgy by Dori Jacob.