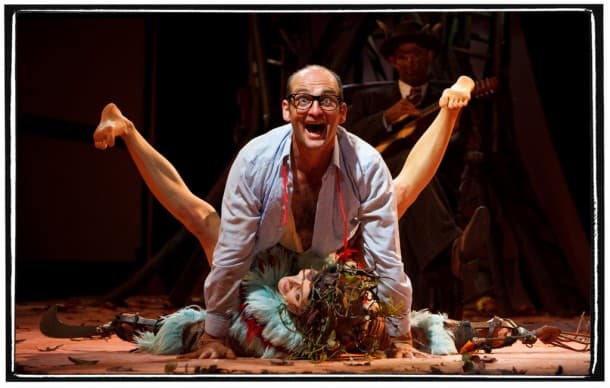 Berkeley Repertory Theatre today announced the return of Kneehigh Theatre's The Wild Bride. A three-week extension of its original run will start January 26.
"With a wide range of theatrical techniques, Kneehigh creates magic," says Tony Taccone, artistic director of Berkeley Rep. "Our audiences absolutely embraced the rough and wondrous world that they conjure in The Wild Bride, and we are delighted to bring them back."
"We cannot wait to return to Berkeley Rep!" remarks Emma Rice, Kneehigh's artistic director. "We had such an amazing time on our previous visit and came away with Berkeley firmly etched in our hearts, minds, and souls. We made friends with the staff, crew, and audience alike and are counting the days until our return to the Bay Area. Who knows, we might even be plotting and dreaming for the future!"
Adapted and directed by Emma Rice, The Wild Bride is a grown-up fairy tale that follows a girl's journey through a visual wonderland.
ALSO SEE: 'The Wild Bride' makes for Tim Burton-esque theater
What happens when your father accidentally sells you to the devil? What do you do when your prince goes off to war? Hearts break, hearts heal, and happily ever after still may be possible.
Created using Kneehigh's trademark collaborative process, The Wild Bride features text and lyrics by Carl Grose, music by Stu Barker, and choreography by Etta Murfitt. The design comes courtesy of Bill Mitchell (scenic design), Myriddin Wannell (costume design), Malcolm Rippeth (lighting design), and Simon Baker (sound design). The ensemble for the return engagement showcases Audrey Brisson (the Girl), Andrew Durand (the Devil), Stuart Goodwin (the Father and the Prince), Patrycja Kujawska (the Wild), and Etta Murfitt (the Woman) with Daman Daunno and Ian Ross (the Musicians). The stage manager for this production is Steph Curtis.