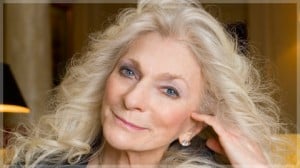 Twenty or so years ago, I swore off holiday concerts. After wasting a wad of cash on a series at a unnamed symphony which offered up the holiday equivalent of out-of-tune booze cruise music, I've taken a pass on almost everything that smacks of sleigh rides and jingle bells. Leave those chestnuts roasting on some other open fire, thank you. However, I broke my self-imposed ban yesterday when Judy Collins came to the San Francisco Symphony.
Collins doesn't fit into in the same category as other '60's musicians who all too often emerge on the concert circuit as shadows of their former selves.  While Wildflowers, Who Knows Where the Time Goes, and In My Life provided the soundtrack of at least a decade for many of us, she was always too much the classicist to be easily categorized. At 73, she looks a little frail, but it's not the fragility of old age.  She's a lesson in aging well, with her luminous eyes and halo of white hair. If I looked as good at 55 as she looks at 73, I'd consider myself fortunate indeed.
There were no surprises to her concert with the San Francisco Symphony, except perhaps, Collins herself.  As a performer, she exudes a warmth and good humor. When performer such as Liza Minelli  turn up the warmth, the act seems stagey; for Collins, it seems genuine. One senses that she would have been happy to linger on the stage, appreciating the fabulous symphony orchestra and the crowd.
The concert opened with the SF Symphony playing a handful of traditional Christmas songs, before Collins joined them to sing "Chelsea Morning."  My initial thought that her voice had deteriorated  fortunately turned out to be less than entirely accurate because as she warmed up, the crystalline soaring purity that made her sound so very special was clearly on display. While at the outset, her voice cracked, changed key, and cut off notes that she would normally linger on, these problems disappeared quickly. Curiously, her high registers were perfectly intact, lending themselves to note-perfect performances of old standards such as Marieke, Marieke and Some Day Soon that were indistinguishable from performances of forty years ago. Her voice remained strong, sustaining  high notes effortlessly. Lower registers seemed more difficult, as notes shortened and phrasing struggled to adapt. She chatted easily with the audience between songs, telling them about her work with the UNICEF land mine project, and always about her father.
The program of the second set was similar to the first, with the symphony opening with a medley of songs from Christmas movies before being joined by Collins. Interspersing old standards such as Both Sides Now and Some Day Soon with What Child is This and Hark the Herald Angel Sings,  her voice got progressively stronger.
The concert's end left the audience basking in the Judy Collins' magic as they enjoyed two encores, with a handful of people rushing the stage.  With no cheesy  Rudolph or I saw Mamma Kissing Santa Claus, the evening was powerful enough to resurrect the idea of Christmas concerts.