THE 32 extant Green dramas are the cradle we all rocked out of.  While some theatre buffs put these in an "eat your peas" category, best left to academia (Stanford staged Elektra in 2009, Wanderings of Odysseus in 2010, and Oedipus in 2011), the bold few, such as A.C.T., bring them back to the front and center. These dramas are worth revisiting, not just because they inform our basic ideas about staging, dialogue, the space between audience and actor. It's been almost 2,500 years since Sophocles wrote Elektra was written; this plot, informed by murder and family loyalties, remains none worse for the wear.
At the outset, this A.C.T. production plunges the audience into total darkness. When the light arrives, it comes as a diffuse spot that grows so slowly you're not sure what you're seeing. It hovers over a cello player at stage right, who strums cello strings as if they belonged on a guitar. You're clearly seeing something very, very different. A spirited dialogue between Orestes (Nick Steen) and his tutor (Anthony Fusco), each on the opposite mezzanine, sets the stage for all that follows. All of this creates a peculiar sense which informs the production.
This imagining maintains a healthy balance between classical and modernist approaches to Elektra. A chain link fence bisects the stage from left to right, with an image of a classic Greek structure upstage. While the costumes of Elektra (René Augesen) and Chorus Leader (Olympia Dukakis) might be at home in some version of ancient Greece, that of  Crysothemis (Allegra Rose Edwards) would not look out of place on a Paris runway. Candace Donnelly's  costuming worked well, heightening the differences between the sisters.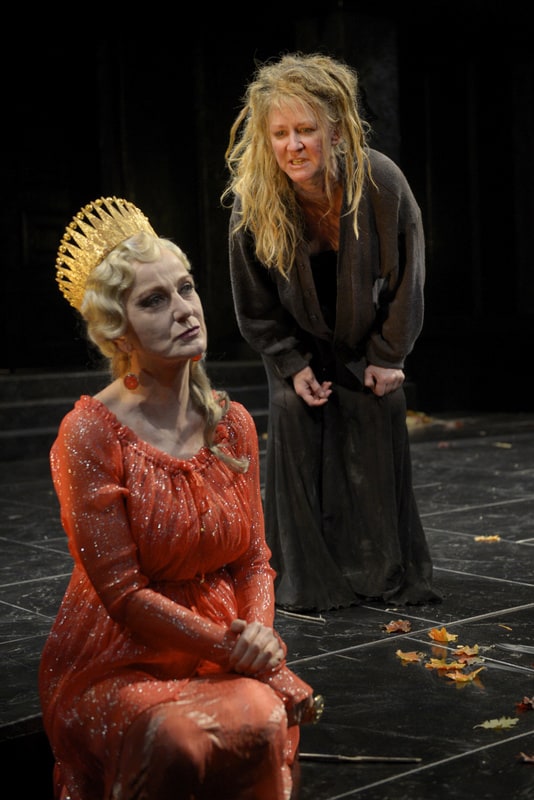 Augesen's Elektra is a monotone creature, who keens in a single key. That's not a criticism of Augesen, because it goes to the heart of Elektra. Director Carey Perloff puts it best in her notes, as she speaks of Elektra's extraordinary perspective. Perloff remarks that Elektra "shows us what happens to a human being who cannot forget… Forgetting is, in fact, very healthy. If we lived with all the terrible things that happen to us, we'd never get through the week. Time makes things recede. But they don't recede for Elektra.  Her action is to remember, relentlessly, until the deed is done."
[ALSO: Dark in the Swedish Winter: Strindberg at the Cutting Ball]
This relentless remembering means everyone revolves around Elektra, striking different poses as they try to deal with her awful story.  As the Chorus Leader, Olympia Dukakis, the truth teller, comes to terms with what she calls the "exponential multiplication of outrage" in the family of Atreus. She is perhaps the most fluid of characters, because she alone reacts freely to what happens before her.
The A.C.T. production brings you back to the critical issues of justice and revenge. Debating with when enough is enough may have started with the Greeks, but given that it continues to wend its way through modern classics such as the Godfather, it clearly is not resolved.