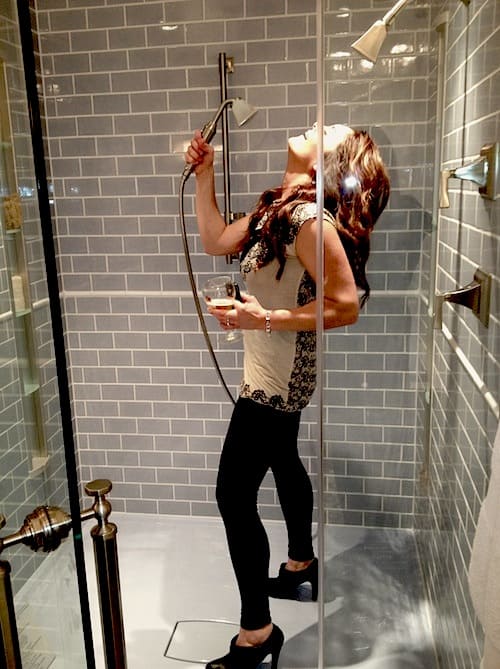 Kohler's Backstory
In 1873 when Austrian immigrant John Michael Kohler bought the Sheboygan Union Iron and Street Foundry, maker of farm tools, who would ever have imagined he was planting the seed for an empire that would span six continents, employ over 30,000 associates world-wide and encompass fifty brands? Today Kohler Village, Wisconsin, one of the nation's first planned communities, is a direct result of JM's nifty invention: coating an iron hog trough with enamel and calling it a bathtub. Hmmm, do you think any of the Sharks from "Shark Tank" would have invested in this idea back then?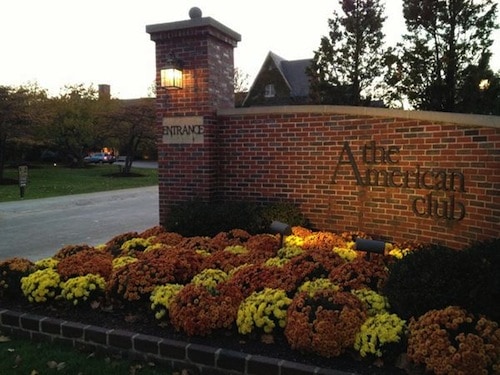 Our Backstory
My sister and I had chosen to meet up in Kohler Village last week because:
1. It's about halfway between the  East and West coasts where we each live so offered a perfect compromise.
2. They were hosting the 12th Annual Kohler Food & Wine Experience (Gayot had listed it as one of the countries best culinary events), which consists of four flavorful days, chock full of culinary events. Move over, Aspen!
3. Although Kohler Village offers a handful of exceptional accommodation choices, we had scored reservations at The American Club, the first and only Forbes Five-Star hotel property in Wisconsin.
The American Club
After an impossible-to get-lost-even-for-us, one-hour drive from Milwaukee we arrived at Kohler Village, which was gaily sporting full fall foliage colors. We pulled up to the 240-room American Club, originally built in 1918 to house the Kohler factory workers, where we were cheerfully greeted by a trio of attentive young doormen, dressed in retro, knee-high golf knickers. I kept elbowing my sister to stop giggling, but she just couldn't help herself. She finally leaned over to confidentially ask, "Do you ever get to wear big-boy pants?" The answer was, "Yes ma'am, in the winter!"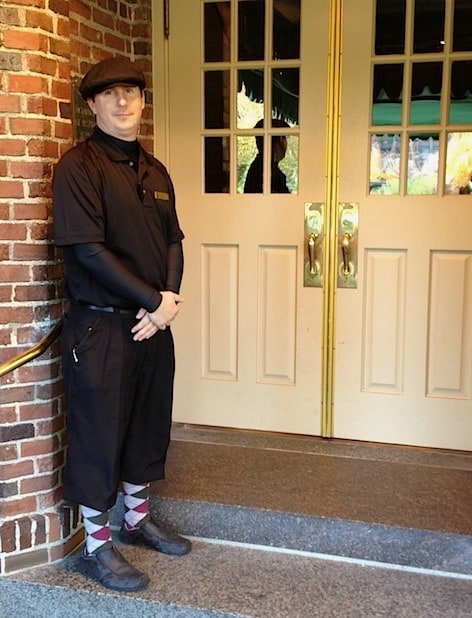 Upon entering we were warmly greeted by their genial GM offering us a welcome glass of chilled bubbly.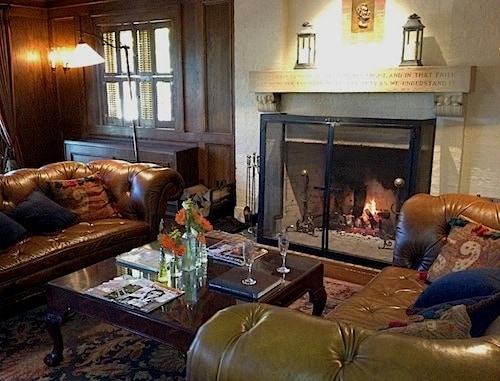 We experienced the same warm, hospitality throughout our whole stay. When I repeatedly stopped at the concierge with various requests the response was always a sincere "absolutely" or "certainly" rather than an abrupt "no problem".
We had a treasure hunt that led us through the gardens, past the tearoom (a cheerful little spot with complimentary tea and homemade cookies) up and down the stairs, and zigzagging through the halls like a bloodhound until we finally found our room. Lovers of dark wood and old-world elegance will find the traditional accommodations charming. We were particularly enthralled with the bathroom, which (no big surprise) was appointed with Kohler's finest bath and shower installations. Ours had a bubbling tea-for-two massage tub, the Dom Perignon of bathtubs, where you could dial in anything from a gentle bubbling action to an energizing massage.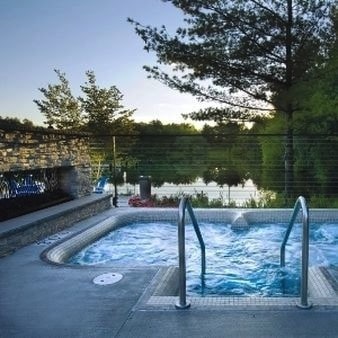 *Next time, I think we'll stay in The Carriage House, which not only has more modern, bigger, and brighter rooms but also houses the Kohler Water Spa, which could easily become your second home. You can leave your room, take the elevator downstairs for your spa treatment(s) and then zip up to the glass-enclosed rooftop and unwind even more in the whirlpool or snuggle in front of the fireplace with a good book. You could easily spend a delightfully decadent day here and never once change out of your robe!
Plus, The Carriage house throws in all sorts of lovely freebies including a complimentary Continental breakfast, afternoon tea and evening hors d'oeuvres.
Kohler Food and Wine Experience
I was so happy simmering in my tub that I almost missed the kick-off event, Taste of the Vine. Luckily there were frequent shuttles (driven by wonderfully knowledgeable local seniors) to scoot visitors around the vast property, so we weren't too late.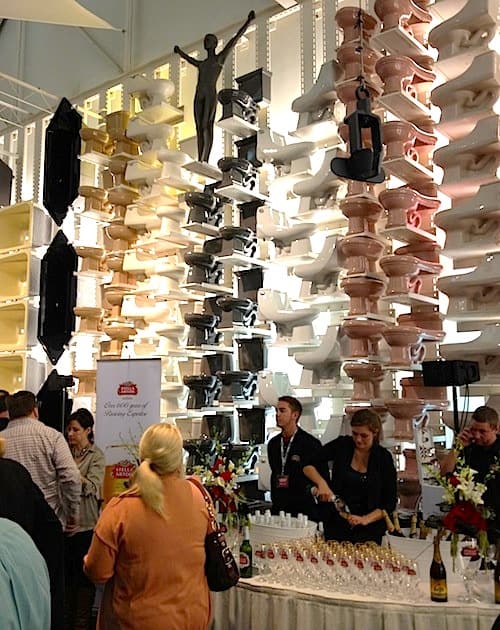 What a hoot to be sipping exquisite wines and nibbling an assortment of yummy hors d'oeuvres with the local beautiful people, as they bobbed and weaved between (or even perched on) a Willy Wonka-ish rainbow of toilets and tubs. The bathroom fixtures also doubled as the "decorations" since the event was held in the Kohler Design Center, a 36,000-square-foot showcase for the vast array of products. We meandered down to the lower level to explore the Kohler museum that covers the history of the family, the company and the Village of Kohler. Looking at the family photos, I discovered that the charismatic, good-looking young man I had been casually chitchatting with earlier was David Kohler, great grandson of John Michael and President of Kohler Co.
The next few days passed in a whirlwind of joie de vivre, filled with excellent bites, drinks, parties, and plenty of tastings and demos where the celeb chefs, winemakers, brewers, and mixologists could really strut their stuff. The hardest part (after reluctantly removing yourself from the aforementioned tub) was trying to select from the hundred plus events that were offered. Sis and I took turns picking and there wasn't a lemon in the batch.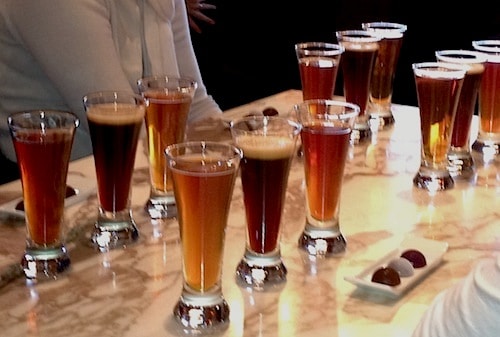 Standouts included a unique pairing class, "Ales with Chocolates" which was held at the Craverie Chocolatier Café, where Kohler's handmade chocolate masterpieces are created. Their exquisite line of Botanical Truffles were my go-to gifts for everyone back home. Although it sounded a little strange, after my first sip of their Sea Salt & Caramel Latte, I was completely hooked and stopped here every morning for my fix.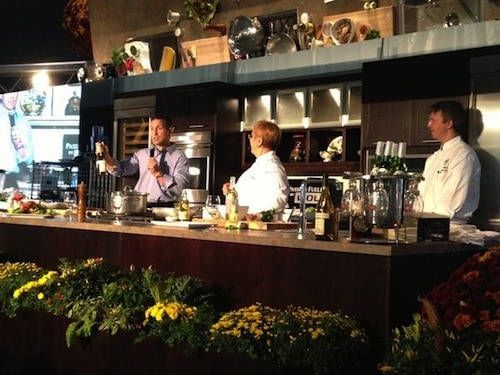 My NYC Sis said she wanted to s support her hometown gal- Lidia Bastianich, award winning Italian chef, author, restaurateur, PBS TV host and, as we soon found out, a top-notch teacher. In between bites of her quick and easy, yet totally scrumpie, Spaghetti with an Uncooked Pesto Sauce, my previously allergic-to-the-kitchen sister was busy scribbling down Lidia's litany of foolproof tips. One that I'll use is that when basil is in season the best way to store it, so it remains green and flavorful, is to freeze the leaves with a little water in ice cube trays and then just throw a cube in your sauce.
Some of the other crowd pleasing, biggies were Food Network star Anne Burrell, Top Chef Masters alum Tony Mantuano, PBS TV and America's Test Kitchen host Christopher Kimball.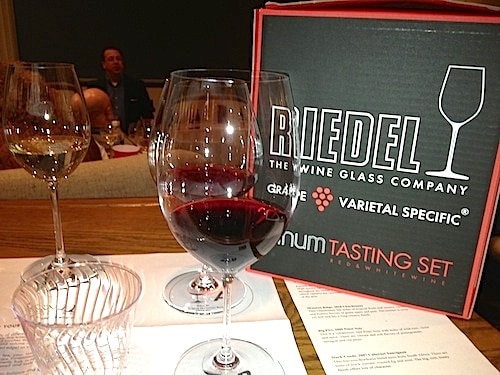 Sis thought she'd be bored at the Riedel Glass Seminar and Tasting but was lured in by the generous offer of a boxed set of four Vinum Series glasses for all attendees. One riveting hour later, armed with our newfound knowledge and our gift set, we left full-fledged Riedel glass converts.
Just a sampling of some other unique events included Jobsite Jambalaya, Belly to Bacon-Make your own bacon at home, Shake & Stir-N'awlins style, and What the Duck?
Sports Core Health & Racquet Club and Kohler Water Spa
Thinking our newfound poundage deserved some serious attention; we virtuously passed up a couple of feedings to head over to the state-of-the-art, Core Club. Although we only had time for a mini-workout, we promised each other that we'd come back later for a full workout, a spinning class, a swim in one of the two pools, and wake-up early the next morning to partake in Yoga on the Lake. We didn't even pretend that we were going to take advantage of the quartet of what has been referred to as "the four greatest golf courses in the world" since we stink even at putt-putt. We did sneak a peak at Blackwolf Run after we found out it had recently hosted the 2012 U.S. Women's Open, and also the stunning Whistling Straits course.
[ALSO: Milwaukee – The City of Creativity by Janice Nieder]
Well, you know what they say about the best intentions… but we did manage to sneak in back-to-back facials and massages at the soothing Kohler Water Spa, one of just 31 spas worldwide to earn an exceptional Five Star rating. With Kohler in the name, you just know that water treatments are going to have a starring role in the menu of services, and rightfully so.  The spa staff are big proponents in the restorative properties of H2O. Two and ½ blissful hours later Sis and I met on the roof, for a healthy smoothie and to compare notes. I oohed over my Riverbath treatment, which tickled all my senses, while sis aahed over her facial by expert esthetician, Nikki. It was interesting that both our spa ladies mentioned they'd been employed at Kohler for about 18 years, and that even most of the "new girls" have been on site for about a decade. Pretty Nikki laughingly told my sis, "Why go anywhere else when you're this happy where you are!"
Pig Cheese Cocktail
Unfortunately, all good times must come to Death's Door, who hosted our final (and our fave) Pig Cheese Cocktail event. The evening started with an amazing roster of crazy good cocktails using Death Door Spirits, which is based in Madison, Wisconsin. I couldn't get enough of the "Wild Eyed, Crazy Mary", a creative bloody made from an intense bacon -infused Death's Door Vodka, while sis kept snuffling into "A Pig Named "Truffle" using D.D.'s white whiskey, truffles, blackberry, chocolate and balsamic. Chef Paul Smitala of Blackwolf Run (one of Kohlers top restos) prepared an "ode to the swine" dinner featuring various parts of the piggy in each course. Like California's Happy Cows, this must have been one happy pig since Death's Door Spirits uses the spent grains from the spirits to raise Swabian Hall Swine.
Dining " on campus"
Since we were eating at one event after another, we had little time to try any of The American Club resort's 11 dining establishments which are peppered throughout the property and range from the elegant Immigrant Room, which pays homage to the culinary legacy of Kohler's early immigrants, to the pub-like Horse & Plow, where everyone seemed to be really digging the deep-fried Wisconsin cheese curds.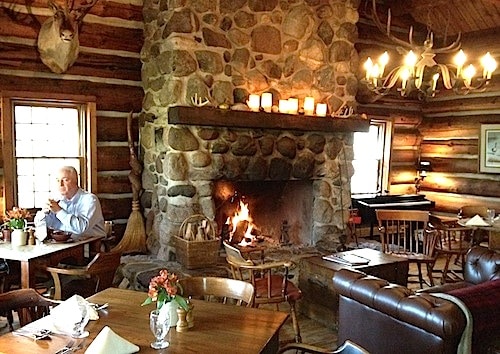 We did have time for one last brunch before we left, which, after much debate, we decided to have at the members only, River Wildlife Lodge.  (Dining reservations are available to River Wildlife members and resort guests with a purchased entry pass.)
The shuttle dropped us off at the trail leading to River Wildlife's Lodge Restaurant, a hidden gem buried in an 800 acre wilderness preserve, with miles of scenic woodland trails to hike, ski, snowshoe, and hunt. Once we entered the cozy log cabin and saw the welcoming crackling fire, the oversized rustic wood furniture, the fresh wildflowers scattered amongst the gun racks and mounted moose heads, and finally, the tempting buffet, which started with smoked salmon and ended with an huge array of fresh baked goods, we knew we had made the right pick.  And that was before we found out that the buffet was just the beginning and there was also a full menu to choose from. The food was superb and the service was the perfect balance of professional yet personal. It was like eating at a beloved gun-totting grannies house, who after shooting a pheasant for the stew spent the rest of the morning baking all your favorite sweeties. A wonderful treat and one well worth changing out of your robe.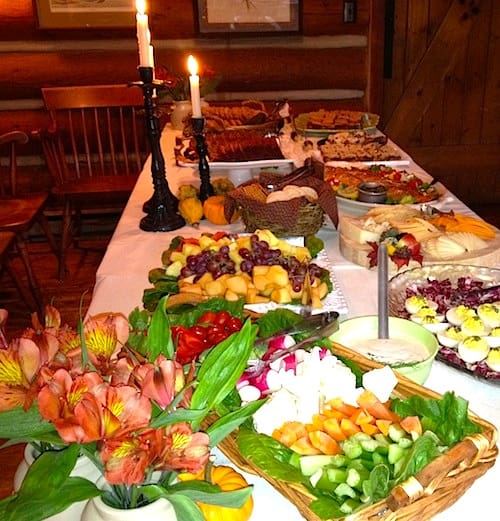 When you go:
Mark your calendar for next October, the 13th annual Kohler Food & Wine experience.  Check the website for exact dates.