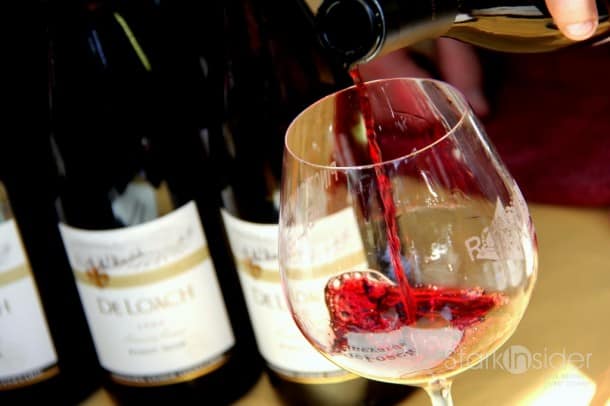 One of Stark Insider's favorite wine tasting events is coming up later this month. If that sensitive grape, so revered in the film Sideways, beckons you day and night then definitely add Pinot on the River to your fall schedule (Sunday, October 21).
The tasting takes place in the gorgeous town of Healdsburg, smack dab in the middle of the Russian River Valley in Sonoma.
Limited production Pinot Noirs are the focus, and you'll be able to have conversations with the winemakers themselves, most who will be on hand pouring.
See: Stark Sips: Pinot on the River (Sonoma wine tasting)
During Sunday's Pinot Noir Grand Tasting, you'll be to enjoy over 100 wineries plus guest Artisan Food Vendors all on the downtown Healdsburg Plaza Square.
Fall in Healdsburg is a magical time: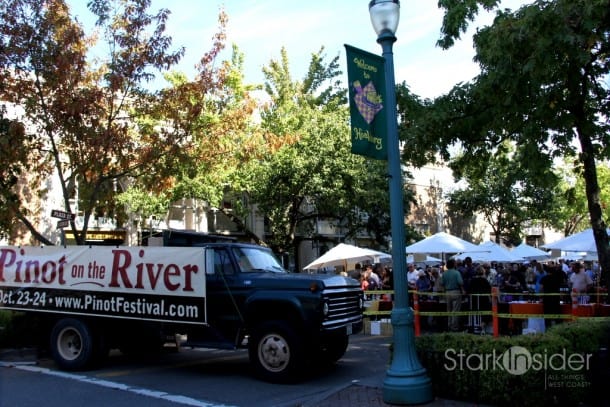 In the morning Greg Walter of PinotReport will moderate a seminar with Ted Lemon of Littorai Wines.
As Clinton Stark wrote in his Pinot on the River tasting report last year:
I highly recommend this type of event for two reasons: (1) you get to taste through an unbelievable range of wine styles within one small town block; and (2) you get first-hand knowledge, information and updates from the winemakers and owners themselves, often the same ones pouring the wines. Then there's the social aspect too- perchance, did you know that wine and good conversation go together well… ?
We hope to see you there.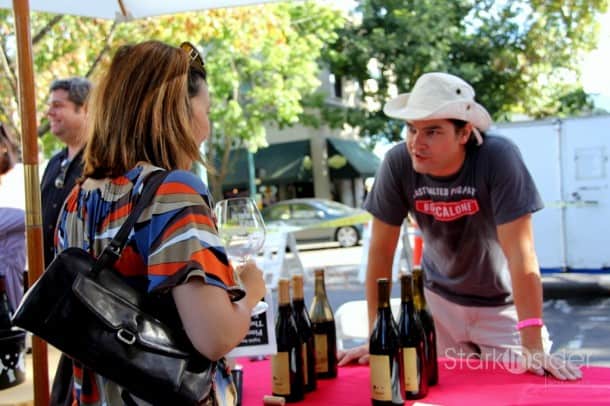 Pinot on the River

Sunday, October 21, 2012

Healdsburg Plaza, Sonoma

Tickets: $75, $85, $150

pinotfestival.com

Beneficiary: Boys & Girls Clubs of Central Sonoma County

Participating wineries:

Amelle Wines
Anaba Wines
August West Wine
Bailiwick Wines
Balo Vineyards
Banshee Wines
Belle Glos
Benovia Winery
Benzinger Winery
Berridge Wines
Black Kite Cellars
Breggo Cellars
Bruliam Wines
Cairdean Vineyards
Cartograph Winery
Charles Mara Wines
Clouds Rest
Comptche Ridge Vineyards
Cornerstone Cellars
Couloir Wines
Davis Family Vineyards
De Loach Vineyards
Denovo Wines
Donum Estate
Dunstan Winery
Elliott Family Cellars
Eric Kent Wines
Expression
Failla Wines
Fog Crest Vineyard
Foursight Wines
Frati Horn Wines
Freeman Winery
Furthermore Pinot Noir
Gloria Ferrer
Gracianna Winery
Gundlach Bundschu Winery
Hahn Family Wines
Handley Cellars
Hook & Ladder Winery
Hop Kiln
J Vineyards & Winery
John Tyler Winery
Joseph Jewell
Kanzler Vineyards
Keefer Ranch
Kendric Vineyards
Ketcham Estate
Kobler Estate Winery
Kokomo Winery
La Crema Winery
La Rochelle
Laetitia Winery
Landmark Wines
Landy Vineyards
Lioco Wine
Littorai Winery
Longboard Vineyards
MacPhail
Mahoney Vineyards
Martin Ray Winery
Masut Winery
Matrix Winery
Merryvale Vineyards
Morgan Winery
O'Connor Vineyard
Pali Wine Co
Papapietro Perry Winery
Patz & Hall
Portalupi
Reuling Vineyards
Roar Wines
Roadhouse Winery
Rowland Tebb Wines
Russian Hill Winery
Schug Winery
Sequana
Siduri
Sierra Madre Vineyard
Simi Winery
Small Vines Wines
Sojourn Cellars
St Rose Winery
Talisman Wine
Terlato Family Vineyards
Toadhollow Vineyards
Valdez Family Winery
VML Winery
Waits Mast Winery
Walt Wines
Windsor Oaks
Wrath Wines
Wren Hop