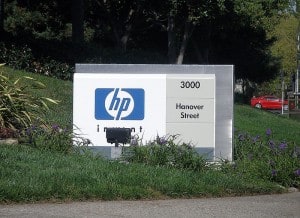 PCs, perhaps not surprisingly, are passe.
According to analyst firm Gartner, shipments of personal computers fell 8% to 87.5 million in Q3 – the worst performance for that market segment since 2001.
Although consumer preference for smartphones and tablets is likely largely responsible for the overall decline in PC shipments, the impending upgrade cycle to Microsoft's radical Windows 8 operating system may have delayed purchasing decisions.
"A continuing slowdown in consumer PC shipments played a big part in the overall PC market decline," said Mikako Kitagawa, principal analyst at Gartner. "The third quarter was also a transitional quarter before Microsoft's Windows 8 operating system release, so shipments were less vigorous as vendors and their channel partners liquidated inventory."
Meanwhile, in a startling bit of additional news from the report, Chinese firm Lenovo overtook Silicon Valley-based Hewlett Packard as the leading global supplier of PCs. Lenovo grew shipments almost 10% over the previous year, shipping approximately 13.7 million units; HP, who is in the midst of a turnaround plan under new CEO Meg Whitman, slid over 16% to 13.5 million units.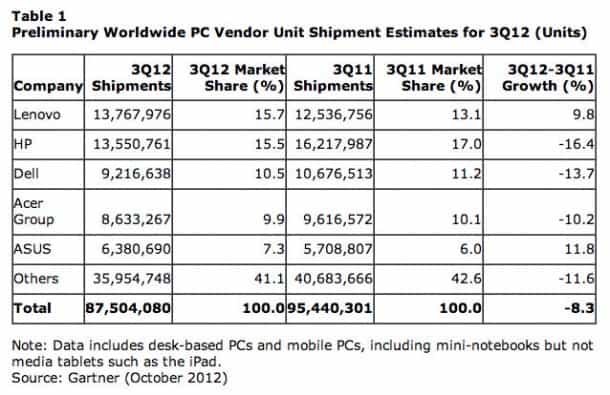 IDC, however, still had HP in the top slot in its report.
"While there are a variety of PC share reports in the market, some don't measure the market in its entirety," HP said in a statement. "The IDC analysis includes the very important workstation segment, and therefore is more comprehensive."
Rounding out the top 5 PC manufacturers according to Gartner were Dell (9.2 million units), Acer Group (8.6 million), and ASUS (6.3 million).
Microsoft is expected to announce Windows 8 in Q4.