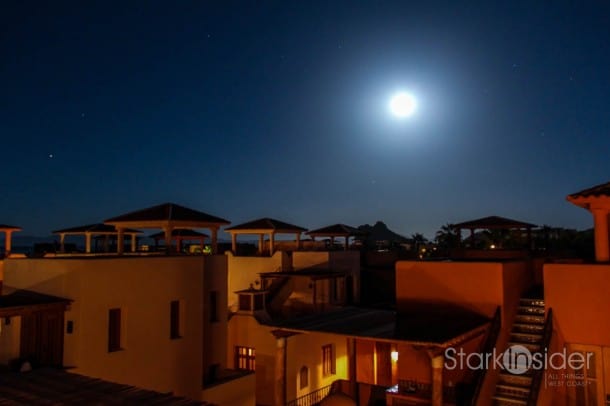 In many places setting the clock back an hour is a simple seasonal change, an annual ritual that marks time and prepares us for the coming winter. Although this activity occurs twice a year, when it's time to change the clocks, do you ever notice how many people ask, "Forward or back? "Do we lose an hour or gain an hour?"
In Baja California Sur, we not only set our clocks back an hour, we set our lifestyles back by at least a few decades. Our experiences in our small pueblo repeatedly remind us that, to some extent, we have stepped back in time. Not unlike any small town, we run into the same people every day. We help our neighbors. We borrow and lend tools. We barter for goods and services. We share potluck dinners, and give home-baked cookies as an expression of thanks.
Most of us are also very dependent on technology. I'm not sure we'd function well without it. I am ever grateful for the research tools at my fingertips and communications options for connecting with a broad spectrum of people in various places on the globe.
But surprisingly, in Loreto-Baja, word-of-mouth is almost as fast as email.
[ALSO: House Hunters International Baja Bound Again – Filming in Loreto Bay, Mexico]
When my friend asked a local gentleman for his phone number, instead of pulling out an iPhone or even a paper and pencil, he hand scrawled it on their dusty car. When we tried to book an airline ticket when the website was down, it was better to drive ten minutes to the sleepy airport to buy a ticket at the Aerocalafia counter (as long as we timed it perfectly, to arrive when the one daily flight departed). When an urgent letter needs to be mailed to the U.S. the most reliable way to get it there is hand it to someone who's flying out that day. How charming when "old school" trumps technology.
In contrast to our ultra-productive hectic U.S. lives, there is a quality of the Baja culture that lives for the sabor (flavor) of daily life. We try to escape our frenzied pace, but it's not always easy; we still tend to see through the eyes of an American. We get aggravated if we have to wait for someone to show up "on time." But gradually we learn that ahorita doesn't mean right away, pronto doesn't mean fast, and mañana may not mean tomorrow.
It is easy to become enchanted by the slow pace of Baja. It teaches us to say "it can wait" once in a while. It teaches us to be less dependent on what the clock says; even to ignore time once in a while. We learn that our methods of tracking time are somewhat inappropriate in this culture. When a party is called for 6:00, and you show up at 8:00, the first to arrive—you know you're on Mexican time. When you finish a meal in a restaurant, you could wait all night for your check if you forget to ask for it. Enjoying the company of family and friends takes precedence.
[SEE: Voices of Loreto: Saving the Sea with Research]
Take a look at your daily life: the activities that keep you bustling around the clock. Now take another glimpse, and uncover the qualities that are Baja. You can't help but wonder, are there aspects of the Baja lifestyle that just might translate? Those who expect the conveniences of urban life to follow them across the border might forget the reason they're here. Baja will change you—if you let it.