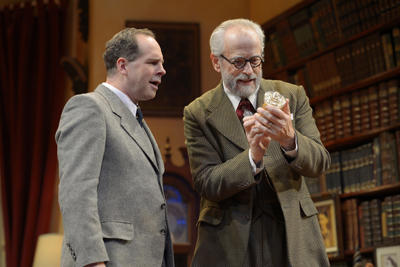 The autumnal set of Freud's Last Session is like walking into Freud's London office, complete with the famous kilim-strewn couch, the three floor-to-ceiling windows, desk littered with antique artifacts, and walls groaning with bookshelves and pictures. The well-crafted story takes place  on September 3, 1939, just three weeks  before Freud's death. The script, loaded with references to Tolkien, Fay Weldon, Gilbert Chesterton, and other public intellectuals of the time, manages to be very smart without pedantically lumbering under detail. So much is historically spot-on, that this imaginary conversation between Freud (J. Michael Flynn) and C.S Lewis (Benjamin Evett) about the existence of God is entirely plausible.
That this topic could be pulled off at all is a credit to the actors J. Michael Flynn, and Benjamin Evett. Together, they do the impossible, and discuss the existence of god in a way that doesn't seem sophomoric. Having a limited understanding as to why people get exercised about this, I didn't particularly look forward to another play taking on this issue, especially one set in 1939. After all, even Christopher Hitchens got as predictable as an evangelical on this topic. Here, we see the clean-shaven C.S. Lewis freely admitting the weaknesses in his argument, noting that it changes over time. His is the emotional argument in favor of his Christian god, betrayed by a quavering lip. While he's so at odds with the 83-year-old Freud, that even Freud's humor misses its target, Lewis is so sincere that he becomes quite endearing. Flynn and Evett effectively become these urbane men, and enjoy a wide-ranging repartee as bombs threaten to fall, and Freud, ever the old-world gentleman, becomes progressively less able to mask his growing cancer pain as the evening passes.
[ALSO: Not in an Election Year: 'Bloody, Bloody Andrew Jackson']
Not all credit for the success of this drama goes to Evett and Flynn. Mark St. Germain's script makes the issue more palatable because it comes wrapped in everything from Freud's Moses and Monotheism to stories about Joseph Pujol, the "fartiste." Who knew that Freud's favorite book was "Paradise Lost"? Who imagined that C.S. Lewis's conversion happened while on the way to the zoo? This script provides everything you never knew that you wanted to know about Lewis and Freud, and more besides. This one-act moves quickly, paced as rapidly as the evolving conversation between Lewis and Freud.
In many ways, September 3, 1939 is a day the world changed forever, as the Brits abandoned their delusions about Hitler. The old-world ease between the two scholars – even as Britain goes to war – seems a thing of the past. Thanks to the San Jose Rep, the window on that world gets re-opened – at least until November 4th, when the show closes.